Sunday evening rolled around after a tiring weekend of painting the hallway. I'm given a choice between watching Olympus has Fallen and Robot & Frank. Even with the Morgan Freeman factor, I wasn't interested in watching Olympus. But Robot & Frank?! I had never even heard of it. I had no idea what it was about or even what genre it was (although somewhat sci-fi was a good guess with 'robot' being in the title). So, I took a punt on an unknown.
I am very glad that I did. Robot & Frank is a great film – well written, funny, sad, with a fantastic cast, and a refreshing view of the future. A lot of sci-fi goes over the top with the futuristic gadgets and styles. But let's look back at our past… there have been A LOT of technological and fashion changes since the beginning of the 20th century, but does it really look that different? What is nice about this film is that the future looks relatively the same as our present. The cars have a few more tech specs, but people still dress the same, they are all about eBooks rather than physical hard copies, and they have personal robots. This isn't too far-fetched for us to believe as the possible near future.
When you look past the robot premise, this is a story that could be told in any time period. It is the story of loneliness and finding friendship in unlikely places. It reminds me of Cary Grant's To Catch a Thief – with a charismatic retired jewel thief reigniting his love for thievery. Meanwhile, the 'issues' dealt with in the film – family, friendships, and Alzheimer's, for instance – are commonly explored in science fiction, particularly with robots (does anyone remember the horrendously depressing Spielberg-produced film, *Batteries not Included?). Robot & Frank, in the vein of *Batteries not Included, also flirts with deep sadness while ultimately presenting an uplifting tale.
Plot
Frank lives alone. He has started to forget things. His house is a mess. To Frank, these aren't necessarily bad things, he still finds small joys in life – shoplifting soaps and hitting on the local librarian. But his well-meaning family is worried about him. Frank's son brings him a gift: a robot.
This is no ordinary robot – he is specially designed as a carer. He is determined to get Frank to eat better, exercise, find a healthy routine, and to use his mind. Well, Frank has just the thing for keeping his mind active – planning his next jewelry heist – and the robot can help him pull it off.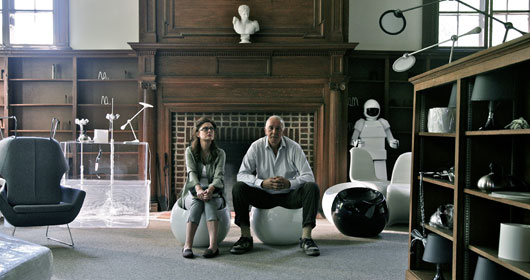 Stellar cast
This is one of the best casting lists I've come across in recent years. The titular Frank is played by a magnificently belligerent Frank Langella – a new grumpy old man for me to look up to. Frank's robot is voiced by Peter Sarsgaard who is sadly not in as much as he should be. I have been a big fan of his since Garden State and he does a wonderful job of walking the line between sarcasm and robotic voice work. The support cast includes Susan Sarandon, Liv Tyler, James Marsden, and Jeremy Sisto. For such an understated film, it is nice to see so many high caliber actors involved.
Good story is good characterization
Frank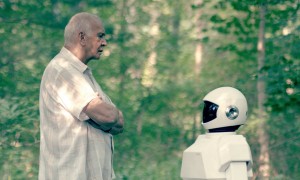 When I was a kid, one of my favourite shows was Waiting for God. I couldn't wait to grow old and have it not matter that I was an evil bitch. To be perfectly honest, I'm still looking forward to it. Get me a can that I can use to beat people with! But I'll be a little old lady… it's allowed, right? Frank is along the same lines – stubborn, grouchy, set in his ways, and just a tad 'naughty'. But this is why he's such a great character. He's likeable and flawed – he's real.
It is also great to see conflict arise out of his personality flaws – this is storytelling at its finest. He hates the robot before it has even been turned on, and he continues to complain about it. This complaining eventually bites him in the ass, however, as his daughter stays with him, turning the robot off and insisting on doing everything herself. Frank responds in the only sensible way – by throwing dry pasta all over the kitchen. But it is true to his character to drive his daughter mad rather than admit he was wrong about the robot.
Robot
The problem with having robots in films is that it can be very difficult to make 'characters' out of them. Star Wars is one of the best examples of robots with actual character, but a lot of other sci-fi films have tried to capture it and failed spectacularly. Robot & Frank, however, is a perfect example of exquisitely written dialogue. The robot has no face, his actions are not laden with emotive gestures – his entire characterization comes through a monotonous, robotic voice. And yet, he is a very well rounded, believable character. I challenge you to watch this film and not love this robot.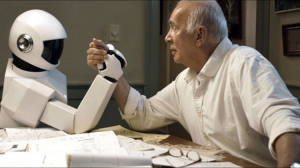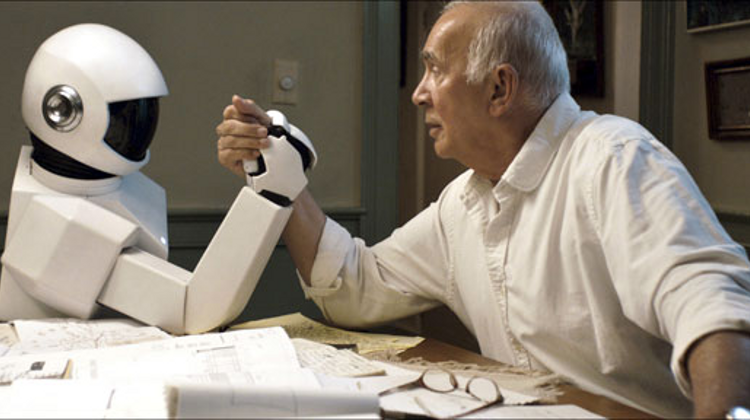 One of my favourite scenes in the film included a brief interaction between Frank's robot and the librarian's robot (Mr. Darcy). Did you know that robots could be passive aggressive assholes? Well, they can – and it is hilarious! Mr. Darcy has even less to work with – as a robot that is extensively just two big boxes. And yet he too manages to have a character, even with only a few lines.
It is also nice to see the nods to the standard sci-fi robot clichés that appear in films such as these. For instance, when Frank is first presented with the robot he says, 'That thing is going to murder me in my sleep.' There is the traditional 'hole' in the robot's programming – but this error doesn't cause him to become a murderous brute (although it could have that potential)… as a healthcare robot, he has not been programmed with a legal conscience. This hole allows Frank to use the robot in his thieving.
Verdict: Great film. See it. I'm sad to see that the future is full of just as many douchey wankers as we have now, but great to see a thief picking on those who totally deserve what they get!