'Poetry doesn't mean flowers and trees and bunnies and stuff'
– Mike IX Williams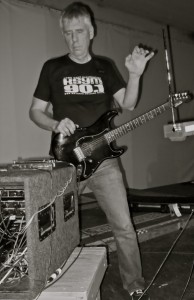 Punk is an approach, not a destination. It's an ethos rather than a rulebook. But that's an ideological debate that's been present almost since its inception. On one side are those who would equate any straying from three chords and spiked mohawks with selling out. On the other, those who feel the music can only be kept inspired by the restlessly evolving explorations of the likes of Black Flag's Greg Ginn – with his jazz-inflected, increasingly expansive playing in bands like Gone. Is the bigger risk in diluting the music by adding something new, or letting it stagnate through repitition? Iggy Pop's last album was a 28-minute collection of crooned covers. In French. In terms of subverting expectations, what could be more punk than that? On the other hand, Johnny Ramone held The Ramones to their strict template for almost their entire career – for the most part with surprisingly undiminishing returns.
Perhaps more than any other field of music, punk has leading lights who, when inspiration in the music faltered, rather than knock out another record to tour, went off to do something completely different. Johnny Rotten arose from the wreckage of The Sex Pistols' collapse as John Lydon, leading the oppressive and angular, scathing dub of Public Image Limited. Henry Rollins founded his 2.13.61 publishing company on the back of his now globe-spanning spoken word tours. The New York Dolls' David Johansen was reborn first as lounge singer Buster Poindexter, then a weathered bluesman with his band The Harry Smiths, only returning to the Dolls after an interval of 30 years. Richard Hell hung up his guitar after two albums to become a novelist (much as Patti Smith focussed on her poetry during her '80s sabbatical), while Carrie Brownstein of Sleater-Kinney co-wrote and starred in the hipster-lampooning sketch show Portlandia. It's not about sticking with the money. Go where the interest takes you. And for EyeHateGod's Mike IX Williams, it's taken him to Corrections House.
I am a disease with no cure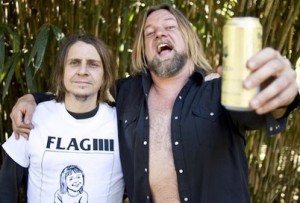 Amidst the larger than life cast of Noisey's excellent (and absurdly glossy) documentary series NOLA, about the incestuous thicket that is New Orleans' heavy music scene, Mike IX Williams stands out immediately – even if initially only because he looks so incredibly ill. He's so pale, he looks like one of those early Simpsons characters they didn't bother to colour in. Williams is the frontman of seminal NOLA sludge punks EyeHateGod, who fused a love of down-tuned metal riffage with their experience of New Orleans' punk scene. Their catalogue includes singalong crowd favourite 'Sister Fucker' (all together now: BURN HER!) and the album Take As Needed For Pain (which actually can take the edge off a bad headache).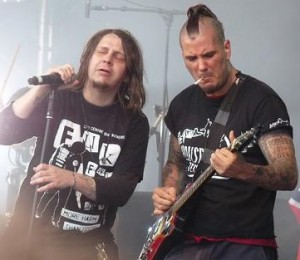 In the wake of Hurricane Katrina's devastation of his home town, Mike was arrested for drug possession, forcing him to withdraw from heroin addiction in prison, before being bailed out by Phil Anselmo (who plays with EyeHateGod guitarist Jimmy Bower in NOLA supergroup Down). With most of his possessions destroyed and EHG scattered in the wind, Williams stayed at Anselmo's property to recuperate, becoming a bizarre, strungout double act with Anselmo and slowing beginning to repopulate his world. He formed the raw punk outfit Arson Anthem with Anselmo on guitar and the legendary Hank Williams III (who also played in Anselmo's Superjoint Ritual, again with Jimmy Bower!); EyeHateGod reconvened for an eponymous album in 2014 (their first since 2000); and Williams also joined forces with Scott Kelly of Neurosis, to build Corrections House.
Climb the stairs to nowhere
Two things were overlooked when digital music's rise was claimed to be the death of the album. One is how people can tire of a continuous mix of one-off songs. The other is that, even just for financial reasons, it's still in everyone's interest to sell songs in batches. Rather than having to persuade someone to buy 10 different 79p tracks, it's a lot easier to just sell them on one album transaction. Similarly, fans will be less likely to cop everything an act does if they have to hunt down every track individually. Album sales may be through the floor but few have actually abandoned the format. Even overtly singles-orientated genres have stuck to the album format, no matter how blatant the filler might get. Rumours of the album's demise have been greatly exaggerated, and if Corrections House's Last City Zero is anything, it is most certainly, front to back, an album.
From the slow, monumental intro of eight-minute opener 'Serve or Service', with its creeping desert chords, it's clear that the swirl and grind of Corrections House is shooting for something different. The arrangement makes sharp left turns as Kelly's dispassionate baritone counterpoints Williams' wretching despair. There is something of the oppressive, propulsive atmosphere Martin Hannett gave Joy Division's Unknown Pleasures. Crushing doom riffs revel in noise and atmospherics, industrial touches and weird intricacies, accompanied by the blare and drone of saxophone.
Last City Zero also has the variety of a proper album. 'Party Leg and Three Fingers' is choppy, eastern-tinged stomping, while 'Hallows of the Stream"s unresolved foreboding is run through with Tarantino soundtrack tremolo. 'Run through the Night' is the no-good brother of Springsteen's 'The River', running drugs over the border into El Paso, gliding into sheet white noise.
A prisoner of the body, A prisoner of the mind
All good albums should have one, and Last City Zero even has a big single. With a fat, swaggering, gold-plated riff and Williams' bellowing, disgusted snarl about work ('The real capital punishment'), 'Dirty Poor and Mentally Ill' has '#1 smash hit' written all over it. 'Dirt Poor' is also one of several tracks to feature IX's spoken word poetry. A published poet and music journalist, as much as his warped visual style and garbled tape experiments, Williams' lyrics are always prominent in his work, with lines to catch your ear like a fishhook. The non-album single 'Grin with a Purpose', for example, throws out the line 'Another day at the salt mine / Biting dragonfly heads off'.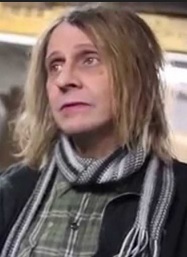 As with EyeHateGod, and writing from his fractured childhood and devastated New Orleans life, Williams continues to essay life on the frayed edges; a broke and threadbare existence, anxious and frustrated. Poetic notions are formed and spat out in simple, blunt language, and nowhere is this given more prominence than on the 2am perfection of Last City Zero's title track. 'The girl with the lazy eye asks me if I heard that dog laugh', IX drawls over a desolately ringing guitar, 'But I told her and the dog to shut the fuck up'. It's the kind of track that fixes you with a hard stare as it sucks all the air out the room; the kind of track where a line like 'If New Orleans is The Big Easy, why is life so fucking hard?', rather than being laughable, is crushing.
I will despair of the future and be justified
Rather than a one-off studio product, Corrections House has become a living, breathing thing. The Writing History in Advance album captures the House's live onslaught in LA. It intentionally formats the full 73-minute set as a single track, from a headspinning fanfare of garbled tape experiments to the 15-minute, sax-headed finale dirge of 'Hoax the System'. The poetry becomes hectoring diatribes, the chords louder and more rusted, and there's more to come. Corrections House recently announced their second record, Know How To Carry A Whip, will drop later this year, and track titles like 'When Push Comes To Shank' and 'I Was Never Any Good At Meth' suggest the good times aren't over yet.
Mike IX and Corrections House aren't restricted in where they can go. Whether it's poetry and slow tempos, or electronic music and saxophones. There may be more than three chords, and a set-up far from the basic guitar-bass-drums, but in its fury, expression and warped presentation, Corrections House takes the spirit of that early New Orleans scene and bends it into a new shape. It's a test how far you can go beyond that initial inspiration – how far you can stretch this thing – and still keep that immediate fire. We can only wait to see what this leads them to create next but until then, I'll leave you with Williams' words to the Writing History audience: 'Thanks for being open-minded and checking out something different, y'know? Some people don't fuckin' get it.'