It is fascinating how Japanese anime can encompass any genre, from fantasy to overly camp comedy, to realist drama, and even sports stories. I had no idea something like professional figure skating would ever be the subject of a television series and was even more surprised to find an anime series tackling it. How could an animation recreate the tension you feel when watching real skaters put their all into a performance?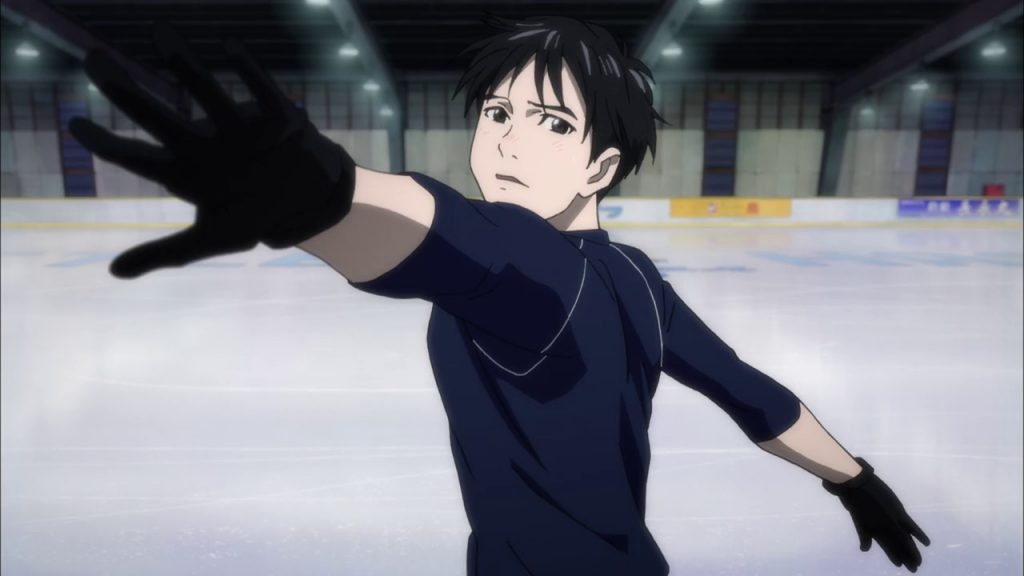 I'm not sure how, but the creators (director Sayo Yamamoto and writer Mitsurō Kubo) of Yuri!!! on Ice have pulled off a minor miracle. When watching figure skating, I can get a little bit intense. I curl myself up into a ball, hugging my knees and biting my fist; my stomach twists and turns, dropping as it does when plummeting to the ground on a roller coaster every time a skater sets up a big jump; I shout at the screen and have been known to cry. Of course, these completely over the top reactions are usually in response to top-level athletes attempting to make their dreams come true… I never imagined I'd feel the same when watching fictional animated characters. But I did – much to the amusement of my housemate.
Whether the show would have the same appeal to anyone who wasn't already a figure skating fan, I'm not sure. One of the criticisms of the series has been that the show doesn't spend much time explaining the technical details of the sport – but why should it? Then we'd be complaining about all the unnecessary info-dumps! There is more than enough information for viewers to appreciate the stakes for the skaters. Still, if you find yourself entirely unmoved by professional figure skating, it is unlikely you'll appreciate Yuri!!! on Ice.
'I was a fool for thinking I could finally meet my idol on the same playing field.'
The series follows the exploits of Japanese figure skater Yuuri Katsuki after a dismal skating session. Contemplating retiring, he heads home, the first time in five years. Showing an old friend what he can do, he performs his favourite routine by his idol, Russian skater Viktor Nikiforov. The video of his performance goes viral and Victor decides to travel to Japan to be Yuuri's coach for the next season and help him become a champion. But matters are complicated when another Russian, Yuri Plisetsky, is determined to win gold at the Grand Prix on his senior debut season.
'If you don't have any inspiration left, you're as good as dead.'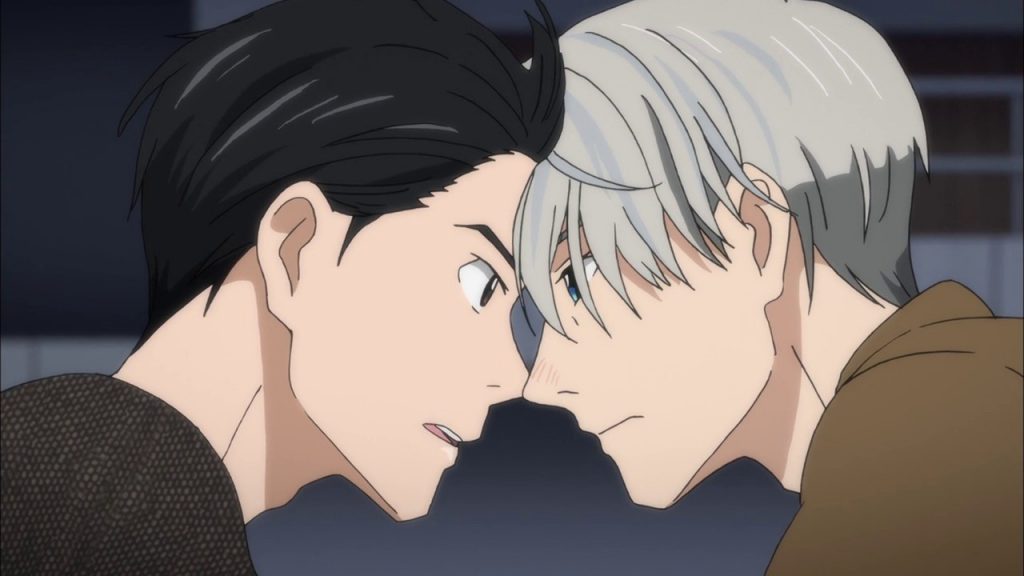 The series might take its structure from the professional figure skating season, but the story is more about the relationship between skater and coach, the mental pressures skaters put themselves under, and how elite sportsmen continue to push themselves without losing their love of the sport. Once you achieve greatness and continue to top the field, how can you motivate yourself to continue growing as an athlete? This and other questions that plague high-level athletes are addressed in realistic and interesting ways throughout the series.
What the show has been praised for most (as well as criticized for… can't please everyone, after all) is the relationship between Yuuri and Viktor. It is a nuanced relationship that builds believably over the course of the series. Each inspires and motivates the other to work harder and learn more about themselves. Where criticisms have been leveled at Yuri!!! on Ice, it is for the coyness with which the series approached the homosexual relationship. It is clear that the two have romantic feelings for one another but there is no overt depiction of physical affection. The only solid nod to their physical/romantic relationship is the 'kiss' scene, which is obscured by Viktor's arm. As pointed out by other critics, other LGBT relationships have been openly depicted in anime before, so why the coyness? I'm not sure, but it didn't bother me. It kept the series focused on the emotional connection between the two and left more up to the audience's imagination. I liked this subtle approach to a romantic relationship – hetero or homosexual.
'You have to do the opposite of what people expect. How else will you surprise them?'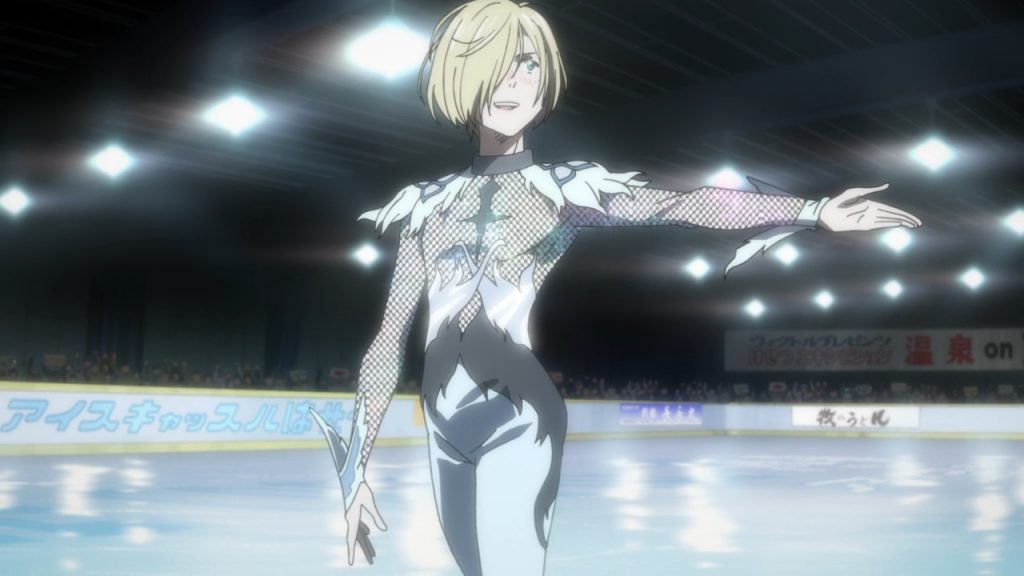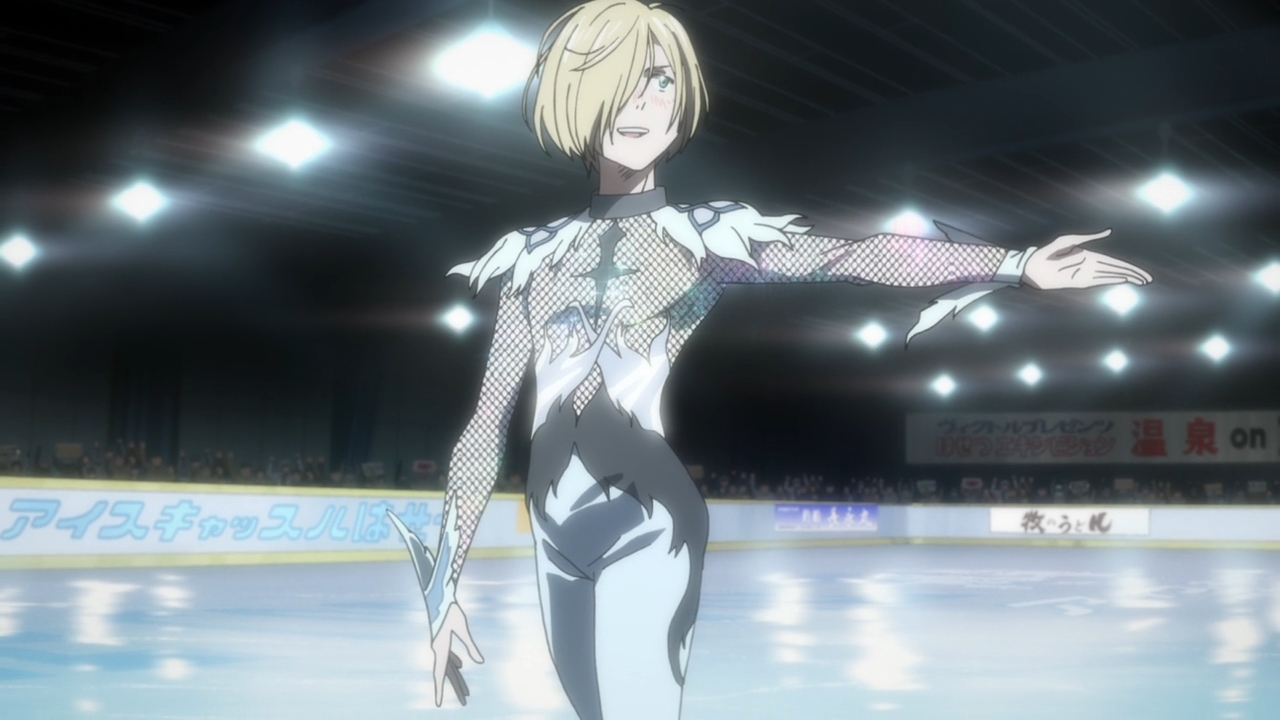 Competitive sports are never just about the sport itself – it's about everything else that happens around the performance/game/etc. For skaters, this is all about their mental health and what makes them tick. Yuri!!! on Ice explores these ideas brilliantly, with well-developed side characters as well as the show's leads. There are skaters who find inspiration beating those they know to be better than them, those that find strength in their family and friends, those that simply love to skate, those that need to prove themselves… And this is how the series makes the somewhat repetitive structure (skaters perform the same routines throughout a season, so at each of the show's skating events, the skaters are performing the routines the audience has already seen – though, of course, they might flub a performance or perform it better than they ever have before). As the skaters perform, we are given insights into their mental state. It's a beautiful tribute to skaters – and all athletes – and the mental pressures they face throughout their careers.
I found Yuri!!! on Ice to be the ultimate binge-watching experience. I didn't even want to pause for more cups of tea. It had me hooked from the word go and did not disappoint. I'm still amazed that I was able to invest so much in animated figure skaters and I know I'll probably find myself on the edge of my seat at repeated viewings as well – a feat I simply don't understand. This is truly a masterpiece of anime.
Verdict: This is a must-watch series. Moving and accurate, you will be unable to resist the urge to watch every episode in a row.