Last year I joined a community of mega AFP fans and bought a place in a 'house party' from her Kickstarter campaign. It seems so long ago now, but it finally happened on October 27th. This wasn't just any old house party, we showed Amanda a really good time, in a secret bar. I like to think of the location as a modern speakeasy (let's just forget the massive fire hazard that it is – underground, only one very narrow exit, and lit with many candles).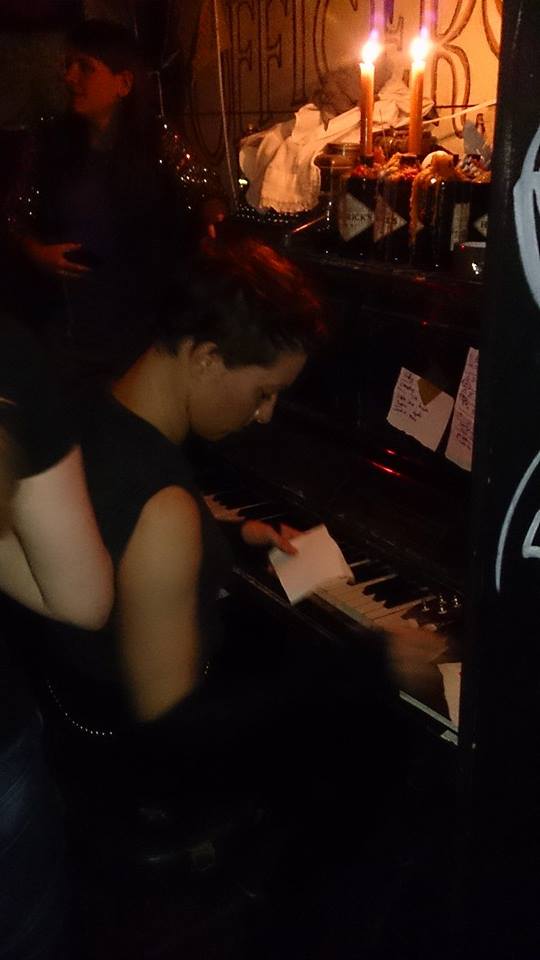 Amanda was on fine form for performing. She took requests and performed some covers (including a few Lou Reed numbers after hearing about his death on the way to the gig). Performing two sets, she played the piano and her ukulele, chatted to the audience, and invited other musicians in attendance to share the 'stage' with her. Those of us in the front suffered from asses falling asleep and pins and needles in all extremities while sitting on the hard concrete floor so that those in the back could still see her. Despite the bruised ass bones for days afterwards, I didn't mind. Amanda Palmer was performing barely two feet from me and I loved every minute of it.
Amanda Palmer gained cult status as one half of The Dresden Dolls in the early 2000s. The Dresden Dolls described their music as 'Brechtian punk cabaret'. Since then, she has been mostly focusing on solo work, most recently performing as the front woman for 'Amanda Palmer and the Grand Theft Orchestra'. While I've been a fan of her music since the early Dresden Dolls albums, I have found that more and more friends are coming to discover her… through Neil Gaiman. Amanda and Neil married in January 2011. Earlier this year, the two of them performed two exclusive gigs in New York, 'An Evening With Neil Gaiman and Amanda Palmer.' You can pre-order the album (and lots of cool merch) on Amanda's website (I've already ordered mine!).
For those of you not familiar with Amanda, here is what you need to know:
She's awesome. Fact.
She isn't afraid of a little nudity (or a lot).
She isn't immune to 'haters'… because she's human.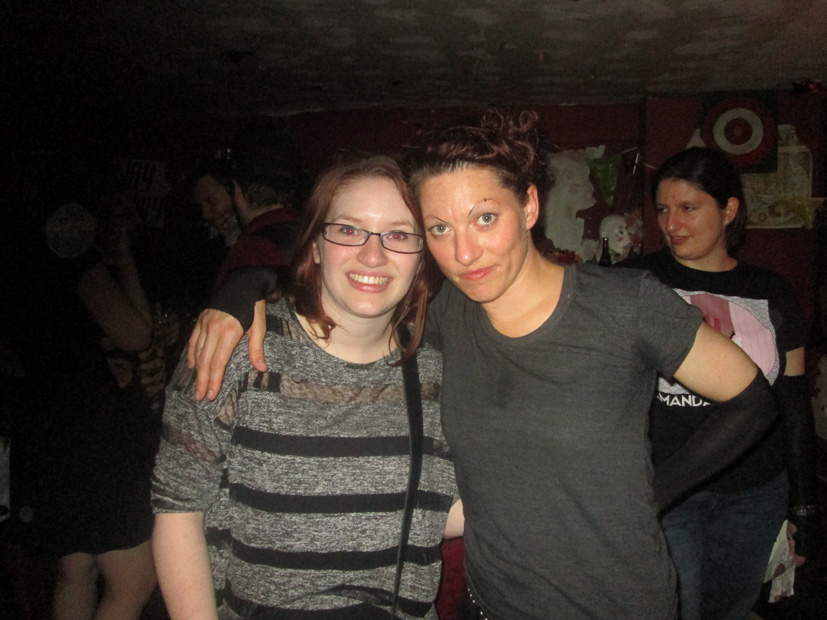 Amanda's courting of controversy
Amanda Palmer is no stranger to controversy. If you don't believe me, go to her Wikipedia page – there's an entire section labeled 'Controversies'. First she started a movement called ReBellyon when Roadrunner Records wanted to cut shots in her music video for the song 'Leeds United', because they thought she looked fat. She then fought tooth and nail to be released from her contract with them – including writing the song, 'Please Drop Me.' Her song 'Oasis' discussed rape and abortion. The upbeat tempo of the song meant that no one would play the track or show the video. Palmer then took the stage with comedian Margaret Cho and a Katy Perry look-alike to perform a skit in opposition to California's Proposition 8 (that marriage could only be between a man and a woman).
Enjoying her state as a free agent, Palmer turned to Kickstarter to crowd-fund her latest studio album, Theatre is Evil. The campaign was hugely successful – and I contributed to its success! But controversy found her again… Palmer asked fans to join her and her band on stage during the ensuing tour, to be compensated with 'beer, merchandise and hugs.' Ok, I'm not a musician, but as an AFP fan, I think that would be pretty freaking awesome. The online musical community, however, did not agree. She was swamped with hate mail, with musicians arguing that Palmer was taking advantage of musicians.
Less than a year later, following the Boston Bombings, Palmer expressed her feelings on the subject in a short poem published on her blog. Instantly she was hit by an explosive angry response. People felt she was too sympathetic towards the alleged bomber. A few months later, she performed at Glastonbury where she suffered a wardrobe malfunction (a nip slip!). The lovely Daily Mail reported the incident with no mention of her music or live performance. After all, who cares about music when you can see some tits! In response, Palmer wrote and performed 'Dear Daily Mail/Up yours!' at the Roundhouse, where she strips halfway through the performance and carries on completely nude.
The personal side of 'trolling' and Internet haters
At the Kickstarter house party, Amanda shared some thoughts on the controversy she has caused over the years, and how the negative internet response has affected her. This is something I've been thinking a lot about recently, and it is something many artists (be they writers, painters, musicians, actors, etc) struggle with – having to put yourself out there for the world to see and be tough enough to brush off negative feedback. Palmer talked about feeling very low, unable to be comfortable with her creative side, while the internet and media forums were hurling abuse at her. Could anyone blame her?
If you have ever watched a YouTube video, read a popular blog, or happened to glance at Twitter, it is likely you have seen instances of people making aggressive, abusive, inflammatory, and unpleasant comments. Sometimes I wonder why anyone posts YouTube videos anymore with the general ratio of real comments vs. abuse. If you thought the biggest problem was gathering enough courage to submit your work to an agent or publisher, think again. Getting your content out there is the first battle. You then have to face the world and it can be absolutely brutal.
Call me naïve, but I don't understand why people behave this way. I completely understand criticism in the forms of review, where you explain why you did or didn't like something. But to attack just… because? Why? It appears that people trawl the internet, deliberately looking for content they won't like, just to post abusive comments. Why waste your time? Why not spend your time on content that you actually like? Next time Amanda Palmer posts a poem that you don't like, why not ask her what she meant by a particular line before showering her in hate?
At the moment, the celebrity that the haters really have it in for is Miley Cyrus. I'm sure that comes as no surprise to most of you. And how does she respond? She teases them and throws it back in their faces. Good for her. The other day she posted an innocent enough picture on twitter, pre-empting the hate that would flow in: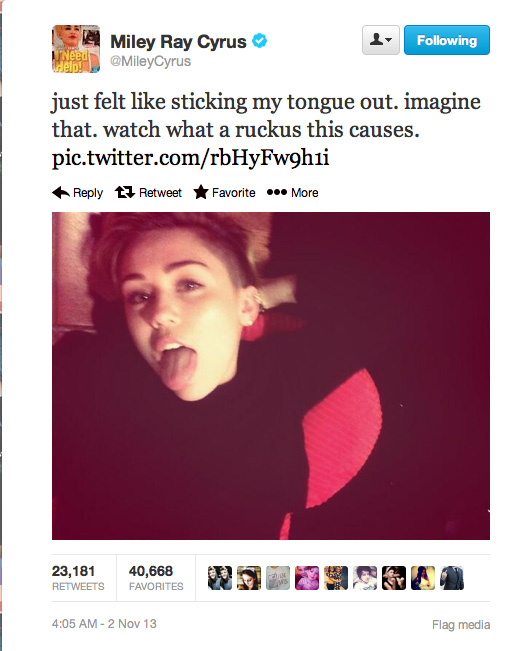 Some of the comments that arrived included 'Fuck you, your bitch' (spelling error in the original), 'no, she's racist', and 'you're trying too hard to more famous, hoe.' To imagine that it doesn't affect her, that she doesn't feel pain as a result of all that hate, is ridiculous. You might not like her or what she's doing, but is it really that big a deal? Why not spend your time on someone you think is totally awesome?
After hearing Amanda Palmer talk about the pain she experiences with the haters (and being terrified of how I would deal with the same thing), I want to remind everyone that artists and creative people, whether they are household names, barely scraping by, or too afraid to show their work to anyone yet… they are people. Just remember that when you next go to attack them for no reason other than that the Internet and social media makes it possible. Spread the love instead.