HO HO HO!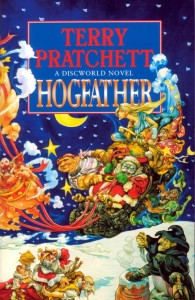 Terry Pratchett's Discworld* has its own fan traditions. I love watching what can happen when you put a lot of Discworld fans in a room together, and Hogswatch is one of the many events where this phenomenon can be observed.
Hogswatch, for the uninitiated, is the pastiche of Christmas offered to us in the Discworld novels. In place of Father Christmas, on the Disc we have the Hogfather. The book itself is full of wonderful information about traditions and how they are formed, about belief, about winter myths and how people everywhere create joy in the darkest months of the year. All nestled in a story involving a plot to assassinate the Hogfather himself, a seven-foot-tall skeleton in a fake beard with a pillow up his cowl, a governess who doesn't obey the laws of time and space, and the love story of a tooth fairy and an 'oh' god. It's one of the better-known novels, having had a TV adaptation made as well.
This book in particular is special, not only because of the content, but because of the event that has formed around it. Every November, in a town in Somerset, you can find a parody of Christmas going on. I only managed to attend a small part of it this year, but even those few hours were magical.
So what happens at this Hogswatch?
First step: Go to Wincanton on the appropriate weekend having sorted yourself a local hostelry beforehand. (Or, if you are lucky enough to live not too far away, bribe your housemate to drive you and friends down for one of the days.) Second step: Find the shop, pick up a programme and enjoy.
From the Friday night through to the Sunday there is a programme of events which is run by the Discworld Emporium**, the shop for official Discworld merchandise. They, with the help of some keen fans, put on a wide array of events, free of charge. This year there were stories, crafting, balloon modelling, live drawing, a "Thieves' Guild" meeting complete with membership oaths and hazing, an opportunity to meet the man himself, a costume parade, a musical hall variety show, a play (which I'll tell you more about later), Secret Hogfather (again, see below), and a folklore lecture – all before supper on the Saturday!
The traditional sausage supper was sold out, and this was followed by a Cabaret night. On Sunday, the main event was the Grand Charity Auction. Only attending some of the Saturday, I was very sorry to miss out on all the rest of the events, but judging from the comments and pictures online they were also full of laughter.
All of the events I made it to were great. I bought some official merchandise in the shop, of course, but also got some nice presents in the Makers Market. On Saturday morning I tried my hand at crafting with Play Art*** and I have to say they really made an effort to get everyone involved; making things hasn't been so easy or fun since I was a kid.
The play was especially impressive. Named 'The Compleat-ish Discworld', the cast crammed in plotlines, puns and parodies of 40 novels in 40-ish minutes. My particular favourite part was the description of all of the Watch novels as if Vimes were in a horse race – the creativity, the voice acting, the singing, the hat and wig changes – it had to be seen to be believed! Secret Hogfather is a very special event as well. It works on the same principle as a Secret Santa, except that instead of work colleagues or friends, this is organised through the forum of the shop between fans from all over the world. And of course, just like in the book, there's a thin aspect to the Hogfather giving out the presents with the help of his elves.
You may have noticed earlier that I slightly glossed over the presence of 'the man himself' as a programme item. Obviously, Terry is there as a guest of honour, and everyone feels grateful and happy that he makes an effort to spend time with fans. He is a man truly deserving of the devotion his work inspires. However, his presence is not the only focus of Hogswatch. This event is about the people who love Terry's creations coming together and having some fun. It never ceases to amaze me the amount of talent and effort that goes into these 'amateur' days and nights, all because the people who read and love Discworld like to spend time with, and entertain, other people who read and love Discworld****.
A very Merry Hogswatch to you and yours!
Hogswatch banner from Discworld Emporium & photos from Robert Flach
*Discworld is a registered trademark of Terry Pratchett.
** You can find them here: http://www.discworldemporium.com/
*** Play Art were lovely and you should check them out here: https://www.facebook.com/#!/pages/Playart/132937256854125
**** Me getting all soppy didn't make you think I'd actually finish without a shameless plug did it? Of course, I would be remiss not to remind you that another such event, run by fans and for fans, which will induce similar warm fuzzy feelings, is the Irish Discworld Convention, to be held in 2015. Details will be announced early next year on http://www.idwcon.org 🙂