There was only ever one boy band for me. I wasn't into NSYNC, 98 Degrees, Five, Blue, or Boyzone, but the Backstreet Boys were something else. They have sold over 130 million records and are the highest-selling boy band of all time.
I'm not sure why they have managed to find such enduring loyalty from fans far outweighing the response to any of the other boy bands. I would like to think it is the quality of the music – their songs are, after all, incredibly catchy and surprisingly hold up well all these years later – but let's face it, most boy band music is interchangeable at best, and forgettable at worst. One thing that does differ the Backstreet Boys from many of their contemporaries, as well as boy bands that have come on the scene since, is their ability to harmonize. They always prided themselves on their voices and their a cappella skills over image, dancing, etc. Whatever it is about the Backstreet Boys that does elevate them above the rest of their genre, they have managed to remain in the public psyche for over 20 years.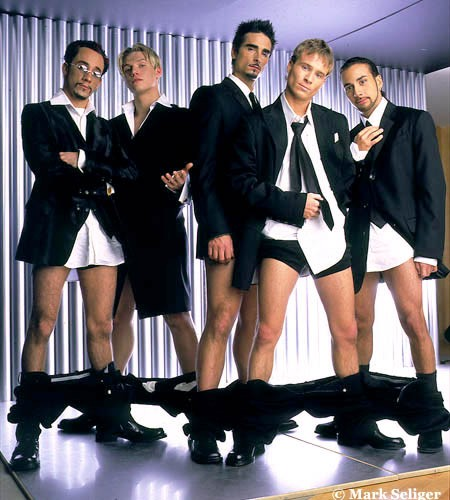 The boys – A. J. McLean, Howie Dorough, Nick Carter, Kevin Richardson, and Brian Littrell – rapidly shot to stardom and remained at the top of the pops for only a few years. While their debut album was a success in the international market, it wasn't until their second album, Backstreet's Back that they became pop sensations. Pop stardom is rarely something that lasts, and while the boys reached dizzying heights of success in that time, it quickly came crashing down around them. Not only did they struggle to sell albums and pack stadiums the way they once had, tensions in the band grew and their manager, Lou Pearlman (who also put together NSYNC), was sent to prison for embezzlement.
The band is also known for their work with successful writer and producer Max Martin. It was Martin's first big gig was working with the Backstreet Boys on their debut and follow-up albums. He helped produce some of their biggest hits, including 'We've Got it Going On', 'Quite Playing Games (With My Heart)', 'Everybody (Backstreet's Back)', 'I Want It That Way', and 'Larger Than Life'. Martin has since gone on to write or co-write 19 no. 1 singles (on US charts), most recently having worked with Taylor Swift on her album 1989.
Over the last 20 years, the band has released 8 studio albums. In celebration of their career, here are my top picks from each album.
'Quit Playing Games (With My Heart)' from Backstreet Boys (1996)
After the success of the funky 'We've Got It Going On' in the US, 'Quit Playing Games' was their second US single. It was not their label's first choice, which now seems bizarre. The Boys became known for singing beautiful ballads and this is one of the best examples.
'Everybody (Backstreet's Back) from Backstreet's Back (1997)
While 'Everybody (Backstreet's Back)' is easily my favourite track of the Boys' entire oeuvre, it was in turn plagued with disagreements from the label. While the band wanted to create a horror influenced video, the label didn't understand why they would want to be in costumes or spend so much on the video. So, the boys fronted the cash for the video themselves and the rest is history. The song also had a welcome resurgence when the boys performed it in the final sequences of the film This Is The End.
'I Want It That Way' from Millennium (1999)
Another signature track, 'I Want It That Way' was the lead single from their third album, Millennium. Have you ever bothered giving the lyrics a proper listen? They make zero sense, something the band was concerned about at the time, so much so they even tried recording an alternate version. But the nonsensical lyrics are half it's charm.
'The Call' from Black & Blue (2000)
This video was directed by Francis Lawrence, who has gone on to direct three out of four of the Hunger Games films. Who would have guessed? A.J. later admitted that he first tried cocaine on the set of this video, going on to struggle with drug and alcohol abuse.
'Incomplete' from Never Gone (2005)
After a two year hiatus, the boys returned with a very different sound. Instead of synthesisers, they focused on live music. Gotta love those strings! While it isn't generally one of their better-known tracks, it was the band's first number one hit in Australia.
'Inconsolable' from Unbreakable (2007)
'Inconsolable' was the first single released without Kevin Richardson. The ballad again uses their more updated style of having live music. While it wasn't one of their most successful tracks, it is still a solid power ballad with the band's signature powerful vocal delivery.
'Straight Through My Heart' from This is Us (2009)
This track gives new meaning to being 'big in Japan', being certified platinum and winning International Single of the Year in the country. The band uses a similar premise to the successful video for 'Everybody', this time using vampires as the horror hook.
'Show Em (What You're Made Of' from In A World Like This (2013)
In welcoming back Kevin Richardson, the band was rejuvenated. Richardson and McLean co-wrote this track for the band. While you might think it is a little showy to have two of the boys shirtless, there is actually some meaning behind this. Brian Littrel had open heart surgery in 1998 and hadn't shown his scar in public since. Meanwhile, AJ McLean uses his shirtlessness to expose a tattoo he had in honour of his daughter.
To celebrate 20 years of the Backstreet Boys, the boys have released a documentary film entitled Show 'Em What You're Made Of. The film was released in the US last month and hits the UK on the 26th of February, with the rest of the world in for a treat in March.