Leeds is host to one of my preferred geek havens of the year, the Thought Bubble comic convention. Encamped at the Royal Armouries (free entry all year round, lots of weapons and armour, good enough to recommend on its own!), the con is a big platform for British comics and independent comics (and especially independent British comics), catering to a wide array of comics fans. This isn't the sniffy environment where superheroes are shunned and only creators from a certain background are admitted. It's an inclusive event in every sense of the word and this year (as always) saw the likes of Charles Soule and Scott Snyder signing for fans a few stalls over from Simon Spurrier. Ample space is given to artists who work for the 'big two' like Esad Ribic and Bengal, and to artists well outside the cape stables like Emma Rios.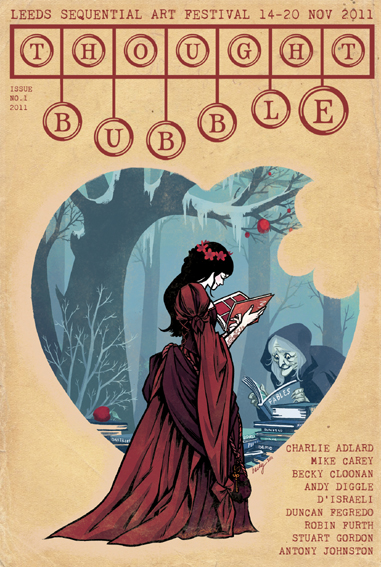 I think what I like most about Thought Bubble is that unlike so many conventions I end up at, the big MCM expo in London springs to mind, this isn't primarily an excuse to hawk you shit. There's always a variety of panels catering for all tastes in what is a pretty beefed out schedule. And the independent background of the event means it's an opportunity to express and celebrate the diversity in the industry. In previous years I have seen panels on female comic creators with the likes of Kate Beaton (returning again this year) and Alison Bechdel amongst the speakers. This year saw well-informed talks on comics and mental health, and on LGBT comics – tackling things from both a content and industry perspective.
That's one of the other pleasures. Whereas many of these events serve only to hear companies and creators discuss (i.e. promote) their properties, the talks on at Thought Bubble are often designed to draw back the curtain on the inner workings of the comics world. The talk 'The Restless Pencil' was hosted by the Leeds College of Art and saw a group of illustrators and artists talking about the processes involved in drawing, the work ethics, how they cultivated their skills and how they ended up getting projects. Drawn and Quarterly hosted a talk with their publisher Peggy Burns and executive editor Tom Devlin (formerly of Highwater Books) revealing how the small publishing house from Montreal became the home for acclaimed figures like Lynda Barry, Chester Brown, Kate Beaton and Jaime Hernandez, and were responsible for the collecting and reprinting of the beloved Moomin comics.
Without the platform for publishers outside of the likes of DC and Marvel (or even big hitters like Dark Horse and Image), I would not been exposed to the work on offer by Orbital Comics, I would not have discovered the joys of Benjamin Read and Chris Wildgoose's Porcelain books, and I wouldn't now be keeping up with things on offer in the children's comics area like the laudable success of The Phoenix.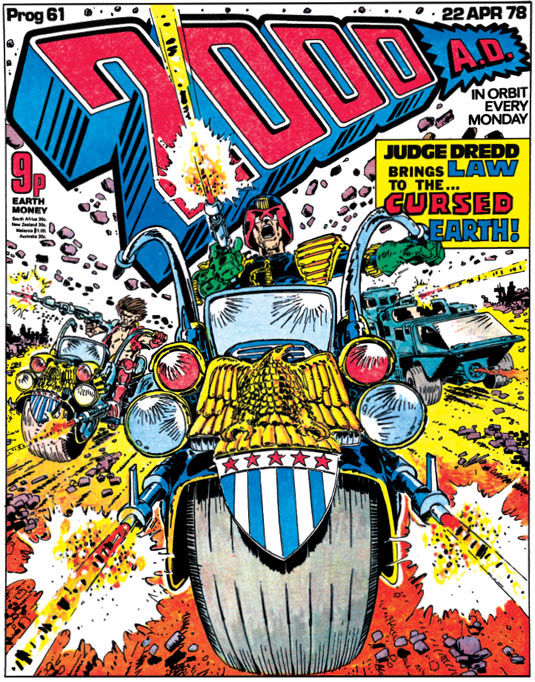 It's also refreshing to see this being taken as a proper opportunity to cultivate new talent. 2000AD once more hosted competitions to add more names to their prestigious roster. The veteran science fiction counter-culture magazine has made its presence and support felt at Thought Bubble over the years. Not too many years ago they just did a little illustration competition at Thought Bubble, now they hear pitches for stories and writers, do art competitions and are happy enough to drag along their creators to give talks on the history of the surly punk flagship of British science fiction.
And unlike so many conventions, Thought Bubble projects its association to its location strongly. Aside from being held at one of Leeds' main attractions (the Armouries has free entry all year round, etc…), the local Roller Derby teams the Hot Wheels from Leeds and the Halifax Bruising Banditas are on hand to assist the dedicated volunteers as guides, doormen and incredibly quick bouncers (yes, they do all this on their skates!). Smaller vendors like OK Comics and Gnash Comics are mingled with the publishers trying to promote their material. It feels much more welcoming and less commercial as a result.
It's due to a determined effort and all-encompassing approach to the British comics scene that the event has been steadily expanding over the years. From the first occasions of my attendance, they now have to supplement the facilities at the Royal Armouries with a marquee, just to fit everyone in. There's no shortage of good events of all shapes and sizes up and down the country for the assiduous comics fan but I maintain Thought Bubble is treat for all. Smaller and more characterful than the big expos, bigger and more ambitious than the one-room-and-three-tables niche gatherings, it's a bastion of a thriving British comics culture every year.