When ABC picked up Don't Trust the B(itch) in Apartment 23, I was surprised. Having originally been in development with Fox, it moved to ABC before getting a pilot and then a half season order. The show that was delivered was fantastic – funny, sarcastic, satirical, outrageous, and inspired. Finally, a smart comedy that didn't have to be deep or dark, just straight up hilarious. Unsurprisingly, the show was cancelled in its second season, after the episodes were shown out of order, at random times, and the last eight episodes never being shown at all. The remaining episodes have since found their way online (Hulu).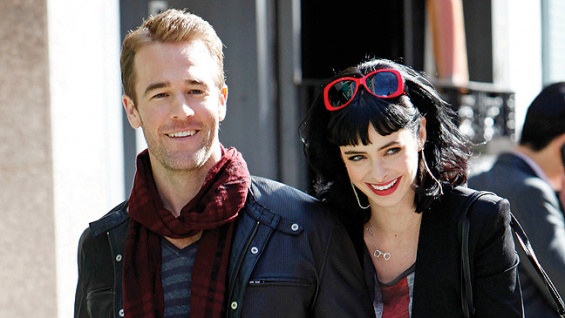 The show's stars, James Van Der Beek and Krysten Ritter, spoke out after the show's cancellation. Upset as they were on the cancellation, and the way the show wasn't really given a chance to find its audience, they wanted to thank ABC for taking a chance on such an oddball show to begin with. Agreed. It isn't the usual kind of sitcom that would make it to network television. And sadly, it seems that this pattern will only continue. As Van Der Beek points out in an interview with Vulture, 'It's just that the network business model depends on the gross number of people watching a television show when it's on. And I think an edgy, bitchy comedy, like we were, doesn't go for those mass numbers.'
The last episode aired in January 2013. So why am I still hung up about this show (with only 33 episodes), over a year later? I started re-watching it (again – I've lost count how many times). It has become a kind of comfort food. And every time I watch it, it is still as funny as the first time. Hell, sometimes I even pick up on more than I did last time. Each time I watch the series through I grow incredibly sad. I thought it was worth reminding everyone that this show existed – maybe we can at least be sure it makes it into the cult classic annals.
Show premise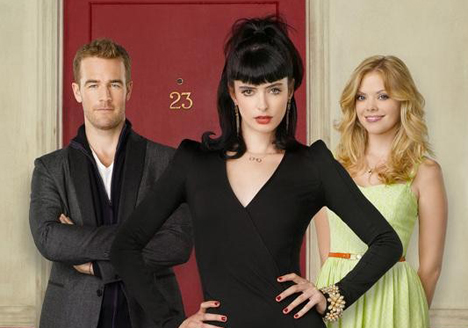 June is a small-town girl with big city dreams of having the perfect life: a wall street job and perfect relationship. Unfortunately, the day she gets to New York is the day her firm goes bust. Suddenly all her big dreams come crashing down around her and she's left with no place to live. Looking for a housemate leads her to Chloe – a scammer that likes to take in new housemates for their deposit only to freak them out so much they inevitably leave within a few days.
This time, however, Chloe is taken by surprise. June's sweet exterior hides a strong center. June is not as easy to scare off as Chloe would like. What forms is an unlikely friendship between a psychopath and a bubbly optimist.
June is forced to take a job at a local coffee shop with fellow failed wall street-er Mark (Eric André). Determined not to let it get her down, June continues to try to get back on her feet, despite being pulled ever further into Chloe's crazy. Part of Chloe's craziness is her best friend: actor James Van Der Beek (playing a send-up of himself).
A psychopath protagonist – but which one is she?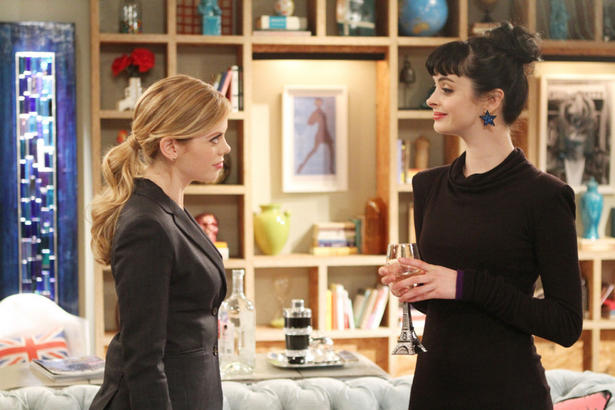 Chloe (Krysten Ritter) is the titular 'Bitch' in question and is generally considered the psychopath at the center of the show. But the line isn't always that clear. June, Dreama Walker's incessantly positive, optimistic, and naïve character steps over the psychotic line several times as well. In the face of constant BS from her flat mate, she considers Chloe a friend. She is OCD about her life plan – the queen of hospital corners (move over Sally Albright). I much prefer the cynical outlook of Chloe to June's glass-always-overflowing one.
If I look past Chloe's words of wisdom of friendship – that being a good friend and merely friendly are two very different things – I do admit that she does tend to cross the line into psychopathy. For instance, not wanting to be told off by her father, she pushes him into on-coming traffic. Or there's the time that she promised to look after a neighbour's grandfather and doesn't (the implication is that he dies as a result). Her obsession with completely destroying another person as a Halloween joke… Well, all these things make for hilarious television, but a questionable moral code.
Life without the Beek is no life at all
After Dawson's Creek ended, we saw little of James Van Der Beek. Before watching Don't Trust the Bitch in Apartment 23, I'm not sure I would have said that was such a shame. He sure as hell wasn't my favourite character – or actor – on Dawson's (hello, it was Pacey/Joshua Jackson, obviously). I'd seen him guest star in How I Met Your Mother, where he proved that he had surprisingly good comic timing. But other than that, he had completely disappeared off my radar.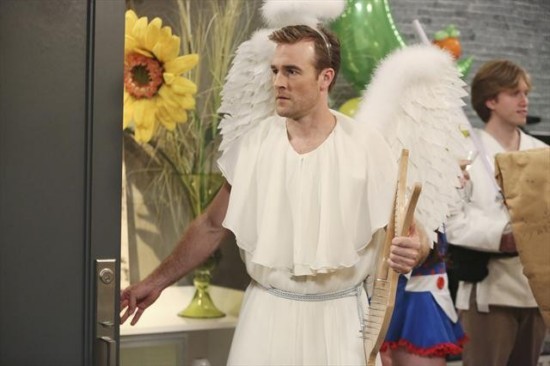 Like many actors that manage to score an iconic role early in their careers, Van Der Beek found it difficult to shed the Dawson Leery image. What better way to do that in playing a send-up of yourself? And he really is brilliant, he commits completely to the satire. Designing his own line of outrageously tight jeans, trying to make it as People's sexiest man alive, faking a sex tape, performing Shakespeare in a café, and performing in a romantic comedy opposite a giant purple monster.
It was an absolute no-holds-barred moment when Chloe writes a fake letter to James, pretending to be from his Dawson's Creek co-stars who want to do a reunion. She has been writing the letter to him for years to boost his confidence, while knowing that none of the others would be interested. The fictionalized version of James realizes he needs to let go of Dawson's while real-life James gives his all in the series to finally rid himself of that image.
If nothing else, this show proved to us that James Van Der Beek is a true comic talent. Not long after the show was cancelled, he found himself a new sitcom, Friends With Better Lives. The show starred Kevin Connolly (Entourage), Majandra Delfino(Roswell), and Brooklyn Decker (What to Expect When You're Expecting). Unfortunately, CBS cancelled the show after only airing 5 episodes. It is being shopped around with other networks, but it is unlikely to go further.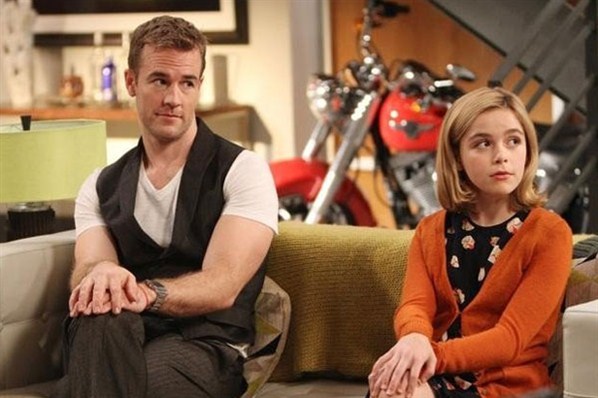 I encourage you all to watch Don't Trust the Bitch in Apartment 23 if you get the chance. It may have been short-lived, but perhaps we can make a cult classic out of it. I don't know of many other shows more deserving of the title (and the delayed success).