It was relatively quiet on opening night in my local cinema, but one thing was clear: apart from my companion, there were no other men in the room. The first of the Magic Mike films advertised itself very much as a hen night style thrill ride and then gave us so much more – a film with depth, strong character arcs, and new ideas of masculinity. In terms of male entertainment, Magic Mike XXL delivers a lot more than its predecessor, with a more ensemble piece with meandering plot.
That said; the film still has plenty to recommend itself to an audience of both genders. As such, here's a review from both sides of the gender divide…
Megan's thoughts
Having tried to stay away from other critical reviews before walking in, I didn't know much about the sequel. Though it was hard to miss the general lukewarm reception and repeated comments of 'not enough tension'. Of course, there was also the McConaughey-less factor, which was always going to be an issue, but the rest of the cast more than pull their weight.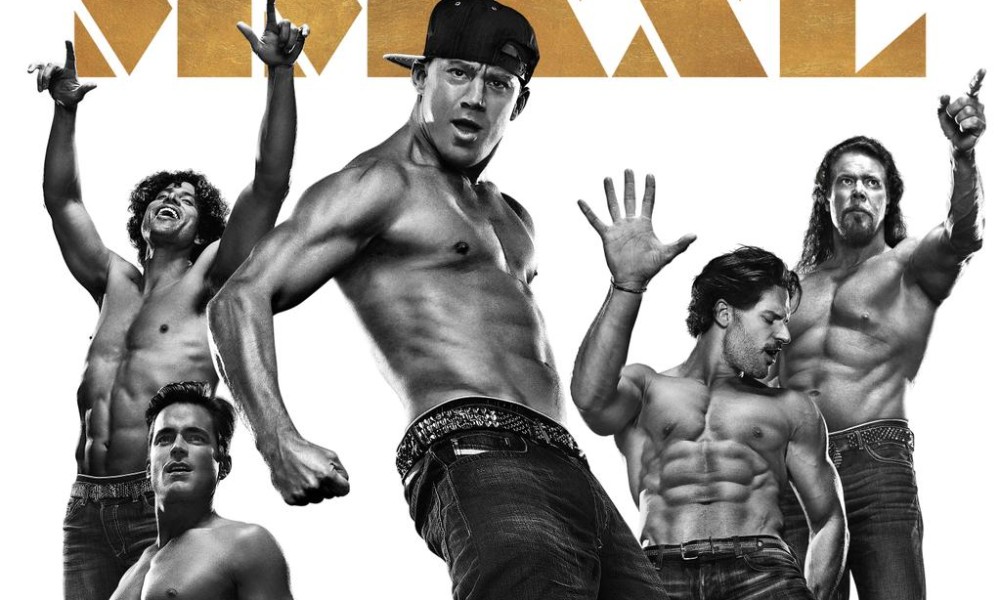 Where the original film went for a more straightforward, traditional coming of age narrative, the sequel tackles a bigger theme (and expands it to all the male entertainers): what now? This particularly struck a chord with me in my own life… We work hard at something, but then feel the inevitable dissatisfaction, boredom, disillusionment and so on and wonder what we could do with our lives that might give us some sense of achievement or fulfillment. Magic Mike XXL is all about believing in yourself, learning to love yourself, and finding that you have the potential to do whatever it is that you want to do.
With the first film, there is some question around will they/won't they succeed. But the sequel does not contain that kind of question at all; it's a bittersweet meditation on life and the need to move on. The boys head to the stripper convention for a final blow out, but if reviewers were expecting tension to build from this set-up, I think they are missing the point. It isn't a question of whether they will pull it off (of course they will), the question instead lies with whether they'll be able to move on from their stripping past and find something new about themselves that can carry them forward.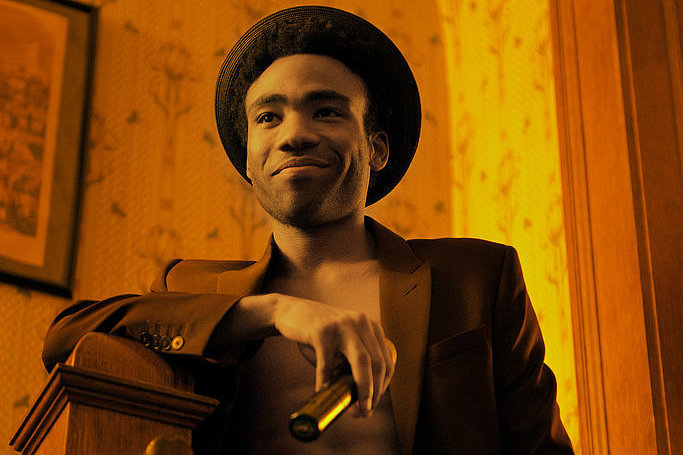 There's more than enough downright steamy moments to keep the ladies happy, while keeping enough of the atmospheric, laid-back dialogue to appeal to those who don't fancy a ripped man gyrating on screen. The stand out 'dance' moment of the film surprisingly comes from Joe Manganiello's Richie as he struts his stuff to a gas station clerk in an adorably vulnerable attempt to find what he's good at. Oh yeah, and he does so to the Backstreet Boys.
Both Magic Mike films have done very well at mixing drama and comedy so that there are plenty of laughs while still including a narrative with dramatic depth. And there are definitely plenty of laughs to be had in XXL. One of my favourite aspects of the film was the very real feeling dialogue. Some, if you aren't a Tarantino fan, might find some of the dialogue pointless as it doesn't always drive the plot forward, but it has a lovely realistic feeling to it, of old friends together, trying to figure out their lives while still talking their fair share of nonsense (I mean, don't we all?!).
Fenton's thoughts
I was personally a bit thrown by the advertising campaign for the original Magic Mike after seeing it for the first time. It sold itself as a male stripper fest, perfect for a girls' drunken night out or a lead in to a hen party, but it turned out to be a very solid character drama about professional anxiety, the economy, drugs, exploitation in the industry and it had lots of very good performances. It had stripping, and made no issue of its content, but that was the launching pad for a piece of serious film-making that I thought wouldn't really deliver for a bunch of gals wanting an hour and a half of oiled up abs.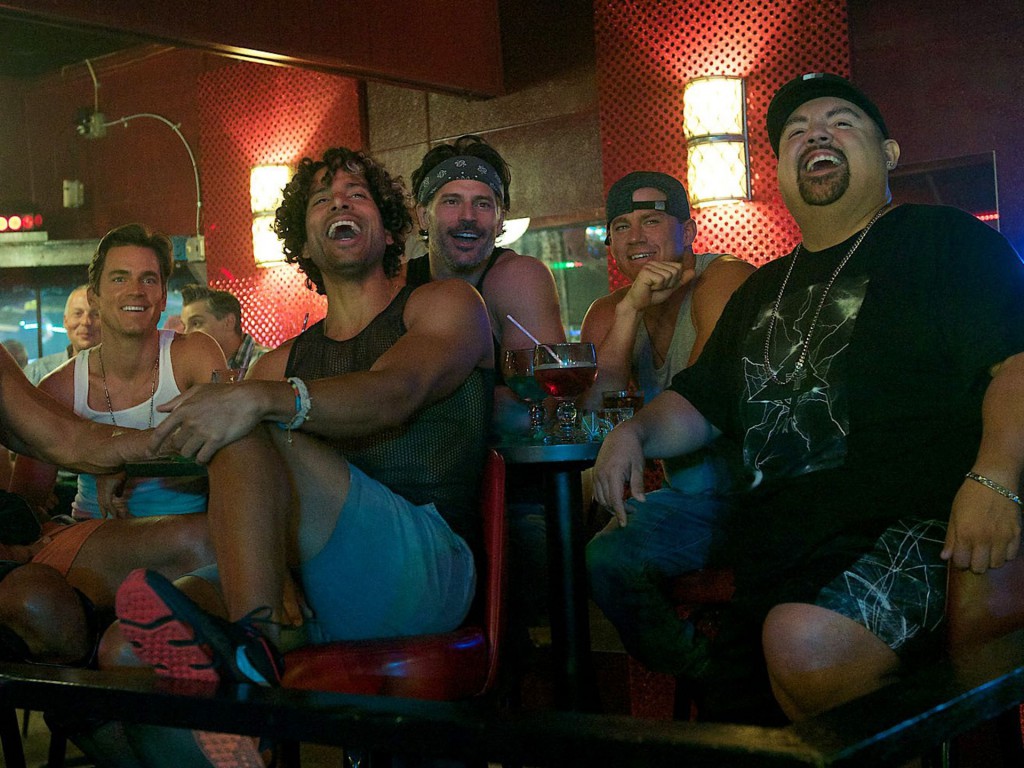 Now apparently I was wrong because the universal enthusiasm for Magic Mike has brought about a sequel which I did approach with a little ambivalence. The first film ended with Mike leaving the industry and I was worried that this would be a rather contrived effort to rehash the original. Says something about the quality of the a male stripper film when I go in most anxious about whether they will butcher the characters, and not about the funny looks I am getting for being the only man in the screening.
In many ways it is quite a different beast from the first film. It certainly revolves more around the band of strippers, going for one last show and reuniting with their retired headline act, than framing everything around Mike. This is a mixed bag because it fleshes out (sorry…) the very peripheral figures from the last film but we don't get the same detail or focus on those character arcs which was a real strength of the original. It is a broader but slightly shallower film in this respect.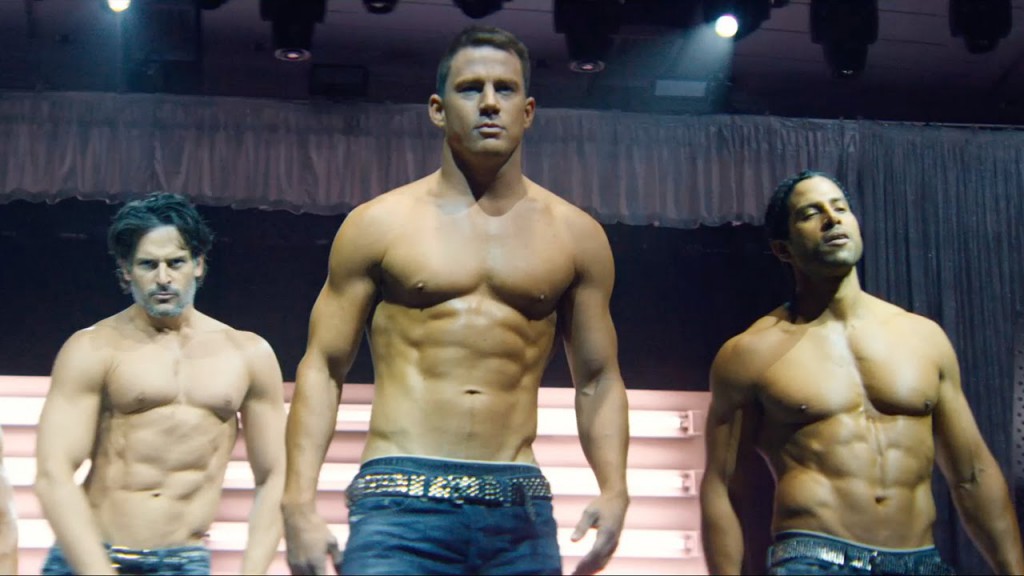 The film generally does have less focus than the original. It is quite meandering though it is ultimately a road movie and it isn't an illegitimate direction in this respect. Actually, as a road movie, it did seem to draw on a few other movies: structurally it's a lot like Blues Brothers with the 'let's get the band back together' and final musical/grinding-in-leather-hotpants (delete as appropriate) extravaganza; thematically it is like The Wizard of Oz, where the characters on the road together must confront their troubles and anxieties only to discover they have what they needed or the potential to overcome their struggles all along. It may be a tad sprawling and muddled but I think this rather pleasant and simple through-line gives it enough purpose and narrative drive.
So, I guess as a heterosexual male reviewer I had best discuss the stripping. This is what this his-and-her perspective piece was about, really. Well, there is certainly a lot more of it than in Magic Mike. Lots of abs and torn clothing. They seem to be… good at it. I just can't help wondering who picks up all the money hurled at them after the performance?
Verdict: While it might not be as deep as the original, Magic Mike XXL is still great fun. Great direction, fun script, and excellent performances (from their acting to their 'male entertaining') make the sequel well worth watching.