Penned by the late David Bowie and playwright Enda Walsh, Lazarus is about as weird and nonsensical as you would imagine. I had done no research into the play before seeing it and avoided all reviews to the point that I hadn't even realised it was written as a sequel to Walter Tevis' novel The Man Who Fell to Earth, the film of which saw Bowie's soulful gaze lingering on-screen between interludes of Rip Torn's sexcapades. The novel is a classic science fiction tale, and while the film is a cult classic, it isn't known for being particularly coherent. Lazarus outdoes Roeg's film, leaving the comprehensible far behind and traveling into the realms of the unknowable. But would you really expect anything less from Bowie?
The Ivo van Hove directed Lazarus has now made it to the West End in London after a sold-out run off-Broadway. The show has brought with it Michael C Hall (of Dexter and Six Feet Under fame) and the bland beige colour scheme of the costumes and backdrop for its UK run. The acting is superb, with the performers committing to the content whole-heartedly despite the nonsensical (and mostly absent) plot. The music and singing are both fantastic, while some of the more avant-garde theatrical elements are more curious than enlightened. And despite the bizarre elements, lack of plot, and incomprehensible and confused themes, Lazarus manages to work in the only way that really matters: it holds the audience's attention for its full run time.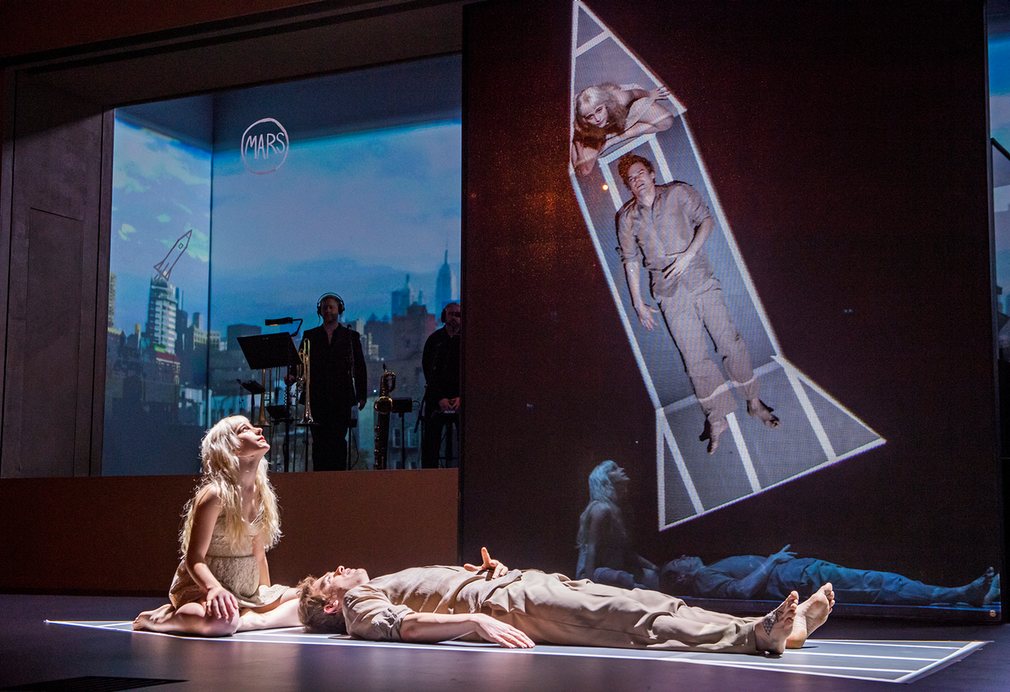 Look up here, I'm in heaven
The premise of the play is strikingly simple. Following on from the events of The Man Who Fell to Earth, Thomas Newton's so-called life continues to play out. He is an alien who does not appear to age. Humans have rejected him but not enough to allow him to leave. He leads a lonely, alcohol-fuelled existence with nothing but time to dwell on his failures – having let his family and entire planet die, losing Mary-Lou, never being able to return home.
While this premise might seem straightforward, the play is anything but. We meet characters who may or may not be real, playing out events that may or may not actually be taking place… it might be a dream, an alternate reality, or some kind of psychosis. It is never made clear. Characters pop in and out without explanation, clear relevance, or sensible narrative arc. Newton is looked after by his assistant Elly who begins to morph into his old lover Mary-Lou; a young girl encourages him to find hope once more; a sadistic young man lets loose with his murderous impulses. You might think that all of these pieces would come together by the end, but they don't. If anything, the meaning of the play only becomes murkier the further along you go.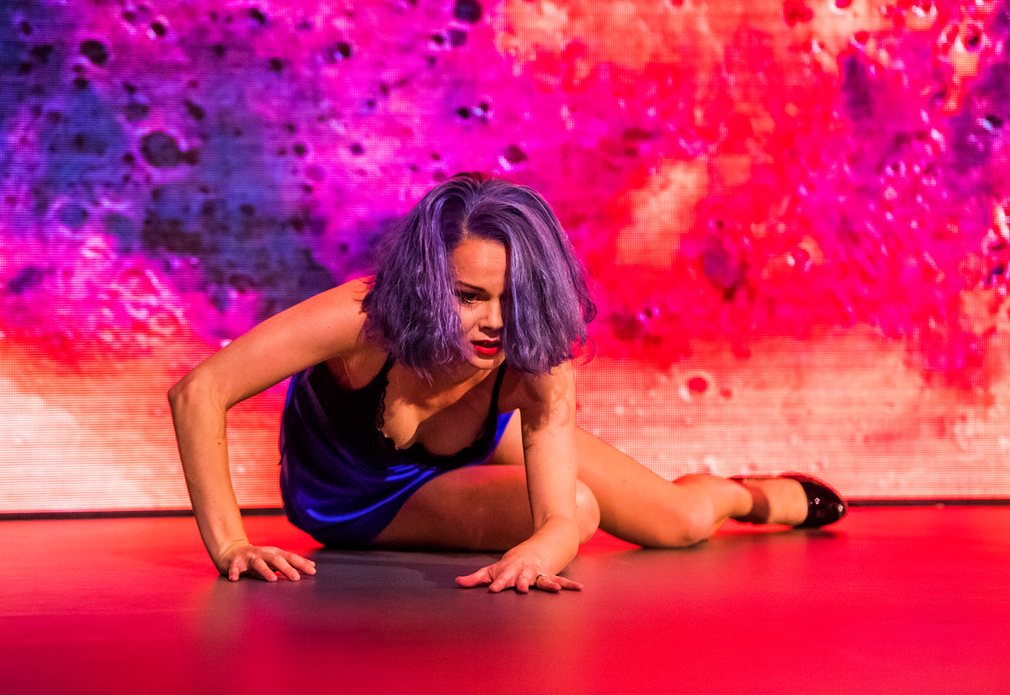 Hello spaceboy
But let's face it, Lazarus was never really going to be about the plot. As much as I love Bowie and think he was a genius, creating a traditional narrative never seemed either in his talent wheelhouse nor where his interests lay. The play is an exploration of guilt and self-destruction, how a man can both cling to life while racing towards death. It is philosophical and moving, and most of all, it is scored by an incredible soundtrack.
If you aren't a fan of Bowie's music, this play is not for you. The music and the mood are what makes the piece. You can feel Bowie exploring questions of life and love through Newton's suffering and his songs are the perfect companion for the journey. While some tracks that may have felt more obviously relevant are left out, the soundtrack is comprised of both well-known and more obscure tracks from the breadth of Bowie's career – from 1970's 'The Man Who Sold the World' to the title track from his final album, Blackstar. The highlight for me being the jazz-infused version of 'The Man Who Sold the World'. It is a testament to the skill of the performers that the songs came to life as more than simply covers. Given the lack of plot, it could easily have felt like little more than a tribute band with a bit of stagecraft.
Verdict: A captivating show in spite of its nonsensical narrative, but only recommended to those who love Bowie's music.