The General is back! This time, I'm taking a look at the TPB (Trade Paperback) volume two of IDW's Teenage Mutant Ninja Turtles. Eastman, Waltz and Duncan return to guide readers through issues five through eight.
"The Turtles learn the amazing story of their previous lives, and begin their journey as a true team of brothers! Meanwhile, Baxter Stockman unveils a deadly new strategy for capturing them…just as General Krang arrives in New York demanding results!"

– Cover synopsis 2012
I couldn't help but be excited to re-read this collection. Eastman and Waltz bring us a creative story continuing from issues one through four. Unveiled, this collection leaves us wanting and anticipating a wide variety of possibilities (remember: backtracking is always an adventure!)!
Issue Five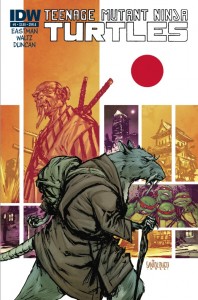 Issue five starts with a dramatic scene of hoodlums being taken down by Splinter. He mentions that he seems to be reliving the current tale. Page two sums up a confirmation that I sort of spoiled in a previous mention (Change is Constant). Eastman and Duncan leave every panel with a sense of symmetry. "In many ways so very different… yet so very much the same. For, in both, the story being told is one of a father… (Splinter 2)."
Page three spills into a familiar setting for Turtle fans: the brothers are training. The dialogue is short for each turtle with Raphael taking the lead, smacking down Donatello and asking for Leonardo. Remember in the previous story arc, Raphael was missing. Now returned to his brothers, the turtles comment on how even with the time apart, they all feel a sense of shared training experience from Splinter (Father).
Page five brings us to a sense of where and more importantly why Splinter is out within the Shadows. In reading a flash, we do just that; flashback to futile Japan. We learn about Hamato Yoshi and Oroku Saki (great familiarity for turtle fans everywhere!). I'm not entirely sure I appreciate Duncan's style of the samurai/ninja aspect, however. Readers find through the next six pages of epic storytelling, that Yoshi's wife was assassinated by a group of ninjas. He then swears vengeance and takes his four sons for safe-keeping.
Ah, so sad. The next page brings us back to present day with Casey on the ice ring and a disappointing conversation about grades and staying on the team. Transitioning to the next set of panels, we find April putting up a sign at the school asking for students to tutor (See where that went? Oh yeah!).
Next! Splinter is back from tripping up Hob's minions (who if you remember are looking for the group) and makes it back to the sewers. Flashback! We're back in Japan and we find Saki on a massive man hunt for Yoshi and his sons. Tragedy seems to always fuse the greatest of stories. I'm not sure I would spend the coin to claim that this would be considered an epic tale of literature, but the similarities are present.
The present is always nice, but revealed; Yoshi's sons (himself included) were brutally executed. Not all is lost. Splinter tells his sons that having been reunited and using experience gained from their previous excursion with Hob, they are now ready for new untold stories. I think I squealed when the turtles were being presented with their traditional (cartoon and such) colors and weapons we've all come to love and admire.
Issue Six
Issue six kicks off with a set of ninjas flying through the rooftops with our turtles in the background. Impression is always one of wonderment; who were these ninjas? Boom! Turtles en-route! I have to say that I truly do appreciate that no matter who is writing, or has written, each turtle maintains their similar character traits. I think one of my favorite lines in this issue is the serious verbal burn that Leo gives to Mikey after his response to Raph.
"I thought the tortoise beats the rabbit in the story."

"Well, the tortoise in the story didn't spend all his free time gorging on pizza and video games."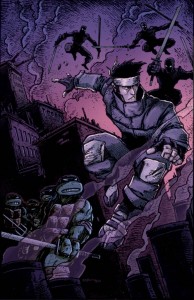 Never a dull moment in the Turtle world! The brothers find that the ninjas they were chasing were chasing another. Rooftops are an element that I enjoy. They always reminds me of the first issue that was unfolded unto the world in 1984.
In the shadows, the turtles come to a consensus that they need to help the mysterious French ninja who was being chased. After he was stabbed, the turtles went to the rescue to ward off his attackers. The turtles find out in his last breath that War is coming.
Next we find that Baxter Stockman has asked Hob for a conversation. In the meeting, he makes a reference to baseball. And for everyone who knows baseball, three strikes equal an out. Hob mentions how he would need an army to defend against the turtles. Anyone care to guess what Baxter's panel ending phrase is? "Funny you should mention that."
Next page shows us the conversation between Casey and his father. The most important connection is that he has April's tutoring service and his phone. Like most things, Destiny always loves to tip her hand into the pot.
The next two pages are story loaded with ten glorious filled explanations that bring the brothers up to speed with what you already knew. Each turtle handles the concept of reincarnation and the news of the Foot Clan. We then learn more about Donatello's scientific mind, relating back to Splinter at the lab prior to helping April (issue one). Donatello is still unsure of the concept of reincarnation, but the story continues as April and Casey meet for the first time: each looking for mutual assurance; Casey for help with his grades and April with her fighting skills.
The wrap of the issue has Baxter and Hob at a lab where Hob becomes the guinea pig for what Baxter is about to unleash. For those who read issue two of the 1984 version, you know what's coming!
Issues Seven and Eight
I do apologize for those who don't appreciate the detailed accounts of the story. I just noticed as I was finishing issue six that it was rather boring. I can't bring myself to be so monotonous in describing something that my geekdom can not and will not contain!
I do have to say that many people I talked to about issue seven found that it related to them easily. Especially since they had mousers! For those who don't remember, they were the annoying robot creatures that ate everything in their path. Originally, Baxter Stockman used them to steal from banks (Issue 2, 1984). In this version, he used them to specifically defeat the turtles (it could be the same in the tv show, but memory escapes me).
Dun-dun-dun! General Krang shows up for the first time (minus a hand earlier). We find the lair, and for any fan, you realize that Krang is the ultimate Utrom (brain looking creature). I have to include a not-so-side side note, that the Utroms in the newest television show (Nickelodeon 2012) are ridiculously annoying.
Regardless, the turtles find themselves barely escaping the hoard of mousers. Unfortunately, Splinter somehow, like a beautiful homage to old school, gets captured by Hob and taken to Baxter/Krang. On a good note, April faints at the sight of the turtles! Mind like a steel trap!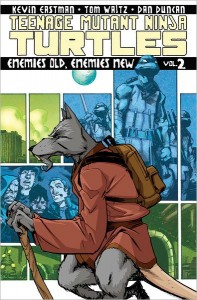 For those who appreciate specialized covers, this quad set has a great collection from Kevin Eastman and Mark Torres. Remember, IDW puts out each issue with three to four covers. Cover A is the first cover that has no requirement other than your comic store to order it (always done by the main artist). Cover B is generally a 1-in-4 type of deal (this one is normally done by Kevin Eastman or special guests). Cover RI (retail incentive) is 1-in-10 (cover artist specialty). Occasionally there is another special cover; generally reserved for the company Jetpack Comics. The exclusive covers usually go fast, like ridiculously fast.
As always, my fandom may not do the review justice, but I was thankful for this story arc. So far I was so excited for being able to pick up each issue and read them. Now I think many shops have a limited amount of the first 8 issues. Granted the interwebs has its place, so I'm sure you can find them. The trade paperback is my favorite way to re-read the story. Again, US $17.99 isn't a bad way to spend an afternoon (depending on how quickly you read).