Australian films should enjoy more exposure, they are often brilliant and always interesting (they try to set themselves apart from Hollywood films). As an Aussie living in England, with an English boyfriend, I like to expose him to some Australiana from time to time. I have so far put him through Gallipoli, Strictly Ballroom, Priscilla Queen of the Dessert, and Muriel's Wedding. We were both tuckered out from a hard week's work on Friday and wanted to plonk down in front of the telly to watch something light and entertaining. So we watched Australia's The Castle.
This film has a mixed history with me. It was one of those films that all my friends loved – an Australian insta-classic. But I hated it. It made me cringe. Perhaps I was too young to appreciate it at the time, but I suspect it has more to do with me being a complete snob. Now that I have moved away, however, I appreciate the representation of the true 'Aussie battler' on screen. And the boyfriend absolutely loved it.
For those of you who don't know about this film (probably any reader not from Australia), The Castle is the story of a working class family who fight the government's attempt to compulsorily acquire their house in order to expand Melbourne airport. Australia has many cultural myths about itself, but one of our favourites is the 'Aussie battler' – where the little guy goes up against the big guy, and wins. An Aussie can win against all odds.
First we are introduced to this typical Australian family: the Kerrigans. They are a lovable bunch of misfits: the positive, loving parents (Michael Caton and Anne Tenney), with their father, Darryl, being supportive to the last. The kids include Steve (Anthony Simcoe) 'the ideas man' addicted to bargains and inventing useful tools; Wayne (Wayne Hope), the black sheep of the family, in Prison but always in the family's thoughts; Dale (Stephen Curry) our narrator, is always a little on the outside; and finally we have Tracey (Sophie Lee). She is the youngest, the only daughter, and the holder of a hairdressing diploma. Tracey is married to Greek kickboxing enthusiast Con Petropoulous (aka the yet to be famous Eric Bana).
This story spans more than just the immediate family (and their racing greyhounds)… it is the story of a neighbourhood. With his neighbours Farouk, Jack, and Evonne on side, Darryl seeks the help of a lawyer. Not just any lawyer – Dennis Denuto (Tiriel Mora) – the lawyer that failed to get Darryl's son Wayne off. True to form, Darryl Kerrigan has absolute (and misguided) faith in Denis. Things go from bad to worse very quickly, as Denis's ineptitude is total. The family, however, manages to stay upbeat until the loss at the Federal Court. At which point, hero of the hour and former QC Lawrence Hammill (Charles 'Bud' Tingwell), steps in.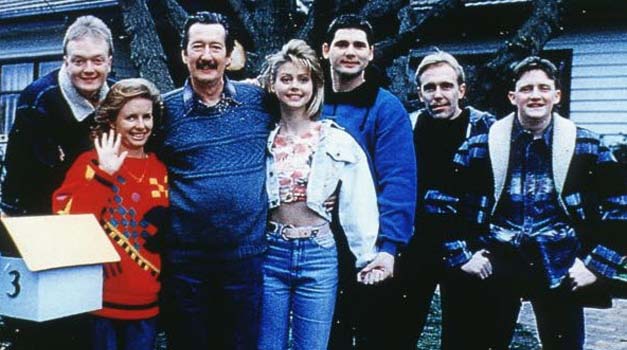 I suppose this film could be considered a moral film, spouting family values, positive attitudes, and something about 'be a good person and good things will come to you.' But it avoids being sickly sweet or preachy through direct, dry humour. And that's what makes it truly brilliant. It also carefully sidesteps what easily could have made the film fail… laughing with rather than at the Kerrigans. The film could easily have made fun of them, making the jokes at their expense. But that isn't how it goes.
And yet for me, the story is also a little heartbreaking. We are told the story through Dale, who from beginning to end is the outcast, always told to be quiet when asking his inane questions. At the end of the film, he gives us a little wrap up of 'life after the event', a typical trope of the genre. Life goes well for all the family, but he never tells us about himself, just as he is left out of the story all the way along. While his dad does praise him for 'digging a hole', the hole later fills with water. When he digs another hole at a moment of crisis, he is ignored. It is sad that our narrator has so little sense of empowerment, but it does have an interesting effect on the film. At its core, it is about a strong family tie, which Dale embraces. He couldn't be prouder of his family.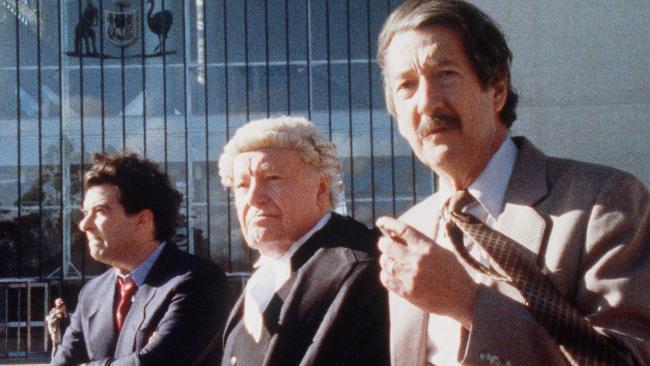 Remember, 'A man's home is his Castle.'
Verdict: Great fun. I dare you to come out of this film and not say 'He's dreaming' any time someone asks too much for something!