There are some films that will stay with us until the day we die. The reasons for their lasting impact can vary widely, but we know that we love them and that's all that matters. Ghostbusters is one of those films – for me and for a hell of a lot of people the world over. Why? On paper, the premise is ludicrous. The film itself is ludicrous too, although it is supposed to be. It is hard to have more fun watching a film than you do over those 105 minutes.
The eighties were a great time for films, if you ask me. They knew how to have fun back then – what kinds of films do we have these days? I think 'gritty' is the usual way to describe the current trend. While 'gritty' can be great, sometimes I'd like a little break. What's wrong with a bit of harmless escapism? Why shouldn't we spend our Sunday afternoons having a laugh at a fun and silly film? When they do make fun films these days, the silliness seems to take over – leaving 'clever' and 'interesting' for dead.
This weekend I attended a Future Cinema event in London where they made a 'live event' out of showing Ghostbusters. In a nutshell: it was awesome.
So what makes Ghostbusters such an enduring classic?
The writing
This script is expertly written. Comedy takes a careful hand when writing to allow enough jokes but never feel forced. It is often common (although less so these days) to have comedy actors improvise lines or flesh out their own characters. Notably in Ghostbusters, Rick Moranis was allowed to rewrite much of his character's lines. The script was expertly written by stars Dan Akroyd and Harold Ramis.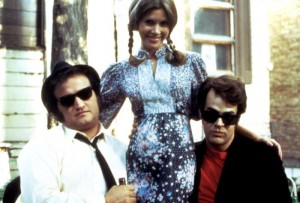 Dan Akroyd spent a successful three years on Saturday Night Live before hitting the cult big time with The Blues Brothers. During this time he was briefly engaged to Carrie Fisher (something this Star Wars nerd feels it is important to mention, despite not being directly related to the content of this article…). After Ghostbusters Akroyd did have some writing success, but nothing that really held up to his big two (except maybe Ghostbusters II). His other writing credits include Spies Like Us, Dragnet, Coneheads, Nothing But Trouble, and Blue Brothers 2000. Harold Ramis, Akroyd's writing partner on Ghostbusters has had more success in writing, lending his pen to such classics as Animal House, Caddyshack, Stripes, Groundhog Day, and Analyze This (with a few misses along the way).
The director
During the 80's and 90's, Ivan Reitman produced some gems. Ok, so none of these are critically acclaimed Oscar-winning triumphs. But he knew how to make a good, fun film. Other than Ghostbusters and Ghostbusters II, Reitman was the man behind the camera for Stripes, Twins, Kindergarten Cop, and Junior. This man has serious acting chops. For me, great directing for a comedy film is unobtrusive while managing to capture golden moments where the comedy comes from great acting (rather than situations or slap-stick). In other words, anyone who can film Bill Murray's brilliance in a way that doesn't look like that's what they're doing. That makes sense, right?!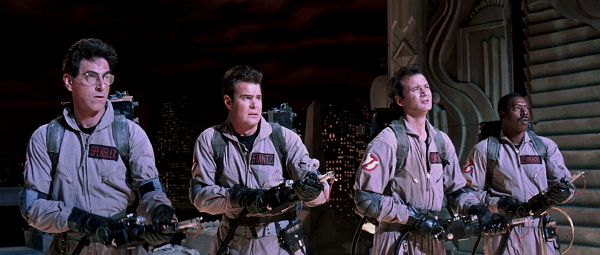 The cast
Wow. The cast of Ghostbusters is spectacular. My personal favourite is Rick Moranis. Yeah, that's right. One of the great crushes of my youth. I freaking love that man. Sexy, funny, brilliant. Anyone who says otherwise is just plain wrong. The man's a genius. And the fact that he gave up acting after his wife died in order to look after his children gives me even more respect for him.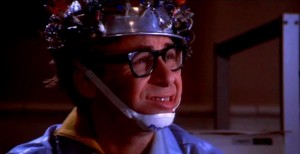 Coming in a close second is the ever-fabulous Bill Murray. Is this man ever not funny? He is a funny looking oddball with so much charisma all the women want to throw themselves at him – including me. (I realize by now I seem rather cheap and easy to win over, but this is just in my fantasy life, honest.) Bill Murray has the most amazing face for comedy. He just gets physical comedy. Murray doesn't just deliver the lines (although he does do this superbly), his entire body expresses his commitment to the roles.
Dan Akroyd, Harold Ramis, Sigourney Weaver, Ernie Hudson, and Annie Pots are amongst the rest of the main cast. Could you really ask for more? Well, if John Belushi were still around I'm sure I would have wanted him to show up as well, but you can't have everything.
A great story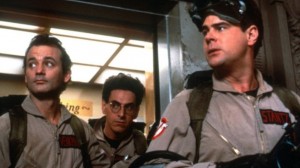 So what would the pitch for Ghostbusters have looked like? Let's try it – 3 sentences to sum up this film…
'Three scientists lose their University positions and have to strike out on their own. They set up a supernatural pest control service called Ghostbusters just as the city becomes overrun with paranormal activity. Soon they need to save all of New York from an ancient evil opening up a gateway to another dimension over the city.'
Ok, so that wasn't terribly snappy. But for five minutes of effort, it could be worse. I find it difficult to see the studio suits buying into an idea like this easily. It sounds ridiculous – and expensive to make. To me, however, it has everything.
There are laughs, real high stakes, fantasy and science fiction elements, a love story, and a fight of good against evil. Doesn't that tick all the boxes? I would actually challenge you to find something that this film doesn't have.
Future Cinema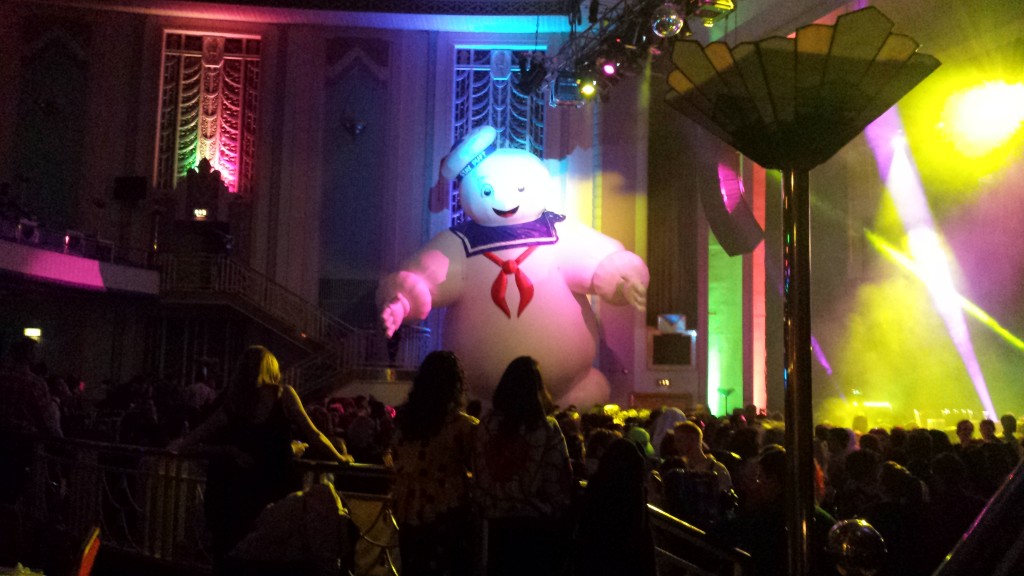 With fewer and fewer people going to the cinema (and cinema ticket prices going through the roof) it is no surprise that some enterprising son of a gun has come up with Future Cinema. Future Cinema is a venture involving creating an interactive cinematic experience. Since Halloween, they have been running Ghostbusters at the Troxy in London.
The event included making the Troxy to look like The Sedgewick Hotel from the film, recreating the Ghostbusters offices to the point where they would interview people regarding paranormal activity and abilities and run paranormal tests. There were others wandering around with clipboards asking environmentalists to sign their 'anti-proton pack petition' – I told them to go to hell. There were bars and BBQ food, a large dance floor, and a whole lot of glorious 80's music (including plenty of Prince!).
Actors were walking around the crowds before and during the film, acting out parts of the film at the right moment. Lots of lights and projections of Slimer on the wall, along with a giant blow up Mr. Stay Puft. After the curtain went down (so to speak), the crowd (along with the actors in Ghostbuster costumes) danced to Michael Jackson's 'Thriller'. After all, what's an 80's themed night without a bit of MJ?!