I have always wanted to go to the Hay Festival but never managed to get round to it. This year, however, they announced that Carrie Fisher would be attending. I simply had to be there. Not only am I a crazy Star Wars fan, I also thoroughly enjoy her books. Wishful Drinking was so funny I may have had a laughing induced accident resulting in tea being sprayed all over my kindle, bed, and self. And hey, while I was out that way, why not try to get in to see Stephen Fry?
The Hay Festival of Literature and the Arts has been taking place in Wales for 27 years. For 10 days in May, the village of Hay-on-Wye plays host to some of the greatest minds in literature, film, comedy, science, and more. The Brecon Beacons National Park is transformed into a hive of activity, as people from all over the world come to hear writers and artists talk about their craft.
My day at Hay
Being a Hay Festival virgin, I wasn't sure what to expect. My only similar experiences were from science fiction conventions. The talks themselves were fantastic and the ticket buying/queuing etc was well organized. I was a little disappointed by the lack of other things to do. Perhaps this is a result of my background in cons, but outside the talks, there were only a handful of stalls, and very few of them were literature based (I was already in Wales, I didn't need Welsh tourism to tell me to visit – nor did I really give a damn about the green energy stall or the traditional woodworking – yes, the latter was interesting, but not right for the festival).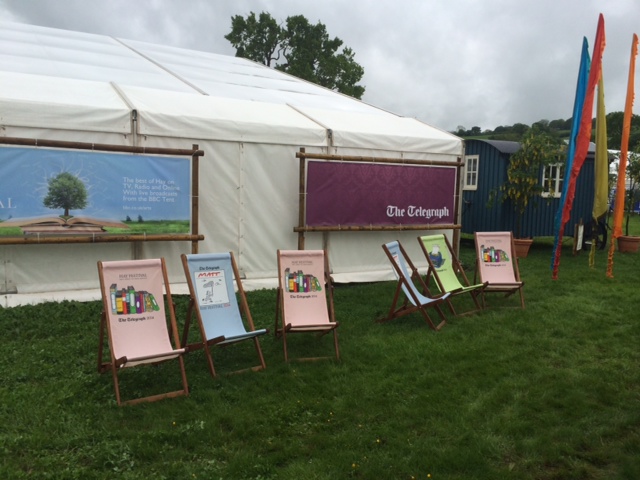 I should acknowledge that this failing might not have been so irritating had it been a nice day. Unfortunately, it was pissing it down from sunrise to sunset. The ground undercover was completely sodden and the grass areas with deck chairs became more like small lakes by the end of the day. As everyone was staying undercover, seats were extremely hard to come by. Thus, hours of leisurely reading I had anticipated became a thing of dreams, and I wandered aimlessly around the festival over and over again, thinking that movement would help keep me warm at least.
My main between-talks entertainment was unexpected. In one of my laps of the festival, I came across a tent opposite the Festival Bookshop. I had to pinch myself as I saw Carrie Fisher being interviewed by the BBC. Frantically, I looked around me and was utterly confused as to why I was the only one marveling at her. There I stood, for far too long, staring at one of my idols with a goofy smile on my face. The way she was sitting meant she was looking my way and began to look slightly worried after I'd been staring at her for too long (sorry Carrie!)… although the worried look was a lot worse when she saw me hovering outside the Artist's area. Ah well, crazy stalker tendencies aside, I'm alright!
Tony Fadell talks to Stephen Fry
The first talk I went to was Stephen Fry interviewing iPod designer and Nest creator, Tony Fadell. The event began with Fry's usual charismatic wit, having only *just* made it to the festival in time, with minutes to spare (and those of us nerds who follow him on Twitter were keeping up with his progress online). Somehow the topic of conversation quickly spun round to ethnicity, with Fry saying 'I have no Welsh in me at all… that's an offer!'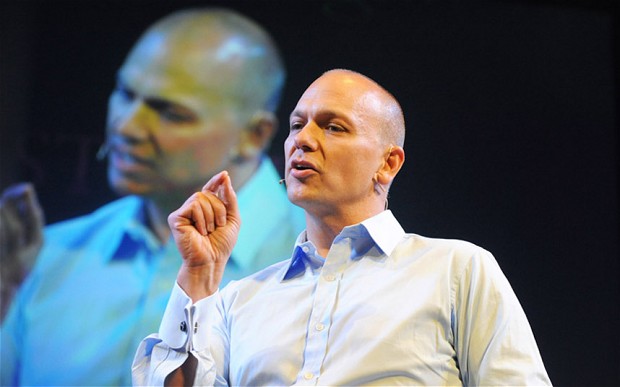 Their discussion covered Fadell's career, from early failures to success with Apple and Nest, the impact of digital technologies on the world we know, and how change happens. For the literary crowd, you might ask why such a techy talk would be of interest – but with eBooks at the forefront of everyone's mind at the moment in publishing, they were asking the right kinds of questions – and even suggesting some possible solutions.
The important message to be delivered to those in the book industry is that the advent of eBooks does not mean the death of print. The electronic formats certainly have their good points, particularly when it comes to convenience (taking books on holiday is a lot easier on a Kindle/tablet than packing them all in your suitcase). However, there is room for both digital and non-digital within the literary landscape. As Fry and Fadell pointed out, 'The invention of the telephone didn't mean we stopped talking to each other in person' and that 'Even with escalators and elevators, we still have stairs.'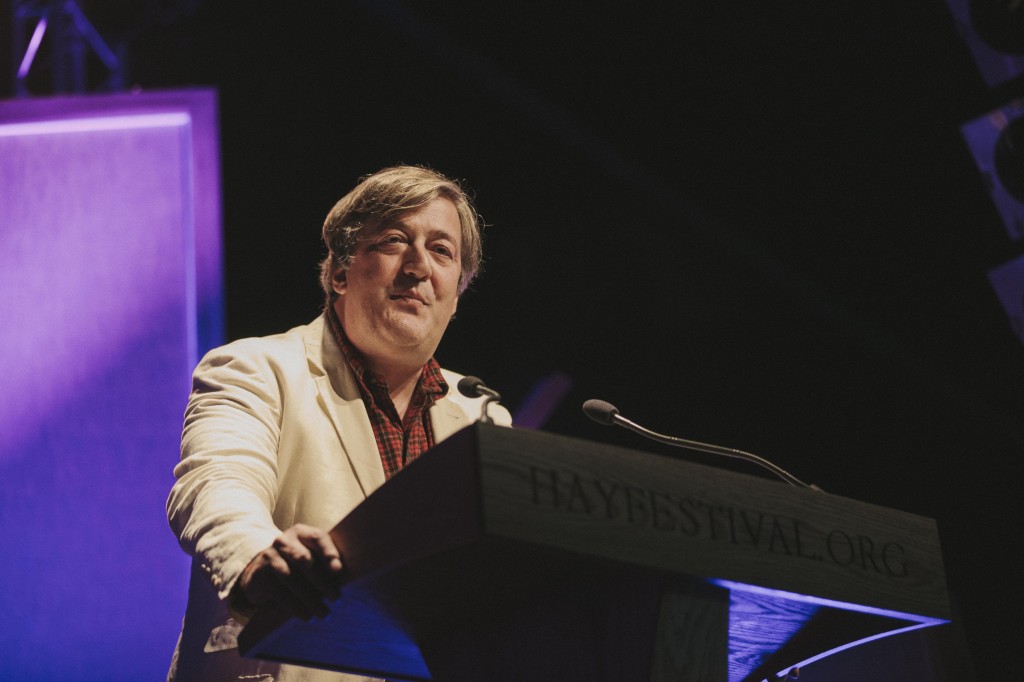 What is interesting to look at is the way that eBooks are dependent on the device. This locking-down, 'protectionist' mentality is nothing new. Think back to VHS tapes with NTSC and PAL, or even now with different region codes on DVDs and Blu-rays (which is unbelievably annoying for someone like me, having lived in three different countries). And a word of caution from the history of Sony – when the mp3 codec was developed, Sony put most of their efforts into 'undoing' the mp3. They focused all their energy on trying to ensure that CDs were copy protected, etc, while Apple came in and profited from the mp3, with the iPod. Perhaps what publishing needs to take away from this is that consumers want the content – get it to them in every possible way they could want it. If they want it, they'll get it – so make it as easy as possible for all those who are interested in the content and willing to pay for it. Those who won't pay for it, likely never would have, and will manage to get hold of it anyway.
Fadell also advised on not moving to new technology too quickly. One of his failed companies tried to create an iPhone equivalent 10/15 years too early. The market wasn't ready for it and the company failed. What Apple did was unbelievably clever – they created the market for the iPhone, convincing the public they needed it before creating the product. Starting with the iPod, they introduced music, then podcasts, videos, and photos.
His drive to incorporate the digital world into all aspects of our lives has led Fadell to create the Nest app, which currently allows users to control their home thermostats as well as smoke alarms. The company has recently been purchased by Google and has big plans for expansion. Keep an eye out for more great things from Tony Fadell in the future.
Carrie Fisher talks to William Sieghart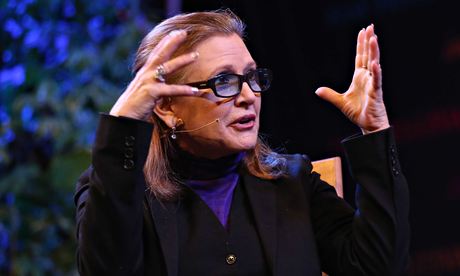 Carrie Fisher is funny, intelligent, articulate, crazy, self-deprecating, honest, charismatic, and fabulous. You may disagree, but you would be wrong. There is no arguing with me on this point. I'm not sure what she hoped for an event like Hay – whether she hoped to avoid the Star Wars crowd (although since the announcement of Episode VII, I'm not sure that would be possible), but I did feel like one of the few people in the audience that had actually read her books.
The interview began with a brief conversation about all things Star Wars, where Carrie suggested that Episode VII should contain 'Granny Leia' cooking while wearing her classic side-bun hair-do. Moving swiftly on from 'A galaxy far, far away…', Sieghart started to ask her about her career after Star Wars, where she went from predominantly acting to writing.
Reading was like a drug for me, but there's no rehab for that… wait, 'read-hab!'
If any of you have read Postcards from the Edge, you may recognize the wonderfully witty, memorable first lines… 'Maybe I shouldn't have given the guy who pumped my stomach my phone number, but who cares? My life is over anyway.' These lines first appeared in an interview Carrie did for a magazine, at which point a publisher contacted her, interested in having her flesh it out for a novel. It became her first novel, a mix of fiction and fact, which she labels 'faction.' The success of the book led to Fisher adapting the book for screen.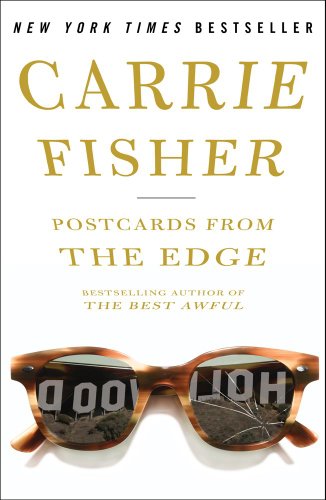 Her success with the Postcards screenplay led to a number of offers of script doctoring, most of which she turned down. It was Spielberg who finally got her to say yes to working on Hook. However, she never had an official contract and did not get paid. Instead, Spielberg gave her his Mercedes – as you do! She also notably worked on Sister Act and The Wedding Singer. Since then, she hasn't done much script doctoring, explaining that now you have to audition for the job, going in with what you would like to do to the script.
Throughout the interview, the one truly arresting element is Carrie's complete honesty. Nothing is off-limits. She makes jokes about her drug habit, rehab, electro-shock therapy, her family life, her love life, and her acting. A phrase she repeats almost like a motto is that 'If my life wasn't funny it would just be true.' Maybe something we all need to remember when we start taking ourselves and our lives too seriously.
When it comes to her writing, Fisher finds that it is sometimes more helpful than therapy. While most of it is based in truth, changing the names and being allowed to fictionalize to some extent allows her a freedom that real life simply doesn't: 'Reality can be so constricting,' she says. Writing helps her define the abstract feelings she has crowding her mind, making sense of it on paper. And as she points out, why would she need to make anything up, 'I couldn't make up stuff weirder!'
While I hope that her life settles down in the coming years and she finds nothing but success, on some level I do hope that it remains completely weird – perfect fodder for more wonderfully observant and witty novels.
I had a great time at the Hay Festival. But I would recommend that if you are travelling all the way there, make sure you bulk up your schedule with as many talks as you can get tickets to. They are definitely worth the (very, very reasonable) price. Be sure to keep an eye out for next year's guests and remember to get tickets early – the best talks sell out quickly.