Just occasionally, a director is able to grow their reputation enough to pitch a weird film for a major release. Master of pulpy macabre Guillermo del Toro has done this superbly with The Shape of Water, a delightful romance between a mute woman and a fish-man trapped in a lab. Del Toro has a very interesting career in film. He has straddled two courses behind the camera, directing both critically acclaimed Spanish-language dark fantasies (Cronos, Pan's Labyrinth) and action-packed blockbusters (the Hellboy films, Pacific Rim). The Shape of Water shows a skilled compromise between these two sensibilities, producing something accessible to all but steeped in the uncanny.
It is 1963 and the space race is hotting up so the USA is looking into all sorts of areas to get a scientific edge on the Soviets. Elisa (Sally Hawkins) is a lowly cleaner at a scientific facility in Baltimore assigned to clean a lab with a recent new arrival (Doug Jones). Both isolated, the woman and her amphibian man bond over lunch and music in stolen moments. But time is against them, as twisted government operative Strickland (Michael Shannon) is keen to see the creature vivisected, and scientist Dr Hoffstetler (Michael Stuhlbarg) has his own agenda for it.
Del Toro knows how to make his film look sumptuous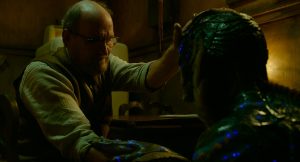 Del Toro's films always boast immaculate designs. He uses real sets wherever possible, complex prosthetics and costumes, and has a real eye for period detail. The Baltimore we see here is acutely surreal, just beginning the transition out of 1950s Americana. It's steeped in film, music, and advertising from the period. Everything about it is heightened. Del Toro makes no efforts to hide his inspirations. Video game auteurs may identify elements from Bioshock in the depiction of a creaking city overlaid with crooner tunes, all with aquatic undertones. Del Toro draws cinematic parallels with the musical films that Elisa and her neighbour Giles watch, which do spring to life for a little fantasy dance sequence. It is a setting that strives to make a Creature-from-the-Black-Lagoon love story plausible. The same material in different hands would well have been a lot more bland.
The plot and morals of the story are very simple. Love and acceptance. No wonder this film is doing implausibly well at the major awards ceremonies: academy members like things spelled out for them. Having said it is a simple parable, that is not to besmirch its value or craftsmanship. There is a virtue in simplicity. And thematically, everything ties together to reinforce the message. You'll find every character in some way frustrated for contact and sublimating their desire into something else (usually food). Elisa masturbates in the bath each morning whilst her eggs boil, Strickland has methodical passionless sex with his wife then guzzles candy, Giles eats an ungodly amount of pie to spend more time with the young man at the diner. Everyone is just hungry for contact.
This feels like such a modest film to be made a big deal of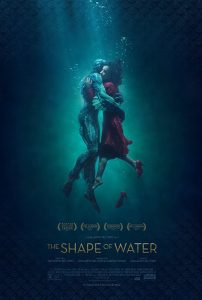 In some ways I am surprised that the film has had such a critical outpouring. Not because it is a bad film – it isn't – and not because it is too weird for a general audience. The Shape of Water just feels, if anything, a bit quaint and slight. It doesn't feel like a film aspiring to iconic status. It's just a little fairy tale about a woman and her fish man. Perhaps it says something about the paucity of good romantic cinema. For all its Cold War machinations, the core of the story is realistically depicting two people who bond simply by spending time together.
As with all human (and quasi-human) drama, this can't work without a great cast. Sally Hawkins has rightly drawn a lot of attention for her role of Elisa. Doug Jones is an experienced and capable fishman, having previously played Abe Sapien for Del Toro in the Hellboy films. The other key players are Octavia Butler as Zelda and Richard Jenkins as Giles. They are Elisa's only friends and bring a lot of warmth to the film but they also anchor the drama to a world of people are reflecting on their missed opportunities and just trying to get by in their jobs. One hopes they too will find their proverbial besotted fishman.
Verdict: A wonderful film about forbidden love and I am thrilled to see it succeeding!