*Spoiler free review*
It might not seem like a big deal to those who have already been there, done that… but this year has seen me hit the wrong side of 25. As if being a quarter of a century old wasn't enough. The years have started flying by – I feel like I blink and miss them. And what did I accomplish last year?! Shit! Time's running out! Or maybe it's my imagination… whatever it is, I'm heading into my late twenties I feel lost and miserable. But hey, guess what, this is considered a fairly universal feeling for this time of life.
Kristen Bell's latest film (written and directed by Liz W. Garcia) deals with exactly this feeling – that whole 'adulthood is full of boring shit and too much responsibility… and nothing works out the way you think it will when you're younger.' So yeah, I can relate to Bell's character, Leigh, not wanting to grow up. Ok, so I've never slept with an underage boy, but we all have our own coping mechanisms.
Plot
Leigh is a 29-year-old reporter who desperately wants to be taken seriously, but her stories are constantly relegated to the 'fluff piece' sections. She's sleeping with her boss, who is married, and is generally just freaking miserable. Realizing that her life is in some serious need of revamping, Leigh packs her bags and heads for home (taking her cat with her of course). Yes, that typical small town girl struggles in the city story – but can you really blame her? The city is so grey and unwelcoming, while her hometown has trees and wide open spaces.
Back at home, Leigh catches up with her old friends, including the ever-brilliant Martin Starr (Freaks and Geeks, Party Down) and Mamie Gummer (familiar from another Focus Features film, Evening). Are her friends any better off than Leigh is? Arguably. But misery loves company. Leigh's 'big plan' is to get a job as a lifeguard that pays little over minimum wage. At her job, Leigh meets the local youths. Full of the usual 'rough' stereotypes – Mohawks, smoking, drinking, skateboards, swearing. In exchange for buying the underage darlings some liquor, Leigh and Todd (Starr) decide to get high with them. And thus begins an odd grouping of teens and late twenty-somethings.
Leigh's string of bad decisions doesn't end with taking her vice-principal friend along to smoke weed with students. Bell's lost little girl develops a close relationship with one of the boys, Little Jason (David Lambert). The two relate to one another – both feeling lost and desperate to get out of their lives. The relationship quickly becomes sexual.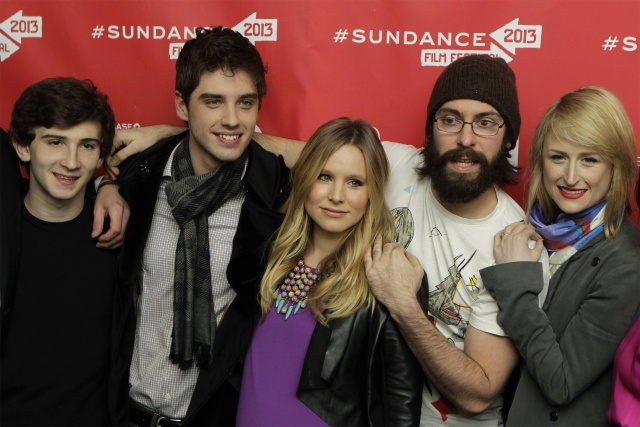 That lost feeling
There is a lot to relate to in this film. First off, Leigh was the valedictorian of her high school. She was the one who had it all together – with all the potential in the world. And where does she end up? Miserable, with failed dreams. Sound familiar? Likely. It is hard sometimes to do too well in high school – I felt something akin to this myself. Having excelled at high school, I found it difficult to know what I wanted at University, and am still struggling to make working life really work for me. What really hit home for me was Mel's husband John explaining Leigh's predicament: 'Real life can be disappointing when your expectations are so high.' Gee, you think?!
What was really nice about the film is that it links that completely lost and unhappy feeling to the teenagers, the late twenty-somethings, as well as Leigh's parents. Reminding us that life is hard, and it is unlikely that you are ever going to get it completely together. There is always something that might be making you unhappy or something you want to work on/do better. But hey, that's life. Don't despair, get on with it! During a mother-daughter fight, Lee's mother accuses Leigh of selfishness… It's fine that Leigh might need to work on her life, but did it ever occur to her that her mother might also be 'working on her life'?
Cradle Snatching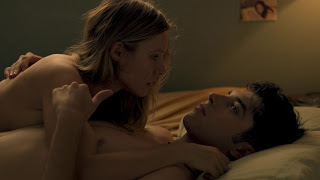 The problem with films dealing with this kind of subject matter is that too often they fall into dull, trite ethical pieces where the filmmaker is trying to shove their own beliefs down your throat. Surprisingly, this film manages to steer clear of that (for the most part). There is very little judgment going on about Leigh's actions. Sure, her friends judge her and condemn her actions, or at least on the surface they do. But it doesn't feel like the audience is positioned to feel one way or another towards Leigh by the end. I felt like I was able to make up my own mind about her.
Sure, we are supposed to like Leigh and cut her a bit of slack, and I definitely did. We all make mistakes – sure, my mistakes probably wouldn't land me in prison, but some are just as stupid.
How can you see this film?
The film has a limited US cinema release lined up for the 20th of August 2013, but no dates for any international release. Fear not! The film is available through the wonderful world of the Internet. You can download The Lifeguard on iTunes or stream it through Vimeo on Demand. I think this is a great trend to see… distribution deals falling through can kill a film. But now, small films have more of a chance to get seen. There's no need for expensive distribution deals with the Internet – you can get your content out there for anyone and everyone who might want to see it!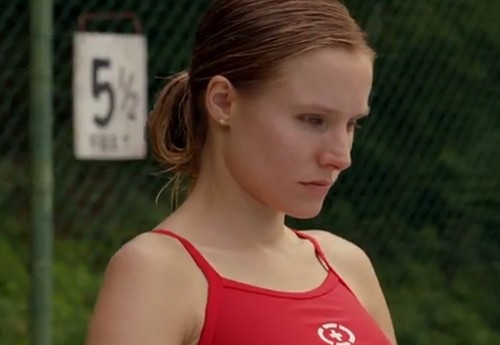 Verdict: Interesting, relatable, with a great cast. Bell is fantastic and the uncomfortable aspects of the story really work. Plus, there's a killer soundtrack with a real Garden State feel. However, if you aren't a fan of Focus Features films in general, then this one probably isn't for you.