Scooby-Doo has been gracing our television screens since 1969. It has changed studios, been bought and sold, changed animation style, and been on TV, film, comics, and merchandise. There have been 11 different incarnations of the TV series, 2 theatrical-release, live-action films, 10 TV films/specials, and 26 direct-to-video/DVD films and specials. There have also been 17 video games based on the show and even three separate stage plays.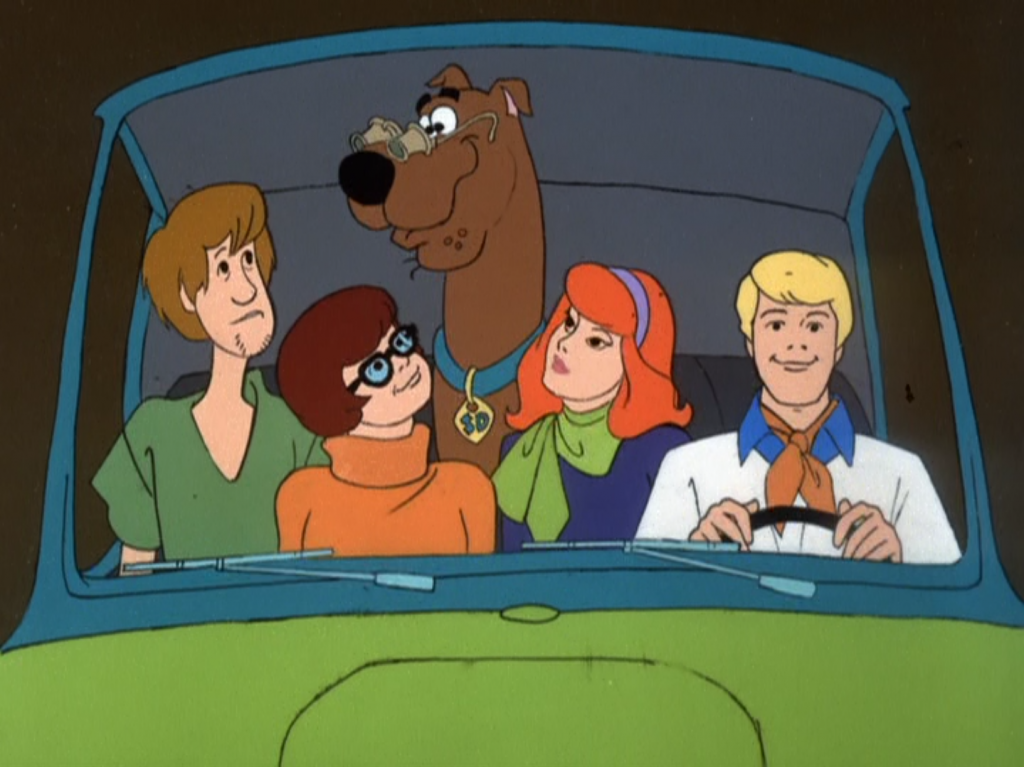 I loved Scooby-Doo so much that I had a large soft toy of him – he would sit just inside my bedroom door, playing guard dog. He fit right in amongst all the Star Wars memorabilia. Screw the Scooby-Batman cross-over, don't you think Scooby and Yoda would be friends?! I also vaguely remember eating 'Scooby-Doo sugarless candy' when I lived in the US – with fairly flavourless, chewy sweets in the shape of Scooby and gang (around the same time that I was known to chow-down the Flintstones chewable vitamins).
During a school camp I managed to use *knowledge* gathered from my intense Scooby-Doo watching experience. One of the camp leaders was asking us how to navigate the bush when my hand shot up. 'Moss grows on the north side of trees!' Yep, a nice tid-bit picked up from ol' Scooby. Unfortunately it is only true in the northern hemisphere, so not correct in Australia. Still, I'm going to argue that the show has some educational merit. Not to mention teaching children Occam's Razor – oh, you missed that? Come on… Nothing is really supernatural, it is always just some guy with a grudge and a mask. What makes more sense? A guy in a costume or real-life bigfoot?
Do I need to cover the premise of the show? Really?
In most of these articles, I will cover the premise of the show, film, book, etc that I'm talking about to orient the reader appropriately. Is that really necessary here? Does anyone out there really not know about Scooby-Doo? Well, I suppose, just in case, I'll give you all a quick summary.
Four teenagers – Fred, Daphne, Velma and Shaggy – along with their talking Great Dane, Scooby-Doo, solve mysteries. They have their own psychedelic personalized van too, the Mystery Machine (why doesn't everyone name their van?!). In the original (and best, if you ask me) incarnation of the show, the mystery would at first appear to be supernatural in origin, but would always turn out to be a disgruntled (and potentially mentally unbalanced) local in a costume. Each member of the gang had their role. Fred was the leader, Daphne had an uncanny ability to get kidnapped/lost/generally find trouble, Velma was the clever, analytical thinker, while Shaggy and Scooby were always-hungry cowards.
Why is it so enduring in its popularity?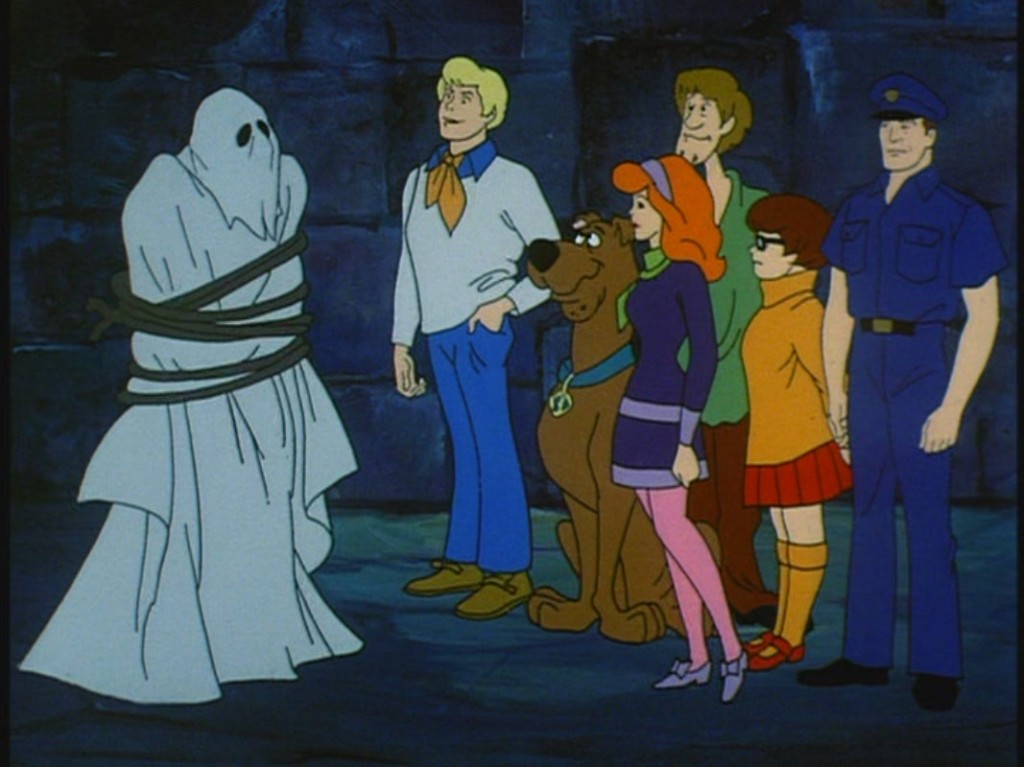 There is something that always captures the imagination of audiences when mysteries are involved. Perhaps it says something about the human condition that we are always striving to get to the bottom of things we don't know much about. We have to know the truth – as they say in theX-Files, 'The truth is out there.' Watching a bunch of kids get to the bottom of these creepy mysteries is definitely loads of fun but it also contains an element of wish-fulfillment. Who hasn't – at some point in their life – wanted to go on adventures in crazy places and have weird experiences? And the solving of a mystery, putting a criminal in prison, these are just icing on the cake!
More than simply mysteries, the series had something that has often proved popular in recent years: ordinary teenagers kicking ass. Ok, and maybe the not so ordinary too, they do have a talking dog, after all. As always, I'll take you back to my favourite example: Buffy. Not only are the main characters in Buffy often referred to as the 'Scooby Gang', but the show as a whole is clearly influenced by this Hanna-Barbera classic. These kids get themselves into situations that we would ordinarily assume is equivalent to them getting in way over their heads. And yet they can hold their own. They have great strengths as individuals while also working well as a team.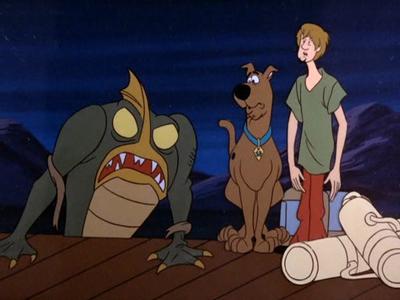 Of course, there are more practical realities to its enduring popularity that might prompt a chicken and egg scenario. It has been on our TVs since 1969! A staple of the cartoon consumption of children the world over. Sure, they could have switched over, watched something else, and the stations would change their line-ups as a result of lower ratings. But it constantly finds new fans instead. I also think that the appeal of a talking Great Dane should not be underestimated. Not only is Scooby an awesome character (I complete scaredy-cat unless the object of fear is standing between him and his next snack), but he's a dog! Come on, that's just cool. I feel like that needs no further elaboration, so I'll give none.
How Scrappy-Doo shat all over everything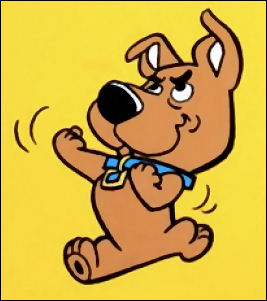 I think Scooby fans everywhere will agree that the introduction of Scooby's nephew in 1979 was the equivalent of taking a giant shit on Scooby's head. And no, I don't think I'm being melodramatic. 'Puppy power' my ass, that little shit ruined everything! Not only was he an awful character, they also changed the format of the show at this time. It was no longer a man in a mask with a ridiculous grudge but actual supernatural mysteries. It was all wrong… wrong, wrong, wrong! Yes, I will spit the dummy at this point!
Thankfully, the powers that be have since realized their mistake, removing Scrappy from the main line-up back in 1988. In the live actionScooby-Doo film with Sarah Michelle Gellar and Freddie Prinze Jnr, Scrappy is reinstated to the cast – but this time in his true guise – the villain.
Scooby-Doo, Where Are You!
I don't care how old I get, I will always be a Scooby-Doo fan. Sure, I no longer keep my Scooby guard dog by my bedroom door, but if I ever come across the show on TV, you can bet I'll sit and watch the rest of the episode. But when I talk about Scooby-Doo, you can bet I'm referring to the glorious original series that ran on CBS from 1969 to 1975, Scooby-Doo, Where Are You! I can only hope that the show remains in the public consciousness for years to come and continues to gain new fans.