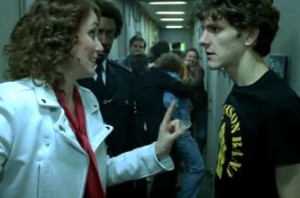 When Ashes to Ashes, the follow-up series to Life on Mars, needed a countercultural icon to lead a protest in 1981, their choice was a little leftfield. A staunch advocate for gay rights, women's rights and right-on, antiauthoritarian left wing values in general, Rock Against Racism supporter Tom Robinson was an openly gay, middle class punk rocker. Robinson's often overlooked in the canon of late '70s punk, perhaps not least because his Tom Robinson Band often sounded more like hard rock. They did after all arrive with '2-4-6-8 Motorway', a bona fide top 5 hit of late night highways that even leather jacketed, middle-aged Top Gear fans might see nothing suspicious in.
Artistic disagreements and weighty 'voice of a generation' expectations led the TRB's line-up to start falling apart shortly after their 1978 debut, Power in the Darkness, was recorded. For that album, and the preceding Rising Free EP, though, the Tom Robinson Band held a rare and righteous fire. Here's five of their best:
5. 'Up Against The Wall'
'Darkhaired dangerous schoolkids/Vicious, suspicious sixteen'
A clarion riff of late summer afternoons rings out, bristling with effervescent adolescent agitation. So begins Power In The Darkness, and a perfect curtain-raiser for any '70s-set coming of age drama. Over Dolphin Taylor's rambunctious, bounding drums, Danny Kustow's sharp, scratchy guitar tone and Robinson's own fat, driving bass, 'Up Against the Wall' sets the breathless tone of the album and heralds an approaching thunderhead of social unrest. Plus, there are handclaps, which are always guarantee of a song's greatness. Here captured is the sheer joy of expressing your discontent out loud.
4. 'Ain't Gonna Take It'
'I'm a middle-class kiddie/But I know where I stand'
Over a riff the alternates frantic tension with cathartic release, and splashes of organ from Mark Ambler designed for you to throw yourself around your bedroom to, 'Ain't Gonna Take It' is a rallying call for defiance and unity, of the crunch time when things really matter. 'Cos abortion and a gay scene/Only meant for the rich' Robinson sneers at hypocrisy. It's moment of 'Oh Yeahhh! Oh no' almost rivals Roger Daltrey's legendary scream on The Who's 'Won't Get Fooled Again'.

3. 'Glad To Be Gay'
'Read how disgusting we are in the press/The Telegraph, People and Sunday Express'
After giving us a reminder that the World Health Organisation categorised homosexuality as a disease until 1990, the band slip into this slinky and anguished strut of a music hall moment. His Cabaret fangs dripping with bitter irony, Robinson unfurls a litany of second-class citizenry, detailing gay persecution, queerbashing and the division of community. The character Tom Robinson leads jail inmates in a singalong of 'Glad to be Gay' in Ashes to Ashes' 1981 – only a year after homosexuality was decriminalised in Scotland – and it still makes a fitting soundtrack for the debates of comparative tolerance fomenting in the wake of Sochi's Winter Olympics.
2. 'The Man You Never Saw'
'Don't go into work tomorrow/Try and make it down the docks'
A portrayal of paranoia worthy of an appearance by Special Agent Fox Mulder. Hounded and on the run, our hero tries to organise a resistance as unjust authorities close in. A breakneck, wild-eyed tear with a mangled howl of guitar solo, 'The Man You Never Saw' is a cloak and dagger noir of fear and persecution, reaching a breaking point as the clampdown closes in.
1. 'I'm Alright Jack'
'Harrods do a nice little teargas/Even a woman can use'
Like an emergency frequency broadcast from the depths of Chipping Norton, or a running battle on a country estate, this b-side shows the approaching confrontation from the other side, being met without fear or aversion – and almost with enthusiasm – from those near-invincible, cocooned in the vast resources afforded them by wealth inequality and connections to the cabinet. Delivered in cut-glass, upper-class tones, contrasting with the music's ripping brutality and hysteria of the solo, 'Jack''s 148 seconds build to a celebratory climax, as if daring to ask you, Don't you agree?
After the TRB disbanded, Tom Robinson went on to forge an uneven solo career on record and an expansive career on BBC Radio, appearing on every station and aiding the BBC Introducing project for new and unsigned acts. He even went on to marry a woman, the mother of his two children, and last year, for the first time, performed Power In The Darkness live in its entirety.