While everyone else is reflecting on what came out this year, I'm going to be different (I always was contrary). There are a lot of things I have loved this year that I was very late to jump on the bandwagon for. There's nothing too shameful about this, there's so much great content to come out year on year that it is hard to keep up. I feel like I'll always be behind. Nevertheless, I try to always follow up on recommendations from friends while always keeping my eyes and ears open for great things I may have missed.
This list is in no particular order and limited to two items per medium: Comics, Books, Films, Music, and TV.
Comics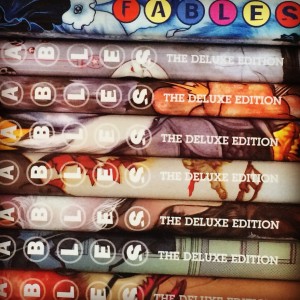 Ok, ok, I get that I really discovered this comic book series in 2012, but this year my love of Fables reached new heights. I started collecting the deluxe hard cover editions while decorating my entire study with framed covers. Oh, and did lots and lots of rereading. People usually say that you can get too much of a good thing, but I'm not sure that's the case with Fables. I can't get enough. My Fables addiction is now also supplemented with the new game, The Wolf Among Us, which I encourage you all to try out.
I was bored one day and happened to spot this comic amongst my housemate's collection. When I read the blurb I immediately wondered how on earth I'd not come across the comic before. It seemed to have everything a great comic book should have – great characters, noir fiction, and an ex-Disney artist. Ummm, why aren't you reading this yet? What, you need more reasons than that? Are you dead inside?! There are four story arcs of Blacksad that you can find in English. Buy them now. That's a direct order.
Books
Shades of Grey by Jasper Fforde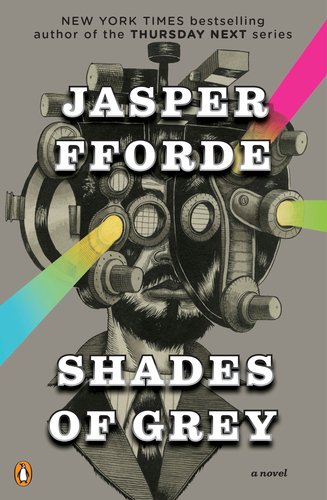 This book has ABSOLUTELY NOTHING to do with that god-awful travesty to the pen, 50 Shades of Grey. Want more proof? It was published several years before EL James ruined erotic fiction for everyone. A friend of mine lent the book to me and I admit that I was skeptical. I had never heard of Fforde and the premise of the novel sounded like something that could easily not work. It was a little slow to get going, but soon enough I couldn't put it down. I thoroughly recommend this book, even if SFF isn't necessarily your thing.
The only downside is that Shades of Grey is the first book in a series. Unfortunately, no other books in the series have been published yet, neither has the sequel been given a release date. And trust me, by the time you've finished this, you will be desperate to read the next one.
The Way of Kings by Brandon Sanderson
This book is stupidly long. I never usually like to read books this long – and part of a planned ten book series, you're kidding right? This is well and truly into the ridiculous zone when it comes to fantasy series being too long and completely overblown. Having said that, this book is loads of fun. It annoyingly doesn't have any closure at the end of the book and you will absolutely wish you could read on. But you don't have to wait too long, as the second novel in the Stormlight Archive series is due out on the 6th of March, 2014 (in the UK).
Films
Die Hard
Yep, it is the 25th Anniversary of this unbelievably awesome film. And it got a limited rerelease at the cinema in celebration of this fact. Why wouldn't it? This film is still hands-down one of the best action films of all time. Recently Buzzfeed complained that people should stop thinking they are original or clever in claiming that Die Hard is there favourite Christmas movie – they even went as far as to say that Die Hard isn't actually a Christmas movie. Well, to that I say – if it makes you think of Christmas when you watch it, any movie can be a Christmas movie. Why does it have to mean Christmas to everyone in order to qualify? I love this film, and it reminds me of Christmas, therefore it is on my list of favourite Christmas films – and there it will forever remain.
The Perks of Being a Wallflower
This is one of those quiet gems that you might be lucky enough to happen across by accident. Boy will you be glad you did. Even though I suppose I've already passed the target audience for this film, it really did speak to me. I've been there, I've felt that way, and it is so nice to see it played out in such a tasteful way. I've been thoroughly enjoying Emma Watson's post-Potter career. This is one film she should always be proud to have on her CV.
Music
Mackelmore and Ryan Lewis
I am never very good at staying on top of current music. In high school I went through various phases of obsessive behavior that tended to focus on a particular decade before moving on (I moved through the '60s, '70s, and '80s and come out the other end wondering what on earth kids 20/30/40 years from now would listen to form my generation… I decided that there wouldn't be much worth listening to). These days I try to stay reasonably up-to-date by checking out Australian radio station Triple J's hottest 100 of the previous year. The number one track from 2012 was 'Thrift Shop'. And what a song it was!
I have since fallen in love with the entirety of The Heist. It is a brilliant album and shows how important rap and hip hop are as genres. The song 'Same Love' is both moving and hopelessly catchy. With more and more states in the US legalizing gay marriage, the song really struck a chord with me this year. If only Australia could catch up and bring marriage equality to everyone.
Phineas and Ferb: All the soundtracks
Phineas and Ferb is an absolutely brilliant show. Thanks Disney for once again making something truly awesome. But what this show truly phenomenal is the amazing songs. They are so stupidly catchy you'll be singing them by the end of any ten minute long episode. If you can, get your hands on any of the soundtracks, particularly Phineas and Ferb Across the 1st and 2nd Dimensions. Even the theme song, by Bowling for Soup, is outrageously fun. But by far, the best track is 'There's a Platypus Controlling Me', with 'Perry the Patypus' a close second.
TV
Gravity Falls
Speaking of awesome Disney shows, Gravity Falls, premiered in June 2012. It is basically X-Files for kids. Except that it is so awesomely funny that it is absolutely for kids and adults alike. And with the brilliant Kristen Schaal included in the acting talent, you are in for a real treat. There's mystery, comedy, young love, family dynamics, and all kinds of pop culture references at play in Gravity Falls. Plus, the second season is starting in January 2014!
Archer
It really has been a great year for me and animated television. How I hadn't heard of this show before is really beyond me. But seriously, you have to watch it. I haven't laughed so hard – or so loud – for years. The voice talent includes a large number of Arrested Development actors, for one. The show combines spy conventions, with dark, sexually explicit jokes, and it throws political correctness out the window. And thank god for that. Also, what other comedy would dare to give its male main character breast cancer? And give the stuffy old English manservant a heroin addiction? Or, well, what other show would dare do anything that Archer does?!
It has been a great year. Thanks for everyone who has supported Pop Verse. Here's to a great 2014!
Did you enjoy this post? Please vote for us in the UK Blog Awards!