While I have been a geek for many years, I have never been a comic geek – until now. I currently live with two big comic book geeks. They really wanted me to try out some comics, especially after I started getting into the Buffy comics. The first thing they suggested I try was the Eisner award-winning series, Fables, by Bill Willingham. Good choice, boys. Now, I'm hooked!
Fables? Huh?!
Fables is a comic book series published on DC's Vertigo imprint. It has been running since 2002, with 128 issues and counting. The series was created by Bill Willingham, who has 'told lies all his life, and has been getting paid for it nearly half his life.' Vertigo is a 'creator owned' imprint – in other words, all publications by Vertigo are original works and do not contain characters from the DC Universe. They advertise themselves as being for a more 'sophisticated audience', but in real terms this just means that there's nudity, swearing, violence, and drugs. So us adults have comic books to read too. Fables has won fourteen Eisner (Comic Industry) awards and counting.
Why read Fables? (Because I said so!)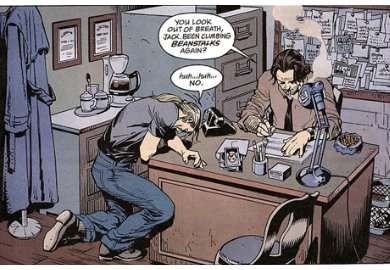 I think Fables is a great starter comic for those of us who haven't grown up reading comics… and aren't too sure if comics are really a medium for us. This series is better than any other I've read since. A lot of comics, I find, suffer from a lack of characterization. We are meant to believe that characters act authentically just because. This is a particular gripe I have with superhero comics. Of course, my comic book loving friends would argue this point with me, but there you go. No arguing that Fables has excellent characterization, however.
Fables contains an enormous cast of characters born from fairytales, folk stories, and mythology: all recognizable, but definitely with Willingham's own vision for them. All these characters live in New York's 'Fabletown': their new home-in-exile after their homelands were invaded by 'the adversary.' Our world is known as the 'mundane' world, where there is no magic, but a lot of guns. The more well known the character is amongst the 'mundies' the more powerful they are, and the harder they are to kill.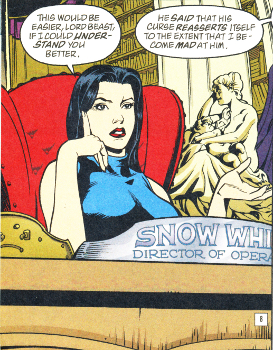 Legends in Exile
The first story arc of Fables is a noir-style detective story, Legends in Exile. Here we meet many of our main characters, including Jack (of the Beanstalk fame), Bigby (the Big Bad Wolf and sheriff), Snow White, Rose Red (Snow White's less well-known sister), Old King Cole (now the Mayor), Flycatcher (aka the frog prince), Beauty and her Beast, Prince Charming, Boy Blue, and so on.
We quickly see old relationships play out while new, changing relationships develop as the cast of Fabletown looks for Rose Red's murderer. The best relationship by far (and still my favourite), is that of Snow White and Bigby. It has all the classic elements of an unforgettable romance. A woman who despises the man, strong personalities that clash, and a whole steaming pile of passion. It is right up there with Spike and Buffy, Elizabeth and Darcy, Veronica Mars and Logan Echolls, etc.
The comic that keeps on giving
Fables constantly surprises its readers. The types of stories continue to change – covering detective stories, political thrillers, war epics, spy tales, etc. You never know what to expect next and you always want more. I was truly surprised by how much I cared about these characters, especially the terribly flawed ones. Occasionally the story digresses, focusing on only one or two main characters. These can be frustrating when you are thoroughly embedded in the bigger story line. The only one I wouldn't sing the praises of is the 'Jack of Fables' story arc (but this is a spin-off so I can legitimately ignore it).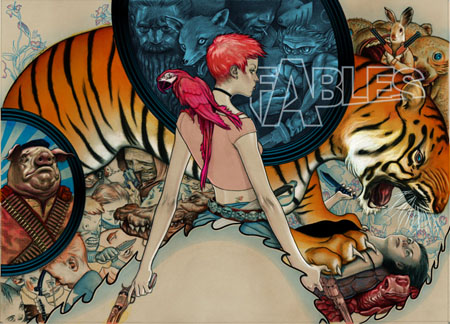 A community brought together by a common enemy is an endearing set-up and one with a lot of potential for endless stories. And Willingham is a fantastic writer. These comics are definitely for adults though – but Willingham doesn't take this as a license to swear unnecessarily or have excessive vulgarity. 'Fuck' is used sparingly; only when it is needed. While there is nudity and plenty of 'sexual references', I don't think anything is there just for effect. Everything is included for a reason.
The art in Fables is nothing short of brilliant. The early covers are all done by James Jean. Whose art you can see up all over my house. Big fan! The panels are most commonly penciled by the extremely talented Mark Buckingham. (He recently came to the UK for a convention, so I now have a beautiful signed sketch of Bigby and Snow proudly hanging above my desk.) I have taken my love of the Fables art to a new height recently: nine of the covers (including several post-Jean) are now hanging about my study, along with a display of all my deluxe editions of Fables.
I can't stress enough how awesome this series is. Please, please, please… if you ever read any comic book, just to give the medium a try, have it be this series. You will not regret it!