Back in 2012, a little-known indie games publisher won over 90 'game of the year' awards with their episodic series The Walking Dead. Their games follow this same episodic structure and most of their successful releases have been of the adventure game genre. In these games, players' choices directly impact what happens in the game. And choices are remembered from episode to episode.
The Wolf Among Us is based on the Vertigo comic book series Fables (and if you aren't familiar with Fables, read this), but the action of the game takes place before the stories in the comic books. As such, you don't need to be a fan of Fables to be able to enjoy The Wolf Among Us (although it doesn't hurt to be!). You play as Bigby Wolf – aka the big bad wolf in human form. As Fabletown's sheriff, you must investigate mysteries and murders. But what will you choose to do as the story unfolds?
I thoroughly enjoyed the first episode of The Wolf Among Us. The second episode, 'Smoke and Mirrors' is being released later this week and I recommend that everyone buy the game. It is a great game for those who are regular gamers but it is also a great game to get non-gamers interested in video games.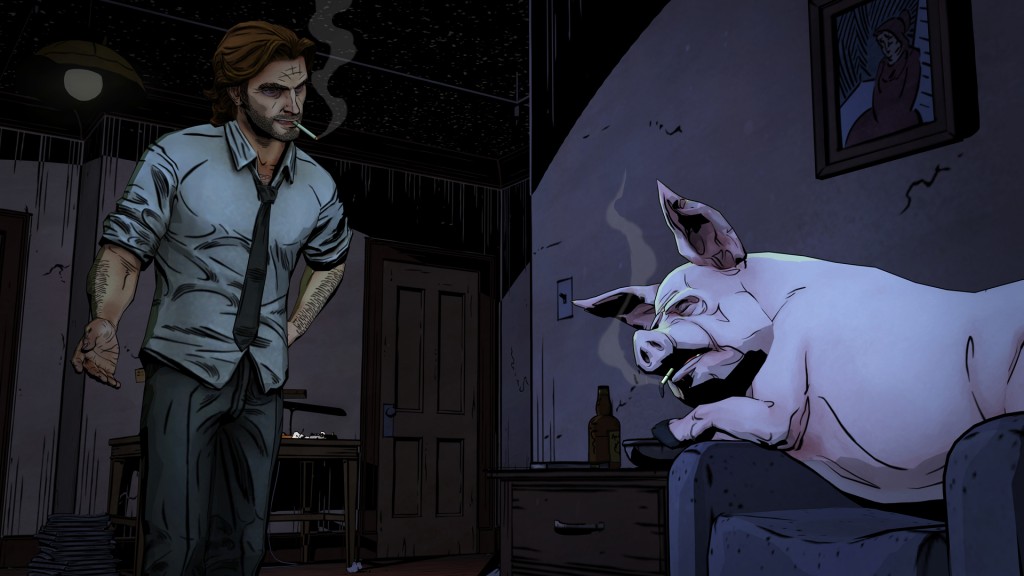 The big, the bad, and the noir: Why everyone should play The Wolf Among Us
The character of Bigby Wolf has always been my favourite in the comic book series, Fables, so I was excited when they announced he would be the main character in The Wolf Among Us. He's a badass. He isn't politically correct, nor is he always very nice. Bigby is the classic noir character, Philip Marlowe in a more fantastical environment. He drinks, he smokes, and he loves the ladies. But there's darkness there, and a lot of pain. There's mystery and violence, and plenty of femme fatales thrown in for good measure.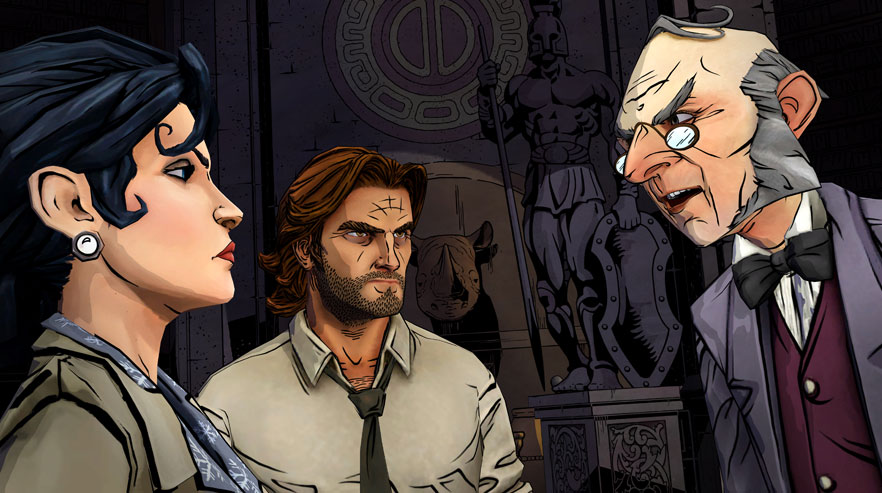 This video game is great for avid gamers as well as novices. I do enjoy video games, but it is no secret that I completely suck at them. No, I'm not being modest, I really do suck. I am one of those embarrassing people that moves my entire body along with the controller, as if somehow moving my body in the direction I want my on-screen character to move will help. But even I can manage with the player interface on The Wolf Among Us. A lot of the game play is decision based, which is easy enough. There are some instances where you are required to fight or move around, but this is very easy to do (and it gives you on-screen prompts!).
The Wolf Among Us is just a great interactive story. You get to be a part of the story, rather than just reading it. It's a fun way to kill a few hours and I highly recommend it even if you aren't the gaming type.
What kind of game is The Wolf Among Us?
An independent publisher with a style of their own
Telltale Games stand out from a crowded independent games publisher population by sticking to a single format: episodic games. They also try to pay homage to original content rather than recreating it, as many film tie-in games have tried to do. As adventure games (based on the style created at the now defunct LucasArts – where the founders of the publisher originate from), the story of the game is crucial, and Telltale pride themselves on creating engrossing stories that players can get heavily invested in. They have also tried to ensure that their games are available on as many platforms as possible: PC, Mac, iOS, Xbox, Palystation, Wii, etc.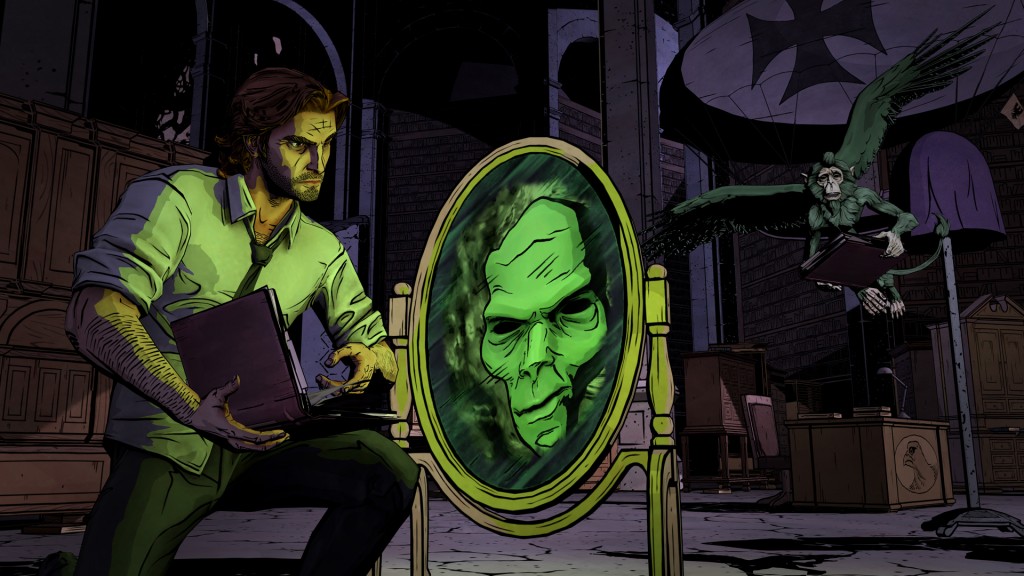 Episodic graphic adventure video games: What does it mean?
So what does this actually mean? It is fairly straightforward. The games are in episodic structure, released at intervals rather than the entire game being available all at once. But the stories carry on from one another, just as episodes of television do. A player's choices in the first episode determine how the second episode will begin for them, and so on.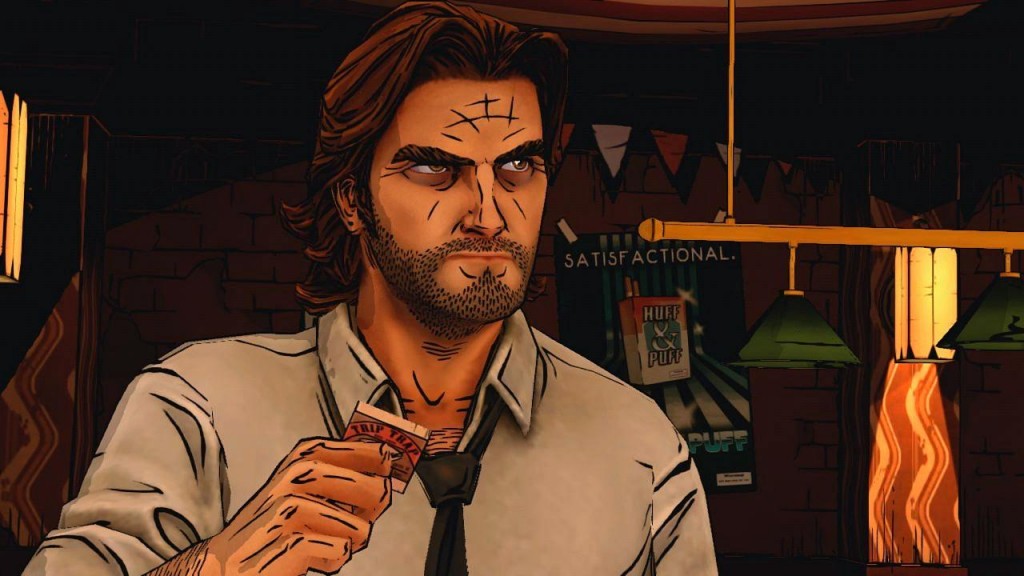 The genre of game is 'graphic adventure', meaning that the player uses an interactive 'point-and-click' style of gaming to interact with the story and their environment. When people think about interactive and role playing video games from back in the day, they tend to think of long pieces of text for each scene, followed by the player writing in a text response for their character's chosen action. This type of game is much the same in that it has a set number of possibilities for the player to choose from at each point, but the player uses a graphical interface rather than a text-based one.
The Wolf Among Us, episode 2: Smoke and Mirrors, is released everywhere this week: Tuesday Feb 4th – PC/Mac, PlayStation 3 North America and Wednesday Feb 5th – Xbox 360, PlayStation 3 Europe. Get playing!