Occasionally I get in a jazz and blues mood. On Thursday I started listening to my collection of women singing the blues, and by Saturday I was deep into Louis Armstrong. So I suppose it was something akin to fate that I happened across a black hardcover in my housemate's bookshelf with an intriguing title: Blacksad. I skimmed the back cover and the blurb had me at 'Private investigator John Blacksad…' It doesn't take much to catch my attention when a noir P.I. is involved… and a noir anthropomorphized cat P.I.? Well, that was something I had to read.
I had not heard of this series before and began reading it knowing nothing other than the blurb and Stan Lee's praise ('As good as it gets!'). Flicking through it quickly, my first impressions left me utterly blown away. It is rare that you pick up a comic book and find yourself speechless at the beautiful artwork. Not to say that comic artists aren't incredibly talented, but their work often lends itself to practical storytelling more than to beautiful individual pieces. But the pages of Blacksad are truly artistic. The muted, dirty colours are perfectly noir, along with the panel angles to reflect those low angle shots so common in film noir.
Comic books and graphic novels have only recent entered my reading repartee. I'm ashamed to admit that I was wholly ignorant of their literary value, assuming that they were things for children (and mostly boys). Well, ignorance is not bliss, as I was truly missing out. I could not put Blacksad down; it was brilliant. This is what graphic novels for adults should be.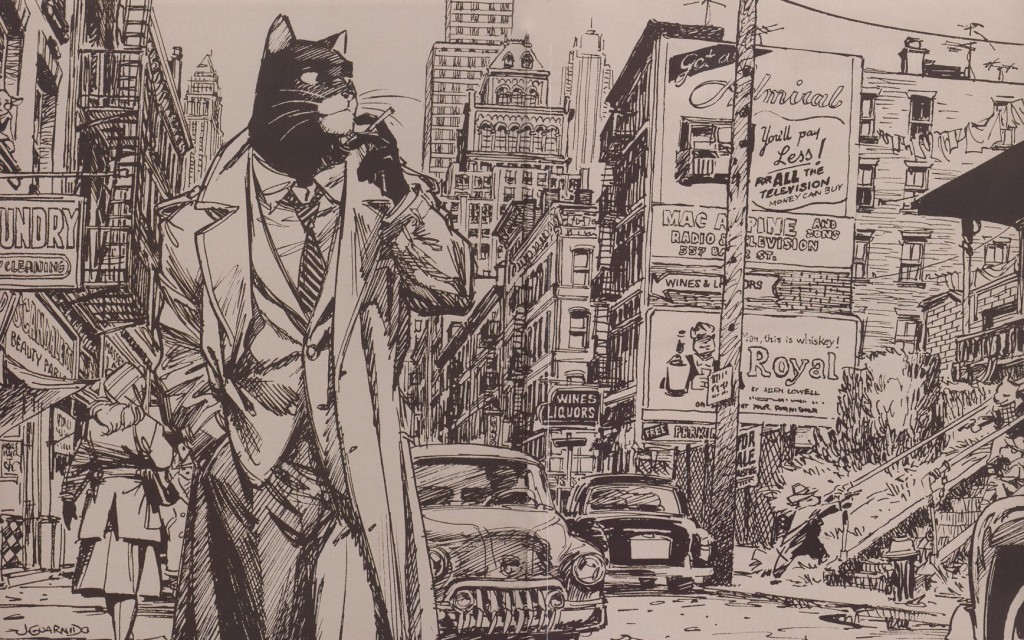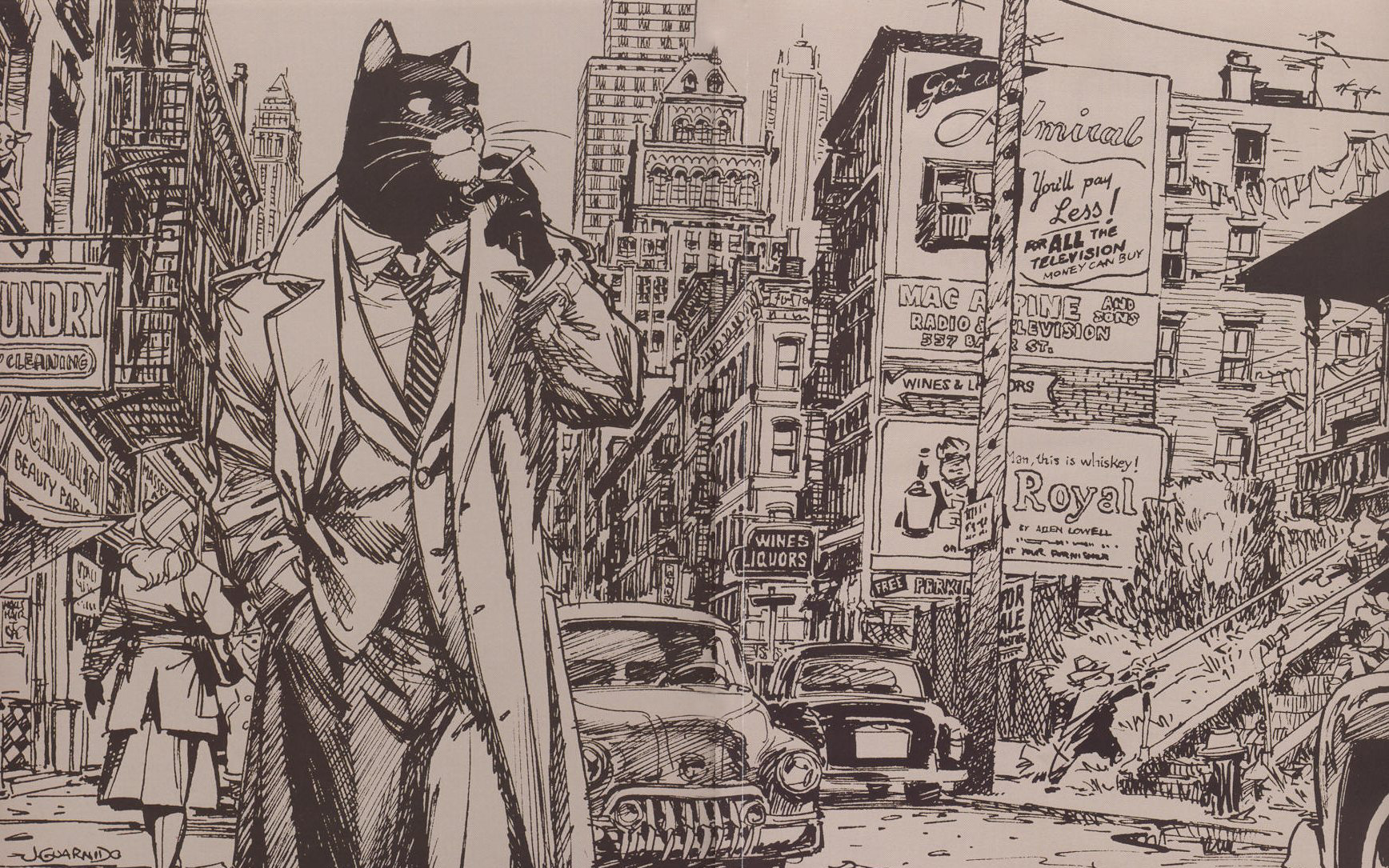 Background
Blacksad was created by two Spaniards, Juan Díaz Canales (writer) and Juanjo Guarnido (artist), for a French audience. The series proved hugely popular in France and was soon translated into Spanish before eventually getting an English translation. The first volume, 'Somewhere within the shadows' was originally published in 2000, with the three-volume set Blacksad published by Dark Horse Books in 2010. There has since been a fourth volume published, 'A Silent Hell', which I'm yet to read but you can bet your ass I'll be reading it asap!
Plot (spoiler free)
John Blacksad is a true hard-boiled private investigator. Like many fictional P.I.'s before him, he narrates his cases in a gritty monologue, something that works very well in the graphic novel (giving the captions a purpose rather than having them work simply as exposition). Also like his cannon predecessors, he has a rough background. He fought in World War II and now struggles to get by on the limited income he can make as a P.I.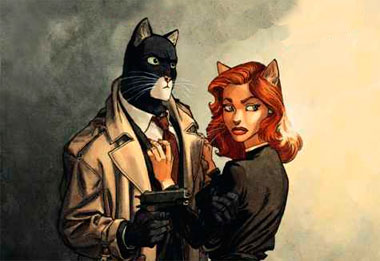 Somewhere in the shadows
The first volume finds Blacksad helping his pal, Commissioner Smirnov (a German Shepherd) investigate the murder of an actress; an actress that also happens to be Blacksad's ex-lover. Immediately we have violence, brutality, and nudity. The scene is set in the dark underbelly of Hollywood – actresses, producers, and screenwriters. And what is at the heart of Hollywood? Money and beauty. Blacksad follows the trail of breadcrumbs from a boxing ring, to a nightclub, and into a jail cell.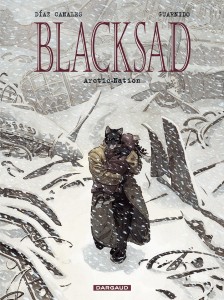 Arctic Nation
While the Americans fought to keep the Nazis down in World War II, they weren't too concerned about their own racial prejudices at home. 'Arctic Nation' has Blacksad following the case of a kidnapped child – a black child. Her mother doesn't report it to the cops, and the cops wouldn't do much about it even if she had. Our P.I. comes up against political extremists in the form of the anthropomorphic KKK as well as their black power counterparts. It is in this volume he also meets his pal, Weekly, a tabloid journalist and unwashed weasel.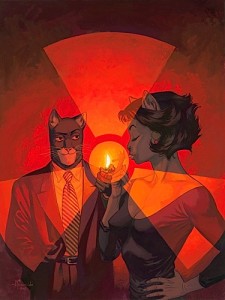 Red Soul
A down and out on his luck Blacksard takes a job as a bodyguard for a rich tortoise, Hewitt Mandeline. And like any good noir story worth its salt, the very beginning of the story is important to the finale (but I won't tell you how!). Blacksard visits an old friend, Otto, who is lecturing on the positive powers of nuclear weapons. From there, Blacksard mingles with a group of left-wing intellectuals, many of them based on historical figures (such as Allen Ginsberg (Greenberg the bison) and Mark Rothko (Sergei Litvak the bear).
This one's got it all, fear for the end of the world, Nazi's, Russian Communists, bombs, assassination attempts, holocaust survivors, a failed love affair for the protagonist, and a run-in with the FBI. 'Red Soul' is how noir should be written. Stan Lee is right; it doesn't get any better than this – in prose, film, or graphic novel.
Themes
The Blacksad series is set in 1950s America, at the height of the Red Scare, racial issues, nuclear fears, Communist threats, and a steady rise in atheism. Noir stories, born of that era, often deal with these controversial issues. It is interesting to see modern noir storytellers still wanting to set their stories in the same time frame. Díaz Canales and Guarnido use historical accuracy to keep the narrative firmly within the realms of the real, despite the characters and their anthropomorphic depictions. My favourite use of detail is in the quoting of actual songs and poems of the era, including 'Strange Fruit'.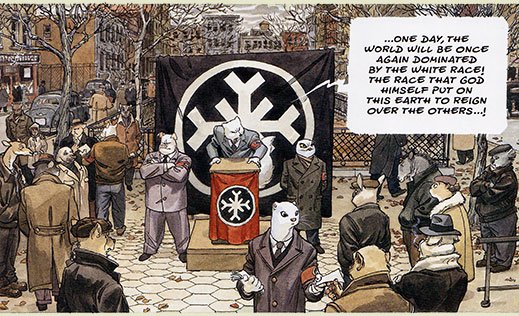 Race is a very prominent theme in Blacksad. Blacksad himself is a black cat and even references the superstitious bad luck it should bring him ('What else can an old black cat like me believe in?'). The plot of 'Arctic Nation' is all about racial issues, including mixed marriages, mixed race children, the KKK, and Black Power. There is even a scene in which Blacksad is asked to leave a diner proudly displaying a 'No colored people allowed' sign. While the characters are all sorts of species, it is interesting to note that most of the underworld, lowlife characters are reptiles and members of the police are canines. In 'Somewhere in the shadows', the villain calls attention to this distinction as he 'advises' Blacksad: 'You're missing the most important thing, which allows a guy like me to get to the top… Cold blood.'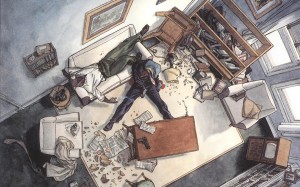 The political landscape of the 1950s was complex and volatile. There were threats from both the right (Fascism) and the left (Communism). This is played out in the form of evil big business/corporations, white supremacist movements particularly populated by the wealthy, social efforts to help raise education levels in poor neighbourhoods, and the selling of scientific secrets to the Russians. The pages are packed full of political intrigue… and they don't just skim the surface. A lot of the issues illustrated in Blacksad ring true to real events, or at least feel like they could easily have happened. With a stereotypical P.I. at the helm, audiences expect a very black and white take on these issues. But that isn't the case. Blacksad is concerned with the grey areas – the Nazi war criminal that made a mistake but has since tried to right his wrongs. No one holds a grudge against the holocaust survivor that still thinks he should pay, however.
Religion, as always, is also supremely important. As always goes with many of these issues, religious extremism falls squarely in the middle of the mess. The Christians have a habit of using their religion as an excuse – or at least a mask to hide behind. In Blacksad, many of those propagating hateful messages hide it behind their faith, while the soft lefties are of course atheists (and therefore anarchists – don't you know that all of us atheists are also anarchists! We must be, right?!). There's even a jibe at an upstanding white, Christian citizen, being a little too fond of his choirboys.
The world is a dark, grey place. And Blacksad is more than happy to act as our guide. He's the best guide that I have ever come across.