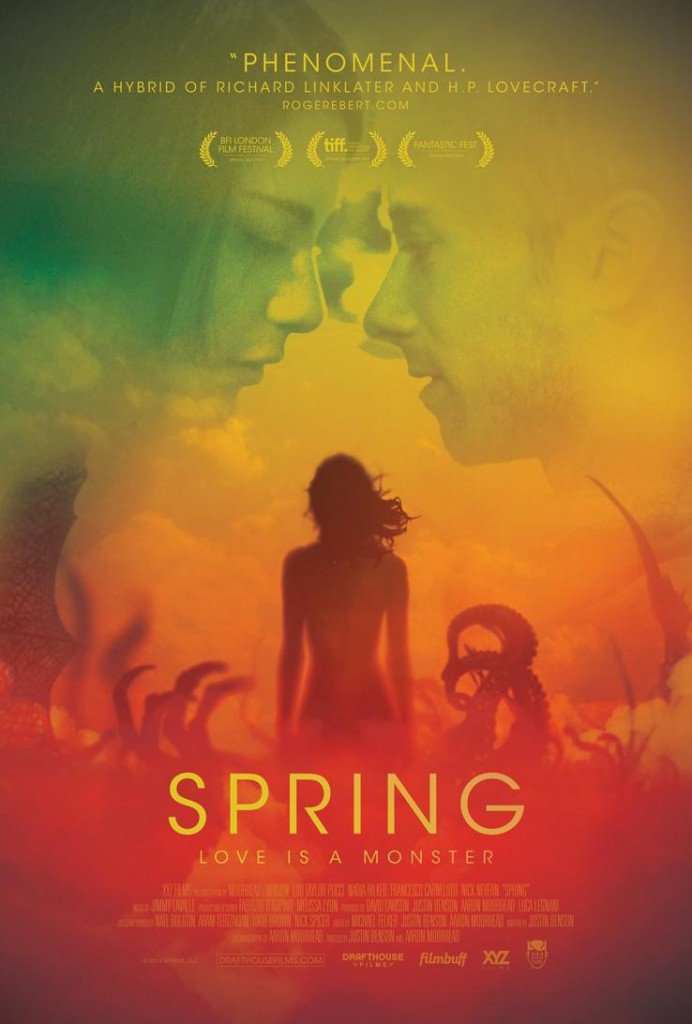 It's highly possible that, like me, you completely missed the release of Spring in cinemas. I had never even heard of it before a twitter acquaintance recommended it. And I'm glad I did. I really, really enjoyed this film. It's by no means perfect and definitely will divide audiences. For instance, I love a slow, bubbling story, especially when horror/thrillers are concerned, and Spring builds so far beneath the surface you'd be hard pressed to see the twist coming if you had heard nothing about the film when going in.
Books with a supernatural or SF twist to an otherwise ordinary world have been very popular for some time. It's strange that the marketers for Spring didn't tap into that audience, as I feel the film could have found traction that way. It is a difficult film to categorise, part romance, part horror, with a lot of nods to Lovecraftian monsters. Bridging different genres, I think, gives Spring a much wider appeal – it has a quirky indie feel that isn't too obnoxious for those who tend to avoid indies, it's not overly cliché with the romance, nor is it too frightening for non-horror fans (while still having enough to please the genre's fans). All in all, Spring is an interesting film with a well-developed story and is well worth watching.
Premise
Following his mother's death, Evan (Lou Taylor Pucci) starts to lose control. His friends suggest he take some time out, so he travels to Italy. Under the European sun, he falls for a mysterious geneticist, Louise (Nadia Hilker). Putting off his inevitable return home, Evan takes a job at a local farm so he can continue romancing Louise.
The two lovers share an intense connection; despite a dark secret Louise keeps closely guarded. As their passion grows, Louise's condition worsens. She finds it harder to keep it under control, putting herself and Evan at risk.
Finding yourself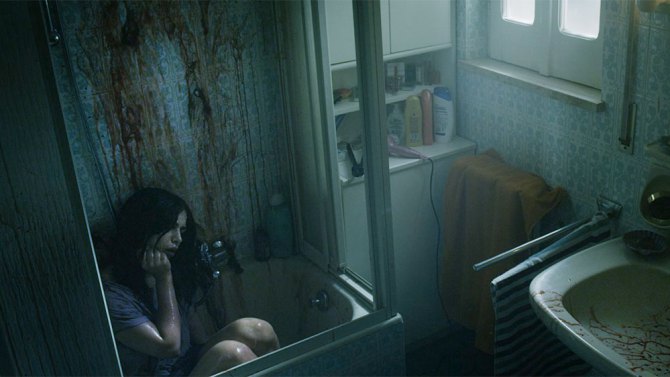 A common trope in film is to have the protagonist go on a journey of self-discovery, and Spring is no different. It reminded me a lot of another favourite film of mine, Stealing Beauty, with its sweeping views of the Italian countryside and the atmospheric, meditative nature of the film. Evan could easily have been one of the typical laddish travellers he meets – loud, caustic, and thoroughly inebriated. Instead, he craves that human contact, a connection. The film is definitely more Before Sunrise than Eurotrip.
What I particularly loved about Evan's so-called journey of discovery is that there is no great moment of epiphany. He doesn't suddenly realize what he always wanted to do with his life or overcome some great issue, allowing him to return home to his previous life. There's none of that. If anything, he's just as confused about he wants in terms of a career and a life plan at the end of the film (only with more responsibilities…). Going on this 'journey' didn't make him suddenly develop some great insight into himself, it just added a new perspective on life, letting him grow and change, and leave a suffocating and painful past behind.
Hunter and prey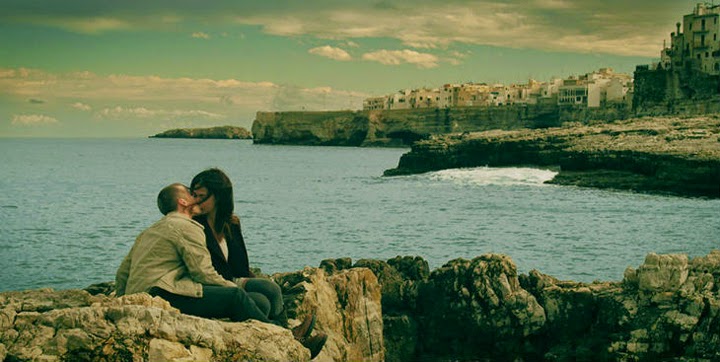 The set-up feels as though the film will be a more traditional femme fatale – she's confident, alluring, and mysterious. She is the hunter, Evan is the prey. And the various hints and clues dropped by Louise during their conversations suggest this route as well. But then the worldscape drastically changes – there be monsters! As a viewer, we tend to cling to the tropes we know well, so once Louise's true nature is revealed, the immediate conclusion to draw is that she will now devour Evan in one way or another. The filmmakers set-up the familiar tropes as red herrings only to surprise the audience at each turn. This makes Spring a highly original, always surprising film.
Verdict: Spring is an engaging, genre bending film that will keep you guessing. Well worth a watch, it will show you that there really are different and original stories out there still worth telling on screen.