Queen of Katwe falls well within the genre of a certain kind of sports film, telling as it does the story of Ugandan chess prodigy Phiona Mutesi. Comparisons could readily be made to Cool Runnings, also a Disney film about the start of an improbable sporting career (chess is a sport, alright?) delivered with healthy lashings of feel-good triumphalism. Truth be told, I can't see Queen of Katwe having the same longevity as its peer though because it feels like a rough cut of the film it should have been.
The action largely takes place in the Katwe slum of Kampala. Phiona (Madina Nalwanga) grows up under the protection of her forceful mother (Lupita Nyong'o), trying to raise funds with her siblings by selling maize. She eventually stumbles into the community project of struggling engineer Robert Katende (David Oyelowo) where she learns the game that will elevate her beyond her beginnings.
There are technical issues I am surprised to see in a mainstream release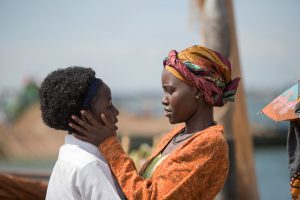 As you can see by the casting of major names like Oyelowo and Nyong'o, this film boasts some significant investment in the talent. Given the calibre of actors, and the wider performances are pretty damn solid too particularly from the child actors, I am surprised that offer aspects of the film feel so neglected. There were numerous points where I felt the ADR (automatic dialogue replacement: redubbing the voice work of the actors) was clumsily executed. Lines of dialogue seem to float, not fitting in with the sound mixing of the rest of the scene and one struggles to attribute them to the characters on screen.
Then there's the editing. In a film that is clearly too long given its modest and achievable narrative aims, there's reams of material that cut have been cut down. And what is there could have been put together more effectively. The action tends to flit between the next chess obstacle to overcome coupled with some sort of domestic or economic dysfunction (as is evidently want to happen in a Ugandan slum). But the cutting in between these aspects, the time scales over which these storylines take place, and movement to some satisfying triumph of adversity are frequently undermined. Especially during the second half, the micro-arcs are rapidly and jarringly slotted together. I honestly suspect that there was too much material that the director and editors were unwilling to cut. The result is undisciplined in a way one rarely sees on screen.
Frustrations are piled upon a film with clear potential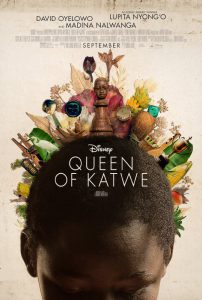 And there is another major issue Queen of Katwe, which is the main role. I was not sure if I was comfortable with the rather passive performance Madina Nalwanga gave for Phiona f but then it occurred to me how little she was given to do. So much of the character drama is focussed on her coach or mother and their developments. Phiona has very little to define her character beyond a certain amount of determination which only really features in the chess sequences – and the film has plenty of social drama to fill out its runtime. What more could Nalwanga  have done within these confines?
I could also gripe that the film doesn't really get to terms with chess on a meaningful level, but every sport, hobby or niche interest is butchered on screen when it is used for mainstream cinema. Yes, I think I spotted some errors or dubious moves on the boards but I'm willing to resign that as pedantry. The film does otherwise have virtues. It's well shot, well acted and informative on the career of someone I knew nothing about. But Queen of Katwe still feels like a very rough cut of what should be a considerably more polished film.
Verdict: Overlong and shoddily assembled, sadly Queen of Katwe is more frustrating and less satisfying than it should have been.