Well, damn. It isn't often you pick up a book, race through it, then wonder why the hell it took you so long to get to it (in fairness, my to-read pile is massive). Nimona was so good that it took me completely by surprise. Sure, I'd been recommended it by friends and seen all the general word of mouth praise, but I've been burned by such hype before. This time, the praise was entirely warranted – I mean, just look at all the awards the book was nominated for: National Book Award Nominee for Young People's Literature (2015), Dorothy Canfield Fisher Children's Book Award Nominee (2017), Milwaukee County Teen Book Award Nominee (2016), Will Eisner Comic Industry Awards for Best Graphic Album-Reprint *and* Nominated for Best Digital/Web Comic (2015) (2016), Goodreads Choice Award Nominee for Graphic Novels & Comics (2015), and The Magnolia Award Nominee for 9-12 (2017). Noelle Stevenson did not let me down. I didn't want the story to end.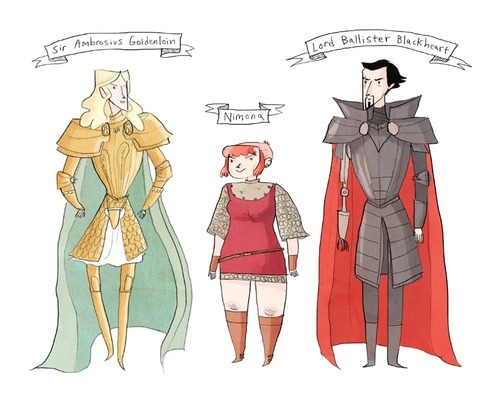 Published as a collected graphic novel in 2015, Nimona follows the story of a young girl eager to join supervillain Ballister Blackheart in his quest to bring down the Institution. But Blackheart is not the sort of villain who goes in for destruction or death for chaos' sake. Nimona, meanwhile, is as loose with her destructive nature as she is excitable. Together, they make dastardly plans, take on Blackheart's nemesis (and ex-lover) Ambrosius Goldenloin, and overthrow the Institution. Time quickly makes clear that heroes and villains are not so different, and that sometimes, good and evil are a matter of perception.
Given the current political situation (the world over) and the seemingly endless stream of depressing SFF, reading a book as fun as Nimona was as welcomingly refreshing as it was necessary. From beginning to end, Nimona is heartwarming and hilarious. The characters are immediately likeable as well as having well-formed personalities. Despite their differences, Blackheart and Nimona's friendship feels entirely natural – one of my favourite moments being when they sit down to watch a schlocky horror film together.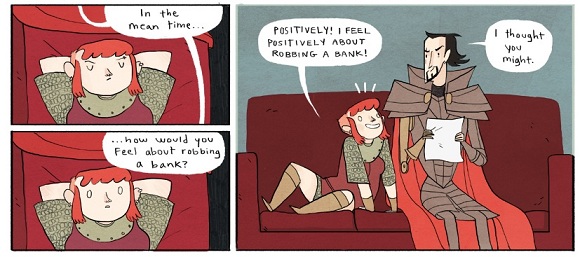 While the Institution and its director are typical villains in the sense that we don't know why they are the way they are or what they hope to gain from their actions (other than POWER!), this clichéd approach works by hanging a hat on it. The story isn't really about defeating an evil overlord or bringing justice to the people (so it doesn't matter to the narrative *why* they are evil, only that they are), it's about friendship. It's about learning about one's true nature and accepting your strengths alongside your weaknesses. The idea of needing to see yourself for who and what you really are is mirrored by the Institution's evil-doing as they spin stories and censor the media to create a public narrative designed to keep the truth from the public (and even those within their organisation – poor, dim Ambrosius…).
Noelle Stevenson is one of the best people around. I mean it. With Nimona, she achieved what I have wanted to do and what we want to see so much more of in published works – the very reason we started the podcast Breaking the Glass Slipper. Stevenson avoids any and all gender stereotypes. The story is inclusive, respectful, and fun. Even as a reader, I defaulted to the assumption that the great knight of legends was a man – thankfully, Noelle Stevenson is better than I am. Instead of my gender-biased assumption, she gave us a legend with a female knight, Gloreth. As well as featuring strong female role models, Stevenson gives us something we see so few of in comics: a woman who looks like a real-life woman. This is not your big butt, tiny waisted, tits-so-big-she'll-fall-over fantasy of a woman, but one who could be made real and fit right in with us real world gals. And let's not forget the sweet tale of Ambrosius and Ballister included as a Christmas special.

Verdict: Best damn comic I've read this year and fighting for the top spot on the all-time greats list. Nimona is worth reading whether you love comics or not. Buy it. Read it. Pay it forward.