I feel like I've been asking for the same presents for as long as I can remember. First it was to get real versions of the Star Wars films to replace my taped-off-the-TV numbers. Then it was the special edition VHS box set, followed by the DVD box set, followed by the theatrical release DVD box set of the original trilogy, then the prequels… until this Christmas when I asked for the complete Blu-ray box set of all six films. Yes, I'm 25 years old, and still wanting to watch the same films I loved as a five year old. Go figure.
As the true saddo that I am, I sat down with my shiny new Blu-rays – not to watch the films as some might think – but to watch the special features. It made me feel very nostalgic watching Mark Hamill in a glorious seventies sweater vest, hosting a TV special labeled 'documentary' (despite there being very little really documentation in it); Harrison Ford sitting cross legged on some kind of boat, chest hair bursting forth, grinning cheekily and saying very little of substance but looking great doing it; and then Carrie Fisher – saying real things about a film that means ahelluvalot to a lot of people.
I'm not saying I don't love Mark and Harrison – or any of the other wonderful people that worked on these films – but I was really interested in what Carrie Fisher had to say. As a kid, I idolised this woman. She was a princess, for one thing. She was tough and didn't take shit from smart-ass men who thought they were tougher than she was. She was beautiful. She was totally fucking awesome and I wanted to be her. And as an adult, I realised that it wasn't just childish adoration anymore… the woman was actually interesting!
All of this led me to read up a bit more about the lovely miss Fisher, and even read some of her books (yes, she's a published writer, and not a half bad writer at that!).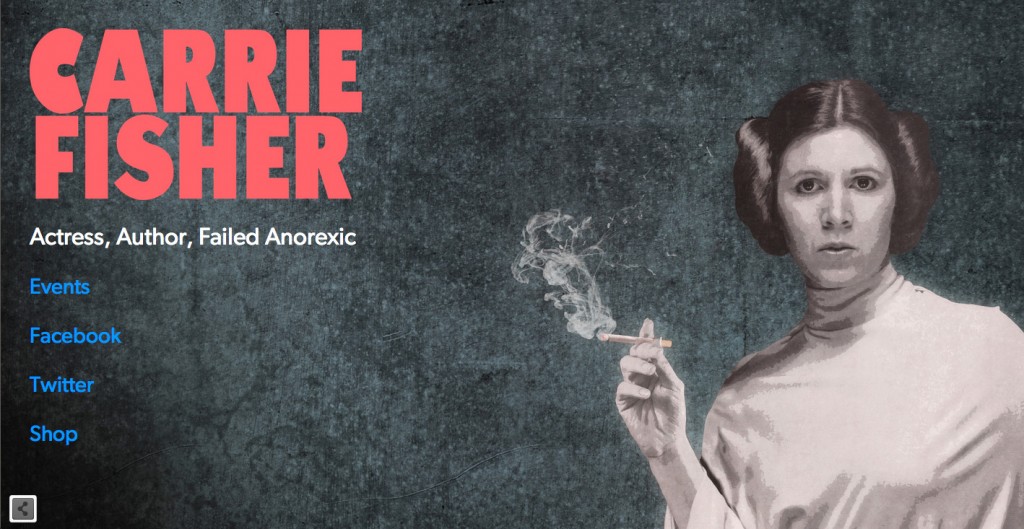 A brief sojourn into Carrie Fisher's life
Carrie was the daughter of famous parents – only one of whom is famous to me (Debbie Reynolds), as truth be told, I had never heard of Eddie Fisher before looking up who Carrie's parents were. So she grew up in showbiz and with all the craziness that goes with it. After attending drama school in London, she landed the role as Princess Leia. Success came extraordinarily quickly. What seemed like a tiny sci-fi film that only a few lonely geeks would see, blew up into a massive pop culture icon – and ridiculously successful franchise. As Carrie points out: she became a pez dispenser. If that isn't success, then I don't know what is.
She went on to appear in The Blues Brothers, When Harry Met Sally, The 'Burbs, Drop Dead Fred, Austin Powers… and so forth. But life wasn't always brilliant. Her first marriage – to Paul Simon – failed. After the deterioration of their relationship, she began seeing Bryan Lourd, with whom she had a daughter before he came out of the closet.
She had problems with drugs, prescription medication, and suffered from bipolar disorder, and she wrote a best-selling debut, semi-autobiographical novel, Postcards From the Edge, about much of her experience. She went on to write several novels, and work as a respected Hollywood script doctor (including such gems as The Wedding Singer and Sister Act). In recent years, she has continued to work steadily with appearances in Robot Chicken, Family Guy, geek-homage film Fanboys, Jay and Silent Bob Strike Back, 30 Rock, and even the critically acclaimed video game Dishonoured.
Now Disney has taken over the Star Wars franchise and there are rumours that the original cast will play the appropriately aged versions of their characters – Carrie wants in. And why wouldn't she?
Postcards From the Edge
This was Carrie Fisher's debut novel. She was going through a rough patch of her own when she was asked to write a novel off the back of a witty interview. Much of the novel is based on her own life, and you can clearly see that. It is very easy to read, light, fun, entertaining. It is very much a first novel, however, which is made worse as a result of her fame. There are obvious problems with it – structure, characterisation, weird red herrings that don't seem to belong and don't go anywhere… Clearly the publisher knew it would sell anyway, so didn't care too much when it came to the editing process.
What the novel clearly shows is that Fisher is an intelligent, interesting woman with writing talent. And despite the novel's flaws, I wanted to read on, and I would recommend it.
Wishful Drinking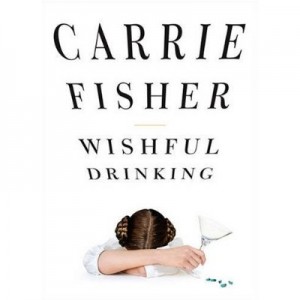 Fisher wrote and performed a one-woman play entitled Wishful Drinking before writing the short memoir. It is a fun book, with entertainment to be had all round. However, it is very short, and instead of taking us on a story of growth – or any story at all – we get a random selection of amusing anecdotes. The book reads much like a play translated almost word for word to prose (which it quite possibly is, but having never seen the play, I can't comment with certainty). This means that there are jokes, one liners, etc everywhere. Which can be fun, but it can also be tiring.
I read this book almost in its entirety in one sitting (highly unusual for me, as I am an extremely slow reader with a short attention span). It is clever, witty, and thoroughly enjoyable, but don't pick this one up hoping for some kind of deep insight into what makes Carrie Fisher tick – you'll be disappointed.