Star Trek is a franchise that has been around since 1966, when we first met Captain Kirk. Since then, we have had another four series and eleven films. On May 9th, the next film in the series, Star Trek Into Darkness will hit cinemas. You might be wondering why I would be dreading this – surely, as a long-time Star Trek fan, I should appreciate the franchise being exposed to a new generation of fans, right? Wrong!
While I perfectly understand that Paramount, as a major motion picture studio, wants to commercialize their product as much as possible… what I don't understand is why they have to gut the original concept to do so. They have moved the series completely away from its original premise in order to mold it into a mainstream cash cow… with a lot of JJ Abrams lens flare. 
Why Star Trek is a great franchise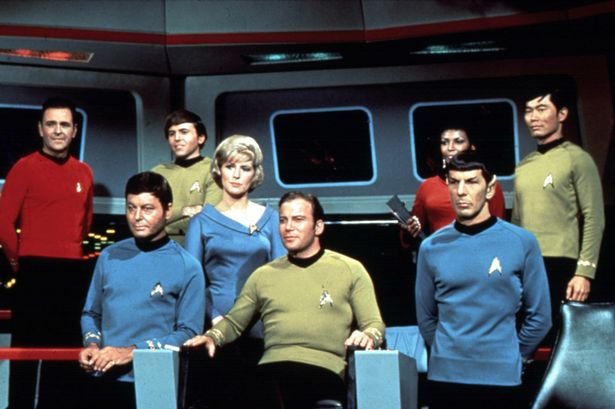 For me, a great deal of Star Trek's appeal is an element of nostalgia. I was brought up on Star Trek – mostly on The Next Generation – which is probably how I developed a fondness for Earl Grey. My parents loved it, so it was just a matter of time with me. Our household continued to love Trek through Deep Space Nine and Voyager (who wouldn't love to watch Jeri Ryan's breasts?!), but we never got into Enterprise (it was only on at midnight in Australia and I'd not heard great things).
The original series of Star Trek contained a lot of political messages. One of the reasons the first pilot was rejected by Paramount was that Roddenberry had cast Majel Barrett as second in command. That was far too progressive for the suits, so she was re-cast as Nurse Christine Chapel (aka the blonde with the unrequited love for Mr Spock).
Star Trek was still the first television series to feature an African American female in a position of authority (Nichelle Nicholls as Lieutenant Uhura) – a role that Whoopie Goldberg sites as a major inspiration for her as a young woman. The show was also the first to show an interracial kiss between Uhura and Kirk (a shot that they only managed to include in the episode after Shatner deliberately gaffed every take where they didn't actually kiss – props to ol' Bill for that one).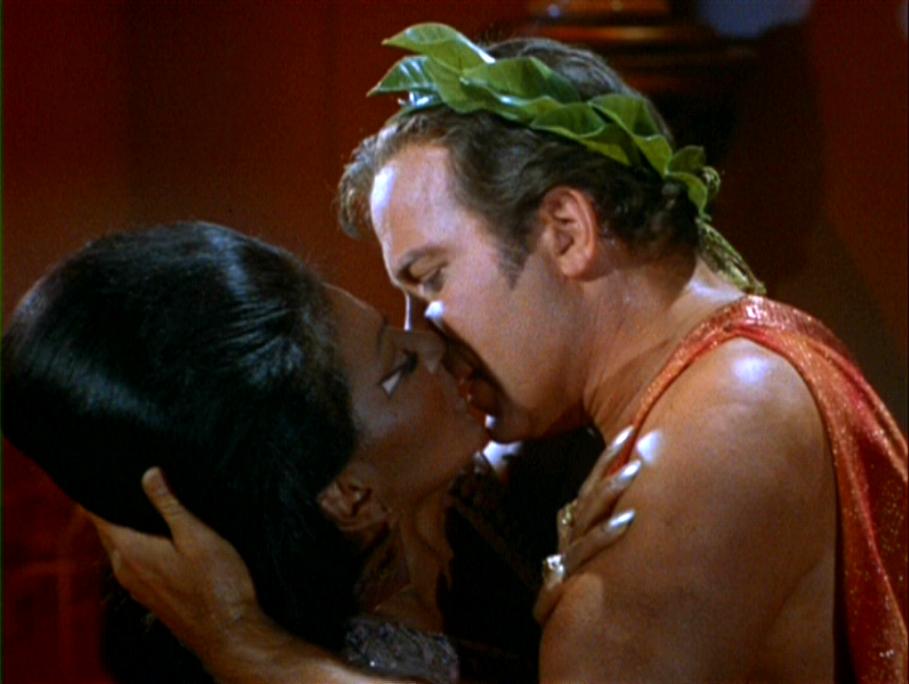 Star Trek: The Original Series benefitted from its 'space' and 'future' setting. It allowed the show to address topical issues such as race and religion. For instance, the episode 'Let That Be Your Last Battlefield' tackles the issue of race – arguing the futility of alien races fighting against each other when the colours on their faces are simply on opposite sides. The episode, 'The Apple', questions blind faith in religion when the Enterprise encounters a group of people who make sacrifices to a god… who turns out to be a computer.
In The Next Generation, Roddenberry's idealized view of the future takes a step up with the introduction of the Prime Directive:
As the right of each sentient species to live in accordance with its normal cultural evolution is considered sacred, no Star Fleet personnel may interfere with the normal and healthy development of alien life and culture. Such interference includes introducing superior knowledge, strength, or technology to a world whose society is incapable of handling such advantages wisely. Star Fleet personnel may not violate this Prime Directive, even to save their lives and/or their ship, unless they are acting to right an earlier violation or an accidental contamination of said culture. This directive takes precedence over any and all other considerations, and carries with it the highest moral obligation.
On top of this, the Federation of Planets has eradicated both religion and money. I was curious as to how this worked – while I can potentially see that a government could stop the use of money (although I don't think it would ever work), I can't understand how we could ever 'grow out' of religion (as much as I would like us to).
Why JJ Abrams' Star Trek sucked
This film was so awful that I cried in the cinema. I realize that this may immediately put me into the category of 'crazy Trekkie' but hear me out. Unlike every other new iteration of Star Trek, Abrams decided to go back to the characters of the beloved original series… and proceeded to bastardise them. These are characters that I love so much, that I admit it goes a little beyond simple enjoyment of them, nudging slightly over the line of obsession. But hey, it is Star Trek, he should have known that Trek fans have the potential to be very possessive of their universe.
While I admit that I did enjoy Simon Pegg as Scotty (despite not really being too faithful to Jimmy Doohan's), I simply DO NOT understand the casting choices for the big three: Kirk (Chris Pine), Mr Spock (Zachary Quinto), and Bones McCoy (Karl Urban). Chris Pine was previously known to me from Princess Diaries 2: The Royal Engagement – not exactly a glowing recommendation for him to play one of the greatest starship captains sci fi has ever known! He is a terrible actor, and his head is too big to allow anyone else any space on camera.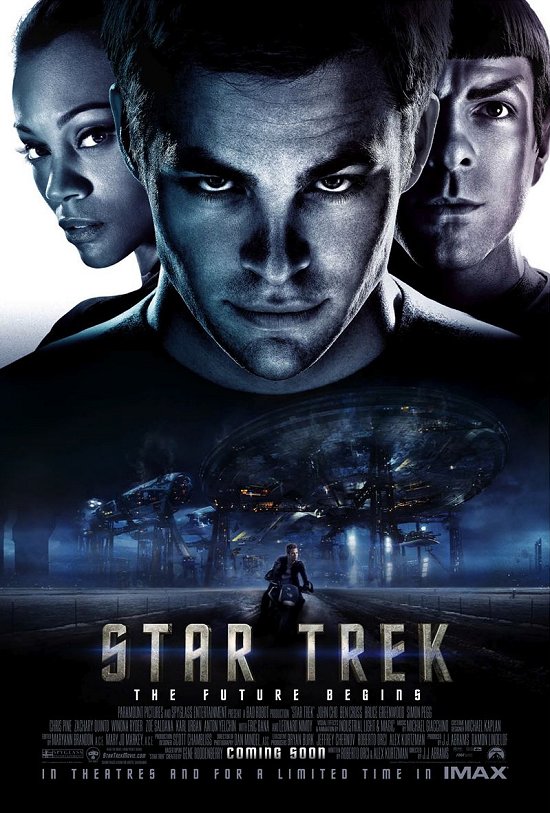 And Zachary Quinto? Heroes was an awful show, can't we just move on and pretend no one ever bothered to get caught up in the invented hype? Mr Spock was always my favourite character. His love of logic and inability to allow emotions in made him the perfect unattainable, mysterious man. The one we all wanted but knew we coul never have. How I felt for Christine Chapel. So why was this unfeeling character suddenly doing the nasty with Uhura? When was that ever a thing?! Nooooooooooooooo! Spock is far too emotional in Abrams' Star Trek… so emotional that he was not Spock at all.
I quite like Karl Urban, he was a great Judge Dredd, but he was wrong as Bones. Maybe this had more to do with a terrible script and terrible dialogue, or maybe it was because he had yet to build the rapport with Kirk and Spock, but he just wasn't right. In the original series, Bones is also significantly older than the other two; something he believes gives him the right to be an arrogant know-it-all. And we love him for it. Karl Urban seemed too much on par with the others, not someone who had years more experience under his belt.
Also, if Abrams wanted to write a story that so completely diverged from the plot of the original series and its corresponding films, why couldn't he just come up with his own characters? 'Rewriting' the timeline, whether you dress it up in a parallel universe or time paradox, does nothing to ingratiate you with fans of old. How dare he destroy Vulcan! Are you kidding me? What suit at Paramount thought that was ok? And inventing your own kind of matter (red matter), what's that about?! While some of Star Trek is outrageously silly, most of the science is based on ideas that might actually happen one day (except of course matter transport – which was only included as they had no budget for a ship-to-surface shuttle).
Star Trek Into Darkness
Read our full review of Star Trek Into Darkness here.
It is almost time for JJ Abrams to throw up all over the screen again in his latest Star Trek film. What will be in store for, I wonder? From the looks of the trailer, a whole lot of nothing. It is all action packed, with very little substance. Where's the politics, the social commentary? Where's the characterization? Oh, you left them behind in favour of lens flare, big guns, and special effects? Of course!
Yet again they are taking a story from the original series, telling us the story of Khan (Ricardo Montalban's genetic superhuman). This time however, we have Benedict Cumberbatch as the baddie. While I like Cumberbatch, especially in his understated performance in Tinker, Tailor, Solder, Spy, he is all wrong for the part of Khan. I mean, look at the difference: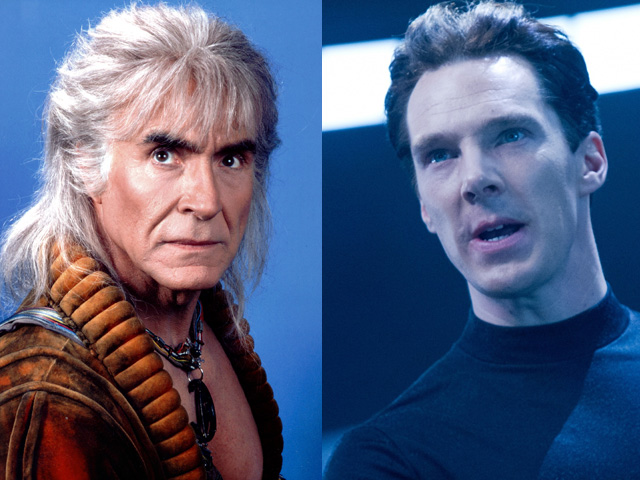 What I don't understand is this: if Abrams wanted to use all the old stories from Trek, why did he rewrite history?!
If you like straightforward action films in the guise of sci-fi, you will probably love the look of the next Star Trek. Good for you. But if Gene Roddenberry could see what had become of his idealized view of the Earth's possible future, I think he would hang his head in shame. Since he isn't here, I'm going to do it for him. However, you know that I'm going to be there at the cinema along with every other Trekkie, hoping that maybe I'm wrong about the latest Trek.