'Teenage angst has paid off well/Now I'm bored and old'

So arrived Kurt Cobain's disinterested sneer on what was to become Nirvana's final studio statement. In the wake of the band's monster-selling second album Nevermind – and breakout single 'Smells Like Teen Spirit' – the band found themselves with far more fans than they'd expected, and possibly more than they wanted. They spoke in interviews of the fact that their audience was being packed out with jocks and frat boys; people who loved the riffs, the hooky choruses, but didn't 'get it'. This brought to the fore the difficulty Kurt had with the notion of punk 'integrity', and his perception of an unavoidable contradiction between maintaining integrity and success in the mainstream.

Kurt began playing music around bands like The Melvins, idolised punk acts like Black Flag, Bad Brains, Big Black and The Sex Pistols. His much circulated Top 50 list (from his posthumously published Journals) features uncompromising bands like The Stooges, The Shaggs, The Vaselines, Daniel Johnston and Gang of Four, but it also includes Aerosmith and R.E.M. Kurt's wife Courtney Love has previously noted Kurt's refusal to include '80s goth albums he loved listening to. He lived with a definite sense that certain things were and were not appropriate to the punk ethic, and frequently struggled to resolve his attachment to independent, ant-establishment music with his love of big melodies (what's that? The riff from 'Teen Spirit' is actually the chorus from Boston's 'More Than A Feeling'??). This attitude is evident in Nirvana's MTV Unplugged performance when, having achieved two number one albums, Kurt still feels compelled to introduce the first song with 'This is off our first record. Most people don't own it.'

Of course, for many this was no contradiction at all. Evan Dando, who formed The Lemonheads from similar punk roots (and would later be gifted one of Kurt's coats by Courtney) successfully melded punk attitude and pretty melodies. To this day he plays Abba's 'Different Drum' seamlessly amongst sets of his own songs. Black Flag frontman Henry Rollins went on to make several high-end videos for singles with his intense Rollins Band, and professes a love of Van Halen frontman and gonzo dynamo David Lee Roth. Even in early punk, the Pistols performed subversive Monkees covers and The Ramones and Buzzcocks formed the template for swathes of pop punk to come.

The issue was complicated by the fact Kurt was equally influenced by the post-punk scene to follow punk; what became 'indie' music. Post-punk followed punk's 'year zero' equalisation of options, rather than the increasingly regimented features of punk rock itself, with an emphasis on experimentation and independence. While punk bands like the Pistols and Clash signed to major labels in an effort to have their iconoclastic music and message reach as many people as possible, indie bands like The Vaselines wrote whimsical melodic songs of love like 'Molly's Lips', but their lo-fi production values and lack of success ensured they could still be regarded as meaning it, maaan. But if, like Nirvana, you combined the punk strategy for major label exposure with the indie love of melody, there was the risk of being mistaken for any other melodic rock band signed to a major label. When Nirvana released the b-sides compilation Incesticide, including their cover of 'Molly's Lips', it sold half a million copies in three months. It didn't help that the Depp/Pitt good looks of Kurt's blue eyes and refined jawline put his face easily on every magazine going.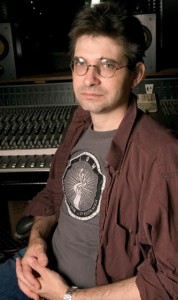 As Masta Killa observed on Wu-Tang Clan's 'Triumph', "The dumb are mostly intrigued by the drum". So how to make a record abrasive enough that listeners would be forced to engage with the aesthetic, rather than simply skim the melodies and bellow the chorus? Well, you call Steve Albini – producer, curmudgeon, former Big Black frontman and doyen of abrasive rock noise. Albini was initially less than impressed with the band, regarding them as "R.E.M. with a fuzzbox" and "an unremarkable version of the Seattle sound", but recording was completed in a fortnight. Compared to the spacious cardboard box production of Nevermind (from Smashing Pumpkins producer, and future Garbage drummer, Butch Vig), Albini's raw production certainly gave the new work far more clatter and jag, but the integrity debate resurfaced when, unsatisfied with the sound in places, and with Albini refusing to revisit the work, Cobain had Scott Lit remix the album's two singles, against Albini's wishes.
Originally titled I Hate Myself And I Want To Die (which prompted an 'I'm not having that' from one Noel Gallagher, who delivered a more upbeat album for young listeners with Oasis's debut, Definitely Maybe, the following year), Nirvana's third album, In Utero, arrived in September 1993. The angel-winged figure stares forth from the cover like a grubby precursor of Damien Hirst sculptures; female, skinned and thoroughly biological. The opening dischord of the record quickly resolves into the almost Merseybeat riff of 'Serve the Servants', and the melody remains the driving force of vocals rather than the words (Kurt would compose melodies first), but the content is certainly richer than on Nevermind. Biological imagery and references to witch trials abound. The band's anti-establishment stance, and riposte to media attention, was stated most baldly on the song titled 'Rape Me', featuring a singalong melody and a backing that's a slightly retooled version of the 'Teen Spirit' riff.
Despite the bands intentions (and expectations), In Utero entered the Billboard charts at number one. Cobain's suicide a year after its release rendered them a phenomenon, with In Utero going on to sell 3.58 million copies. Now, with a fat, three-disc special edition of remixes, demos and live footage landing on shelves to commemorate two decades since its release, here are In Utero's jagged peaks revisited:
'Hey! Wait! I've got a new complaint'
This is, as Courtney recently reminded Lana Del Ray, about Courtney Love's vagina. A dark sideways collaged love song, the chorus also throws a mocking jab at the anticipation and expectations facing Nevermind's follow-up.
4. Dumb
'Or maybe just happy'
Elegant melancholy? Throw a cello on it. From before an era when it became routine to throw a full string arrangement behind anything in need of a little extra gravitas (most extremely when Jason Pierce assembled a group of 100 musicians to record Spiritualized's Let It Come Down, in an attempt to imitate recordings he later found were made with around ten people), 'Dumb' is a concise rumination of drug escapism that revisits a version of the integrity question: do you have to be stupid to be happy in this life?

'What else could I say/Everyone was gay'
Over a rolling drift, 'All Apologies' is In Utero's final moment of surrender and (to recall Noelly G again) acquiescence. All questions of responsibility, obligation and right in creating these songs are discarded on entering the final, accepting chant. Well, until the hidden track 'Gallons Of Rubbing Alcohol Flow Through The Strip' staggers up at the album's tail, anyway.
2. Frances Farmer Will Have Her Revenge On Seattle
'I miss the comfort of being sad'
Seattle native Frances Farmer was a successful actress for Paramount Pictures, and on Broadway, though the 1930s, before she was involuntarily committed to mental institutions for several years. Her posthumously published autobiography alleged horrendous treatment suffered during her commitment.
Nirvana's most nuanced control of the Pixies quiet/loud dynamic, '…Her Revenge On Seattle' doesn't follow a narrative but uses the iconography of Farmer as a returning spirit of vengeance to vanquish all of Kurt's perceived enemies. The year before In Utero's release, Courtney married Kurt in a silk dress that once belonged to Farmer.
'Give me a Leonard Cohen afterworld/So I can sigh eternally'
A space of stately, elegiac grace and self-loathing as Kurt reflects on his stomach pain and a life reduced to warm milk and strawberry antacids. Rather than explosive energy, the quit/loud dynamic here conveys frustrated exhaustion. Copies of the 'Pennyroyal Tea' single, with 'I Hate Myself And I Want To Die' as the b-side, were recalled and destroyed before release due to Cobain taking his own life.