Tales of the morally superior are overdone. As are stories of someone in a bad place, who makes bad decisions, finding a turning point in their lives and realizing the error of their ways. And then there's stories of antiheroes. Nightcrawler takes it one step further. While Gyllenhaal's character is the protagonist, he is in no way heroic. No matter the depths of depravity to which he sinks, the viewer is compelled to keep watching, mesmerized by his brilliance. Am I waxing poetic a little bit too much? Well, that's how it feels when you watch this film. You know his choices are wrong, and yet somehow they make more sense than any other choice he could possibly have made.
For a film with such a high profile, bankable star like Jake Gyllenhaal, it had a relatively small budget (reportedly 4.5 million, 2.3 million of which came from a grant from the California Film Tax Credit program). The film was written by Dan Gilroy and is his directorial debut. He has been in the industry a long time, however, and has a family steeped in film history. Gilroy's other film writing credits include Freejack, Two for the Money, Real Steel, and The Bourne Legacy. Nightcrawler is an intense debut for any director, proving that Gilroy's talents have been wasted on lesser fare in the past.
Plot
Lou Bloom (Jake Gyllenhaal) has no formal qualifications. Something of a drifter, he makes money in whatever way he can, legally or illegally. Always on the lookout for an interesting way to make money, he is captivated by a film crew (headed by Joe Loder, played by Bill Paxton) that arrives at the scene of a grisly car accident. Lou acquires a basic video camera and police radio to begin his life as a nightcrawler (an independent contractor who films grizzly accidents and crimes during the night to sell to TV stations).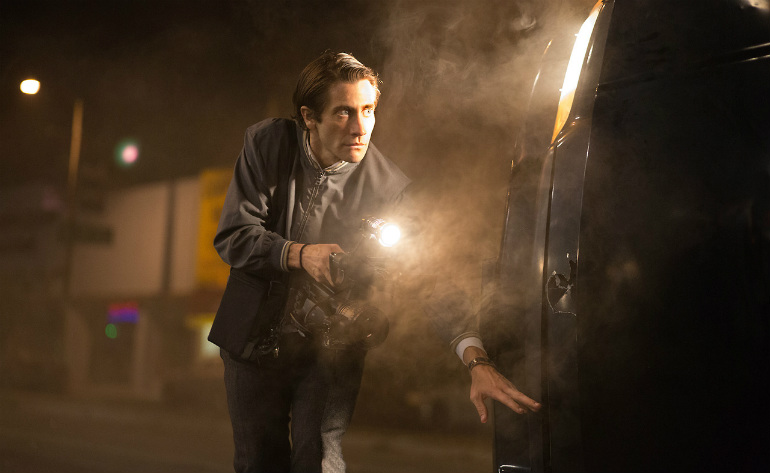 Making a name for himself by being pushy and persistent, getting in much closer than film crews who are more inclined to follow the rules, and showing a general disregard for the law, Lou's work regularly makes the morning news bulletin. He develops a close relationship with news editor Nina (Rene Russo, wife of the film's director Dan Gilroy), who uses Lou's work to boost her station's ratings. But how far will Lou go to get the ultimate story?
Strung-out, manic, and 100% relatable
When many of us go out on our own, the world is a terrifying place. Even if we have attended University and received degrees, their usefulness is questionable. Young people struggle no matter what their background, trying to figure out who they are, what they want, and how to make ends meet. Living a tiny shoebox apartment with a shitty car and no job is a very relatable situation for many young people, making Lou an interesting and sympathetic character – to begin with anyway. Sure, he resorts to thievery which might not be the best solution for those in similar situations, but it does highlight the lengths to which people will go.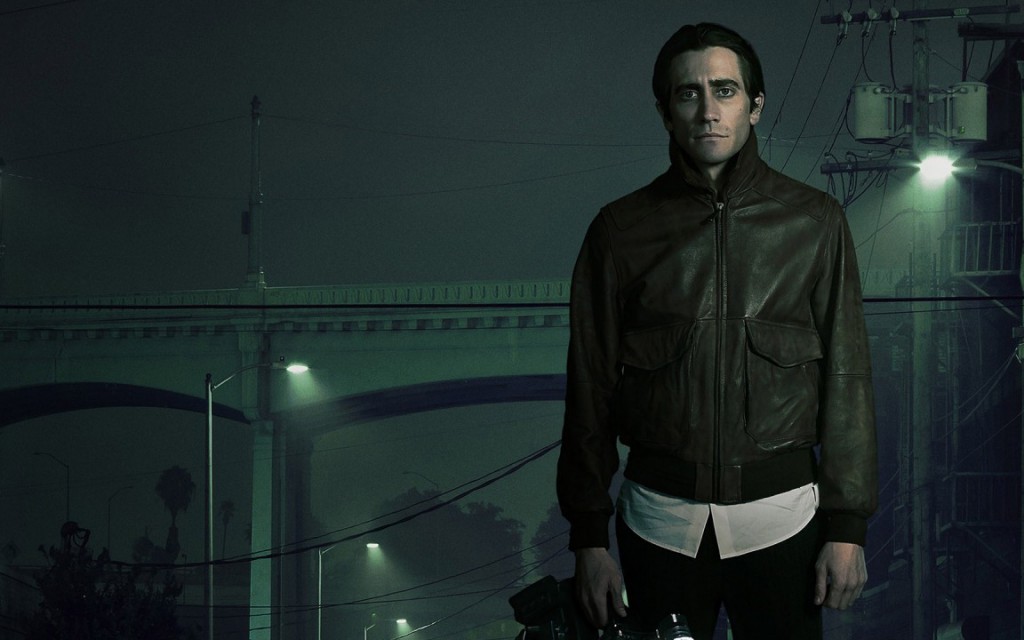 Lou is an admirable entrepreneur in many ways. He is constantly trying to learn new things and is proactive when it comes to his own education. He finds ways to make money in his own way. First, Lou attempts to get jobs in the standard way, but he is never given the opportunity to prove himself. Sound familiar? Unable to learn from someone already in the business, he starts out on his own, creating his own 'company'. Taking his complete lack of moral compass out of the equation, his drive and self-reliance is enviable, and his strung-out, manic appearance along with his focus on his goals are commonplace amongst young entrepreneurs working on their start-ups. Grounding Lou with these traits complicates the viewer's relationship with him when he starts to cross the line morally and legally in order to get what he wants. And remember, as Nina points out, no matter how low Lou goes, we could always do with learning a little something from him.
The nitty-gritty
This is the kind of story that requires excellent acting. Thankfully, Jake Gyllenhaal pulls it off. He is Lou Bloom. The transformation is complete – his eyes, his weight, his speech patterns. Without that total commitment from an actor, an antihero such as Bloom could never really come to life. His intensity is counterbalanced by his put-upon intern, Rick, in an understated, quiet performance from actor, writer, director, and rapper Riz Ahmed. Where Lou represents drive and ambition, Rick is the opposite. Rick is honest, open, and unsure of himself. As Lou calls out, he has more faith in Rick than Rick has in himself – and Lou doesn't even like people.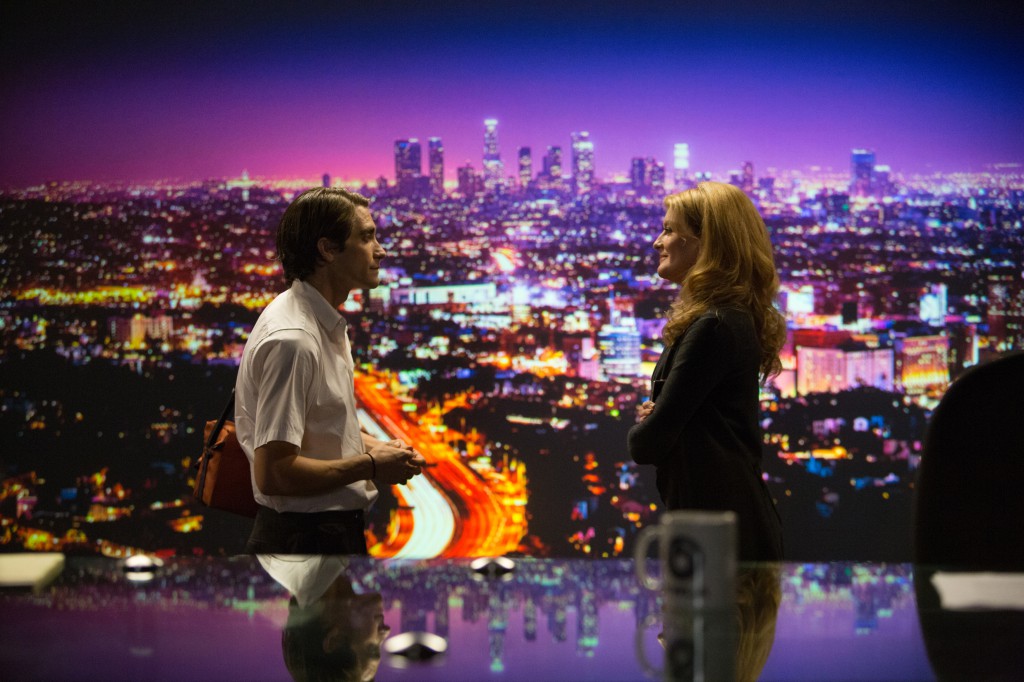 Rene Russo's Nina is another excellent foil for Lou. Lou has a very direct manner of speaking, without picking up on social clues (which you may suspect to be an inability to understand those social clues, but he later comments on this, saying that he simply doesn't like those social rules and chooses to ignore them). Nina is a straight talker as well. Her approach comes across as strong and independent, as opposed to Lou's more 'unhinged' communication style. But what makes them so different? The content of their communication is very similar, direct and to the point. Nina, however, is not underhanded and manipulative. Lou corners her, among others, with his speech patterns, going right to the heart of what he wants. His tone of voice also implies a level of aggression lacking in others.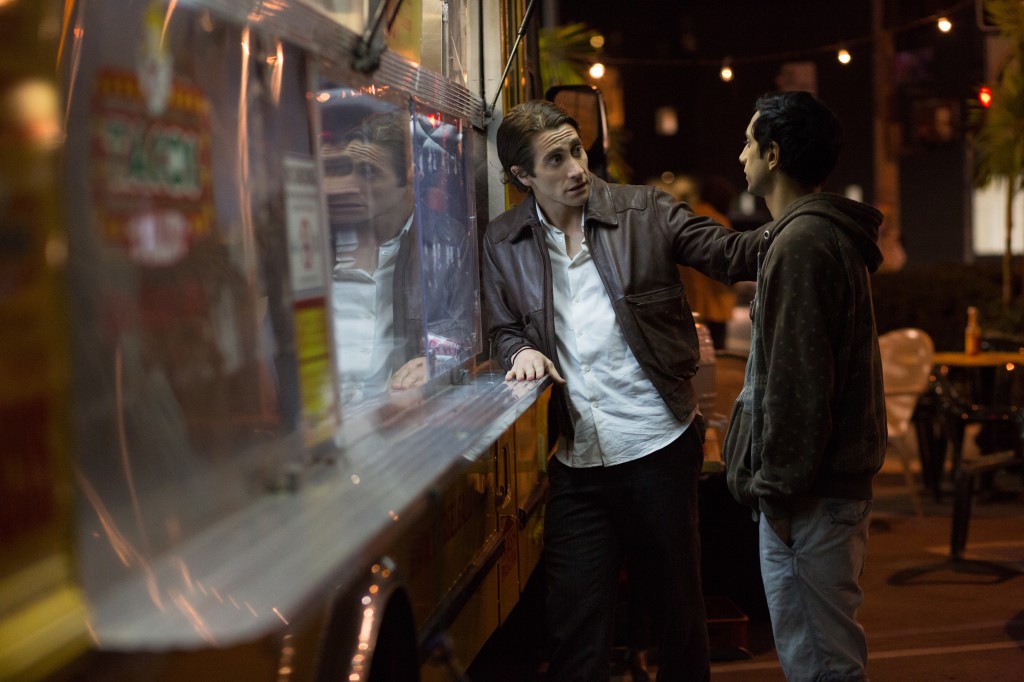 The film is intoxicating in terms of both the story as well as the audio visual presentation. The urban landscape is harsh and unwelcoming, as though all the violence Lou captures was inevitable. And how could he be anything other than what he is, being brought up on those streets? It is repeated over and over again that news watchers only care about white, wealthy victims. Who can survive in a cityscape where everyone is disposable – and those that people might actually care about also make for the most-watched television when things go hideously wrong. Most of the story takes place at night, with the city lights being an important backdrop for the manic story. Meanwhile, the score from James Newton Howard (Hunger Games) is somewhere between an 80's rave night and a horror epic.
Nightcrawler will have you on the edge of your seat for the full 117 minutes. You might not know whether you love or hate Lou, but you won't be able to look away.
Verdict: Thrilling and dramatic, this tale of antihero Lou Bloom will have you questioning what's right and wrong. The film is like a weird drug trip, all-consuming, and leaving the viewer with a strange feeling of catharsis and confusion. Highly recommended for anyone who likes something a little bit off-kilter.