When summer hits, I invariably find myself lounging on the sofa in front of a fan, not wanting to do a whole lot of moving. I'm not much for sunbathing or beach reading, but summer sofa reading is a must. However, I don't find myself drawn to the standard light holiday reading fare… instead, I much prefer to retreat into the novels lining my shelves with well-thumbed pages, tea stains scattered throughout, broken spines, and well-worn covers. I'm not generally a re-reader by nature, but when the heat settles in, I'm always back at the old favourites.
I wanted to write about one novel that I always retreat to (usually every year). Then I wondered if other people also have books they love to re-read. So, I put a call out to a few friends. If you are looking for something new to read, or just want to see what other people love to re-read and why… read on! Here is a collection of a few well-thumbed books from Pop Verse contributors and readers. Be sure to tell us your own re-read favourites in the comments!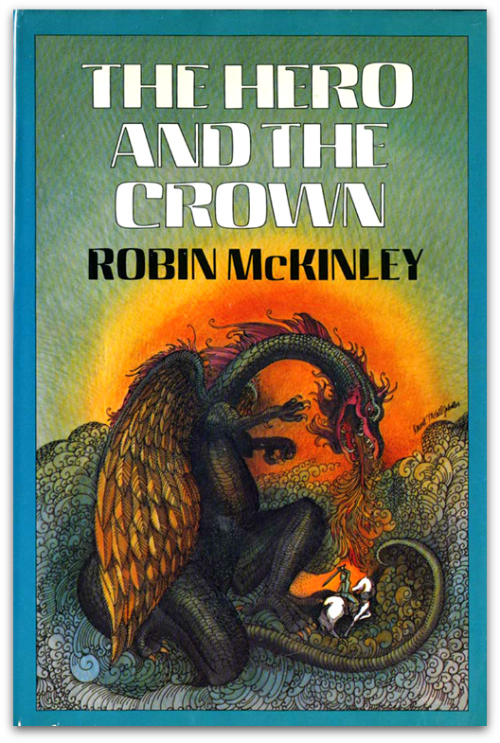 The Hero and the Crown by Robin McKinley
Megan Leigh
If you are a regular Pop Verse reader, you have probably noticed a pattern with me – I read (and review) rather a lot of Robin McKinley. It all started with The Hero and the Crown. My family moved to Texas when I was 9 years old and my mother desperately wanted to ensure that I continued to read a lot (you know, all those terrible tales of rampant illiteracy in the States), so she bought me a lot of books. This was one of them. I'm not sure how she came across it – perhaps it was purely the Newbery Medal winning sticker on the front that caught her eye. There were a lot of books she bought me that piled up in the corner of my room, untouched, but The Hero and the Crown was different.
It has magic, dragons, horses, mages, battles… The main character, Aerin, is a stubborn outcast who spends most of her time trying to stay unnoticed. And boy did I relate to that. The people of her country are a tad afraid of her and she isn't given the appropriate respect the daughter of the King really should receive. This doesn't stop her from being generally awesome, resourceful, and kicking some ass. Meanwhile, there's enough well-written romance to let my inner girl out for a while too. And like many good children's fantasy stories, the horse often steals the scene.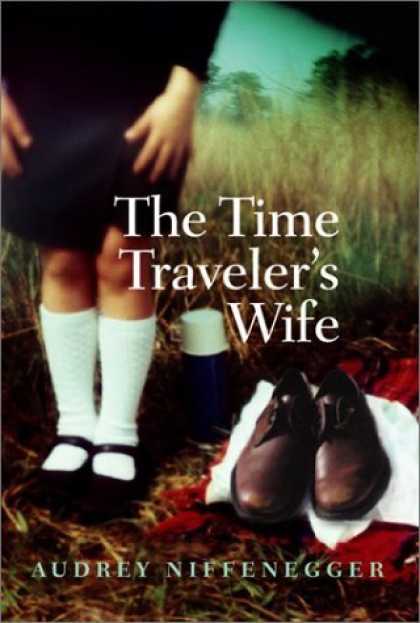 The Time Traveller's Wife by Audrey Niffenegger
Sarah Gaunt
I received this book in a Christmas stocking when I was about 15 years old and I read it in about 2 days. I am not sure what drew me to it or what made me devour it so quickly, but I couldn't put it down. It was the first time I had really come across time travel in a book and I think the fact that it was done in such a 'real' way and was part of the dynamics of a 'real' relationship appealed to me. The author conceptualises the idea of time travel in a very graceful way and enmeshes it into the plot almost seamlessly, as if it was part of 'real' life. I am also a sucker for love stories, fate bringing people together, the idea of soul mates, and 'it was meant to be'. I thought this book portrayed the love story so heart breakingly well.
I believe in Claire and Henry and I believe in their story. Claire's destiny was set when she was a small child and first met Henry during one of his time travelling 'jumps.' I have never really been able to relate to something like time travel before (sci-fi/fantasy books are not my strong suit) and I think that seeing it, or reading about it, through the eyes of a relationship and the consequences it has on these people really stuck with me. I keep going back to it and have read it many times since that fateful Christmas day. Every time I do, I pick up on something different that I hadn't noticed before.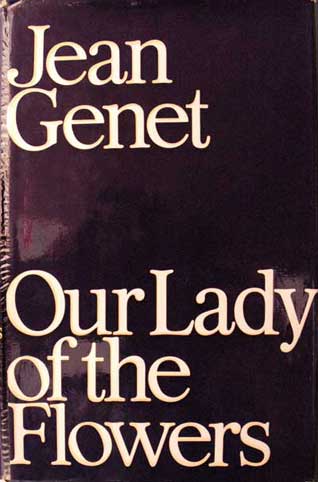 Our Lady of the Flowers by Jean Genet
DB Fishman
As a poet, I occasionally get frustrated with novels. The necessary exposition; the insistence on making sense. This is the post-match analysis. Where's the thing itself on the page? Songs and poems needn't make sense (and it's often better when they don't). Novels can sometimes seem so prosaic. When I found Williams S. Burroughs' The Place of Dead Roads, I felt I'd found the answer. It has pages I would happily hang on my wall as works of art, but moves purely by its own logic.
Jean Genet's Our Lady of the Flowers then gave me the same lightbulb moment Nine Inch Nails fans get on first hearing Ministry's Land of Rape and Honey­ – 'Ah, this is where those great ideas came from!' Composed while the author resided in French prison (when the first draft was discovered by a guard and burned, Genet simply set to writing the whole damn thing again), Our Lady of the Flowers is a product of the mind, intermingling autobiographic details with flights of metaphysical fantasy, unfixed in time or space. Our narrator addresses the audience from prison, on the important figures of their life – primarily Divine, a transvestite prostitute who lived in a garret overlooking Montmartre cemetery. Tender, sensual, camp and melancholy, it seeks to render holy an outsiders' world of murderers, thieves, prostitutes and abusive partners, reversing basic values with utter disregard for polite etiquette. Our Lady of the Flowers remains a testament to the magic of possibility, the senselessness of censorship, and the vast potential of both the novel and human imagination.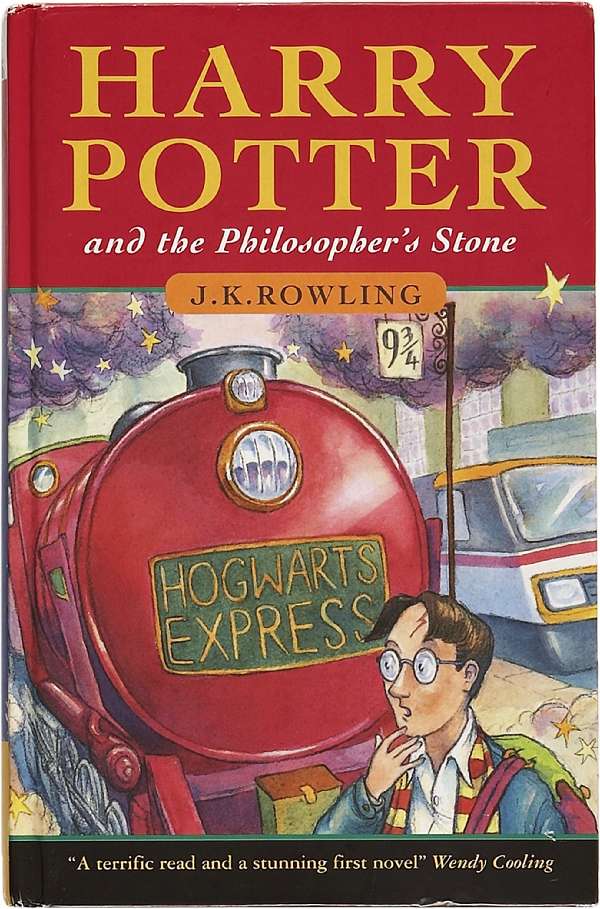 Harry Potter and the Philosopher's Stone by JK Rowling
Siobhan Greaney
I have loved this book since my first reading. It has remained a firm favourite over the years for different reasons. I was young enough to like it for its own merits the first time around. I loved the characters, the plot, the setting – it was, to be cliché, magical. And then there were 6 more. Of course by the time the final book in the Harry Potter series came out, I was no longer a child on the cusp of starting secondary school (and secretly hoping I too was a witch), I was an adult, finishing university and moving on to new parts of my life. Now when I read them, I can still gloss over things that iritate people approaching the books for the first time as an adult, for the same reason our childhood friends are forgiven annoying habits. I grew up alongside Harry, and my rose-tinted spectacles mean that every time I pick up the first book for a re-read, I'm excited, nostaglic and comforted all at the same time. What more could I ask for?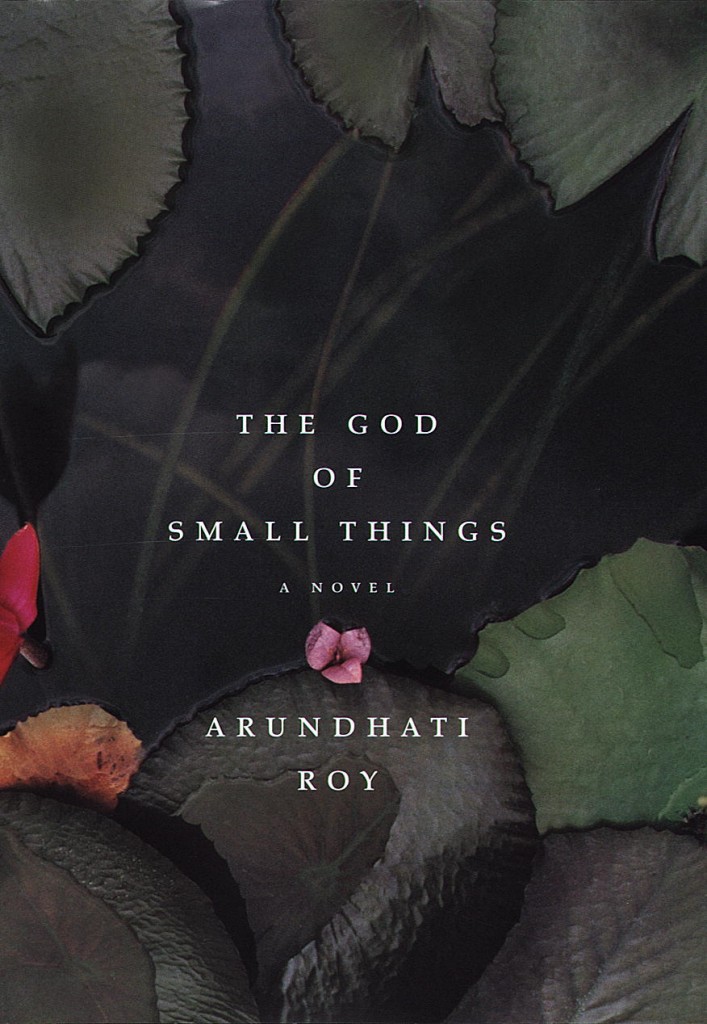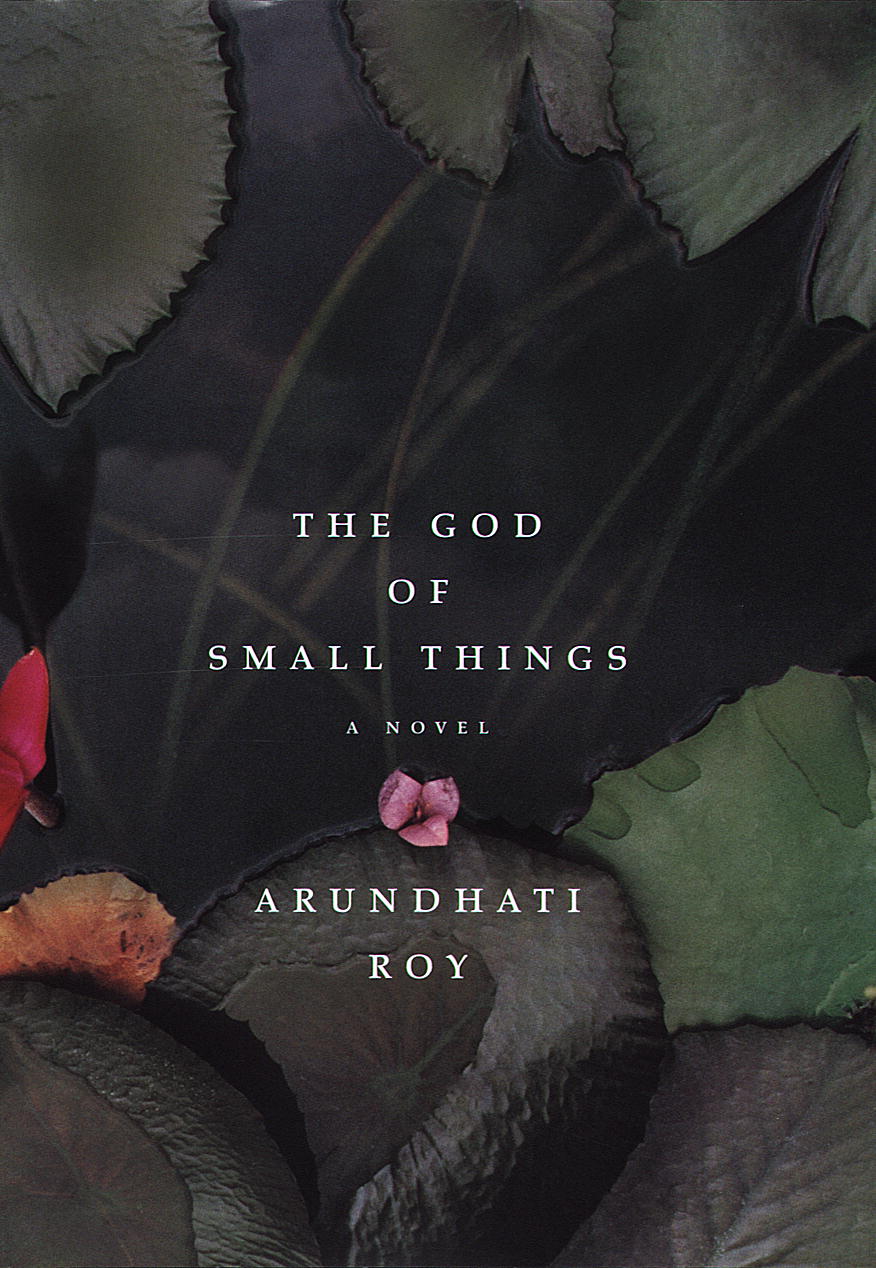 The God of Small Things by Arundhati Roy
Nikul Patel
The God of Small Things by Arundhati Roy has had my imagination held captive for over a decade. But Why do I love it, and more importantly why should you?
The sheer breadth of GOST is its own reward; it is about a million things and nothing; it is about India, it's about a family, it's about Class, it's about the bleakness of being (whether you are governed by your actions or an instrument of the fates), it's about twins, it's about love, it's about society and very possibly it's about nothing at all.  Some of these are true if you read it on a Monday, and others are demonstrably present on Tuesday.
Roy's prose is as such so beguiling that it marshals these huge and numinous themes with a comparatively simple register; but in it lies the poetics of the thing. The prose melts between the past, present and future; and between perspectives of characters. It dances a bricolage dance to take you through, past and over the narrative.
John Leal
I have a huge fascination with stories that play on childhood admirations. I used to love playing X-Men, Ninjas, and my neighboorhood's Awesome Squad. I usually left my imagination trapped inside my books.
After reading Invasion (and a few others of Mr. Lewis's stories), I was left with a desire to write about a secret squad of individuals that are left to protect the world. The story starts off sending our hero, Colt McAlister, to a "military academy" where select individuals train to stop supernatural baddies who come from other planetary destinations.
This and the other C.H.A.O.S novels are very character driven, with snarky dialogue and a huge mess of foreshadowing/predicting that being a teacher, I adore.
To say it plainly, this is a typical "boys" novel that appeals to, in my opinion, everyone.
It seems that for anyone who enjoys quick nerdy humor, or is a huge fan of Simon Pegg, should have meandered their way to this book already. Secret agents, spy robots and a boys tale of growing into a bigger kid are all elements to be desired in such a fictional/nonfictional piece of writing.
Simon Pegg delivers a masterpiece that any pop cultured/Sci-Fi/fanboy would appreciate. In between reliving flashes of his life, he also characterizes himself as a badass hero. Who wouldn't want to read that!
Being stuck in America, I'm curious to read the differences that Mr. Pegg describes in the foreword, however, my attention span seems to have dwindled in my ancient span of Earth, so I might be more patient than I should be.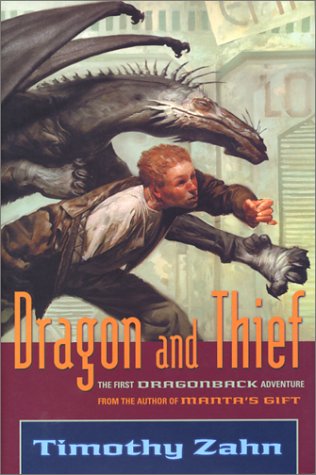 Dragon and Thief by Timmothy Zahn
I fell in love with Zahn's trilogy after he introduced one of my favorite villians in the Star Wars Universe, and couldn't help myself picking up a copy of this novel. It didn't help that a dragon being was popping off the cover. At first, I was perplexed by the fact that a Mr. Zahn's novel was parked on a high shelf of a young adult section. I read the reviews, inside jacket and thought, what the hell?
The story starts off with Draycos and his previous batch of hosts fending off an attack, while Jack and his uncle are looking to salvage from the future wreckage. After strange introductions, Jack and Draycos go off in search of defending the Galaxy from a conspiracy that I won't spoil for you.
All in all, book 1 of this 6 book series is a great start to a space adventure.