Several years ago now, I made a new friend at work. We appeared to have a lot of things in common and she had an inquisitive mind. This mind of hers included a fascination with science and a man named Professor Brian Cox. I had never heard of Cox before, but she filled me in…
Brian Cox was part of the music scene in the 80's and 90's as a keyboardist in bands Dare and D:Ream. While carrying on with a rock career, he also studied physics at the University of Manchester. Along with comedian Robin Ince, Cox has hosted the BBC Radio 4 science programme The Infinite Monkey Cage since 2009.  Following on from his success on the radio, Cox was propelled to fame through the television series Wonders of the Solar System, Wonders of the Universe, and Wonders of Life. On November 14th, The Science of Doctor Who, presented by Cox, will be aired on BBC Two.
Professor Brian Cox is truly a rock star scientist. But he isn't alone. The popularity of science in the zeitgeist is rapidly increasing.
I Fucking Love Science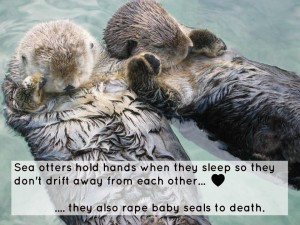 Who is the new science rock star everyone is talking about? That would be Elise Andrew, founder of the Facebook science page, I Fucking Love Science. And the expletive? Well, it is part of the page's charm. Science isn't just for old men with bow ties and holey jumpers or for geeks with thick bottle-lens glasses… Science is for everyone. Why? Because it is fucking interesting!
Andrews set up the page when a 'friend' told her to stop boring everyone with science based posts on her Facebook account. Well, she sure showed him. She is a 'curator' of all kinds of curious facts. Everything and anything interesting and even slightly science-y gets posted on IFLS. And I'm glad it does.
What is refreshing about the page is the emphasis on everything being interesting. This might sound like a no-brainer, but what I have found puts people off digging deeper into the sciences is the 'dryness' reputation science gets plastered with. Science is really interesting. Andrews posts anything that has remotely interested her, and her excitement helps others approach science without being afraid of not knowing enough, or that it will be too dry.
Andrews has now started her own YouTube channel where she reviews the most interesting science posts of the week every Friday. If you haven't already been to the IFLS Facebook page, be sure to check it out.
Science podcasts for the ill informed
My dad is a big science nerd. He was the one who got me into Star Wars, Star Trek, and every other geeky thing I loved as a kid (and still do). I have a feeling he was also the reason I spent many years of my childhood determined to be a 'mad scientist' when I grew up (yes, the 'mad' part was important – I wanted hair like Doc Brown).
He has truly embraced the digital age by becoming an avid podcast listener. And his regular downloads are predominantly science related. I asked him for his list of the best science-y podcasts (in no particular order – and with a heavy Australian bent):
Star Stuff News stories focusing on astronomy, space sciences and cosmology.
Health Report Featuring stories on health and medical issues.
Dr Karl on tripleJ Science! Myth-bashing! Answers!
Dr Karl & the Naked Scientist Dr Karl and Dr Chris Smith (the Naked Scientist) present science news and answer listeners' questions.
Stuff You Should Know Covers everything from science, history, politics, zombies, food, and economics.
Science in Action The impact of scientific research explained.
Astronomy Cast Everything you could want to know about the universe.
The Science Show Because Aussies love to keep on top of new scientific developments.
Ockham's Razor Interesting thoughts on science.
The Skeptics Guide to the Universe Science for those of us not so easily convinced.
Science Talk A science podcast from the magazine Scientific American.
Nature Podcast A wrap up of recent content featured on Nature.
Skeptoid 'A weekly podcast dedicated to furthering knowledge by eliminating the widespread pseudosciences that infect popular culture.'
The Infinite Monkey Cage Brian Cox and Robin Ince bring you science with a side of irreverence.