'Are you deaf? You wanna hear some more?'
– 'Rock 'N' Roll Ain't Noise Pollution', AC/DC (1980)
Who plays bass for AC/DC? I'll give you a minute. Then we'll get to the question of who their vocalist is.
There are bands who stick to the plan; bands you can rely on. Tides may rise, epidemics advance and terror stalk the globe, but every few years, the denim and black t-shirt can be donned again as they once more hit the road. There'll be the familiar faces on stage, those guitar tones like home and the obligatory new album, songs from it slipped seamlessly into the set between the hits. Walls of Marshalls. More cowbell. Leather trousers, if you must. That 4/4 in utero heartbeat rhythm and bellow-along choruses. They don't exactly evolve – and you wouldn't want them to. You want Slash to wear the top hat. A fag hanging from the corner of Keef's mouth. You want Lemmy strafing the audience with his bass-as-rifle hoisted to his shoulder. And few images encapsulate sticking to the plan like Angus Young still in his school uniform.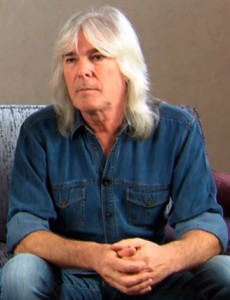 AC/DC's bassist is old English sheepdog lookalike, Cliff Williams. Has been since 1977. Motörhead maintained the same line-up for an impressive two decades before Lemmy passed in January, but AC/DC topped that. Since Brian Johnson took up the mic in 1980, Acca Dacca held the same line-up for just shy of an unfeasible 35 years (give or take drummer Phil Rudd taking a decade off to buy a helicopter company). They're a byword for old faithful, but AC/DC aren't exactly as they seem. That school uniform no longer contains a schoolboy. This none-more-Aussie of rock bands – whose original leading three were all born Scottish.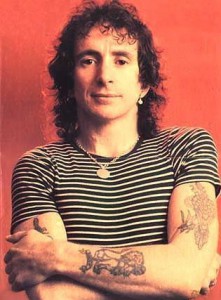 AC/DC's claim to consistency was laid early, with relentless, red-blooded masterpieces of riffage like Let There Be Rock, Powerage and If You Want Blood, You Got It. The riffs of Malcolm Young, the preternatural virtuosity of his uniformed younger brother Angus, and of course, there was Bon Scott. Scott wasn't a great singer, didn't look like a star, but he was a monumental frontman, charisma pouring from him like sweat beneath the Aussie sun. Kirriemuir's favourite son was the leer and flirtation, the heart and mischief of the band; a one-time drinking buddy of Lemmy and a rough and tumble laugh at the bar. He added an edge of unpredictability, ad-libbing shouts like 'Get yer fackin' jumbo jet out of my airport!' on 'Ain't No Fun (Waiting Round to be a Millionaire)'. There's a wry satisfaction in the fact that Scott's last words on Highway to Hell, his final album with the band, after the sturm and drang of red-eyed, theatrical murder-piece 'Night Prowler' have faded away, are Robin Williams' catchphrase from Mork & Mindy: 'Shazbot. Nanu nanu.'

After Scott drank himself to death – and the huge success of Johnson's debut, Back In Black – AC/DC didn't waver from the plan, but something had changed. The Young Brothers kept the spirit in Bon's wake but everything was a little more polished, a little more professional; the band were an unstoppable monster of arena rock. Big singles kept on coming but the albums – the majestic Razor's Edge aside – were flirting heavily with the F word (and I do mean 'filler'). 2008's Black Ice commands far more respect than should be possible for an album whose tracklist includes 'Rock N Roll Train', 'Rock N Roll Dream', 'She Likes Rock N Roll' and 'Rocking All The Way', but from the chime of its opening chords, 'Train' is as good as they ever were, while 'Anything Goes' is a breezy gem of a curveball. It seemed like the Youngs could go on forever, but it's been a rough couple of years.
The Phil Rudd Fiasco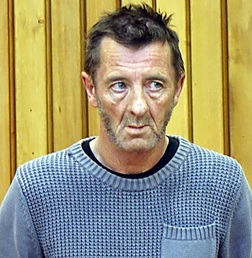 'I fell out of bed, actually. My wife woke me up and they said, "Hey, Phil's been up to no good."' That was Angus's reaction to the news last year that had every comment section worth its salt filled with people proclaiming 'Dirty deeds done dirt cheap!' Phil Rudd had been arrested in New Zealand and charged with possession of speed, weed and 'attempting to procure a murder' (later reduced to 'threatening to kill' his assistant, after his solo album tanked). Rudd appeared in court claiming the threats were due to 'methamphetamine-induced psychosis' but he was out of the band. In a sticking-to-the-plan vein, AC/DC brought in Chris Slade – the man who'd vacated the drum stool for Rudd's return back in '94.
The sad saga of Malcolm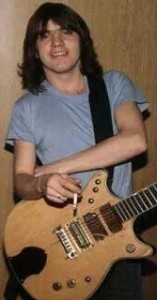 Young the elder has long been an underrated figure, and one for sticking to the plan in extremis. The captain of the good ship AC/DC, riffs streaming from his fingertips, Mal also mastered the AC/DC sound. Rather than recording great walls of amps, Malcolm recorded quiet amps very, very close, meaning the hammer and groove of the band's riffs keep that crisp edge, however loud you crank them. Following the Black Ice tour, he underwent surgery for lung cancer, but things were worse than that.
During the writing for Black Ice, the band leader's uncharacteristic disorganisation led to the discovery these were actually symptoms of dementia. After 40 years building his band, every day of the tour Malcolm was having to rehearse the songs that made their name. He left riff ideas for Angus to work with and played until he literally could no longer remember how. Medically retired to a waterfront property in Sydney, listening to Chuck Berry, Young's place in rock history is assured. And his instruction to the rest of the band was simple: 'Keep doing it.'
Very much keeping to the plan, to fill the gap AC/DC wrote the Young brothers' cousin Stevie Young back into the soap opera – last seen in position on the 1988 tour, covering for Malcolm while he was treated for alcoholism. So good was Stevie at playing in Mal's style, many who saw the tour apparently didn't even notice the difference!
All Screwed Up
'it could be the very last time
I could be in a rock n roll dream'
– 'Rock N Roll Dream', AC/DC (2008)

Since the mid-nineties, each new AC/DC record has arrived cloaked in the possibility that it could also be their last. The buzz surrounding 2014's Rock or Bust though – their first without Malcolm in the studio – seemed conspicuously short-lived. Its arrival was hailed with the 'Play Ball' video, which appeared not just underwhelming and outdated, but bizarrely cheap, making you wonder whether Black Ice maybe should have been their finale. And now, subsequently touring without Malcolm or Phil, there are also Brian's ears to contend with.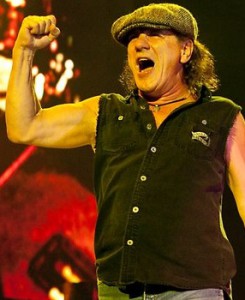 Brian Johnson is one of the good guys. There's a moment during 2012's glorious Live at River Plate DVD (which made Zep's contemporaneous reunion show look like so much pretentiously self-important bollocks) where Johnson, having cued up an instrumental break, swaggers off down the stage's catwalk bold as brass, while all around him 60,000 Argentinians lose their shit. That's rock and roll. The Rock or Bust tour is looking like a 'bust' though, with all dates postponed and Johnson was advised to quit playing stadiums or risk permanently losing his hearing.
Johnson, to his credit – a 68-year-old professional musician faced with being deafened – is willing to seek a second opinion in order to stick to the plan, but it appears Angus is keen to plough ahead with a replacement and Johnson too is now out of the band. This leaves only Angus and Cliff still standing from AC/DC's immortal line-up. Admittedly, you could have Angus let rip on his Gibson SGs over an old Bonkers compilation and still have the results be uplifting medicine for the soul, but someone has to sing.
Hail Caesar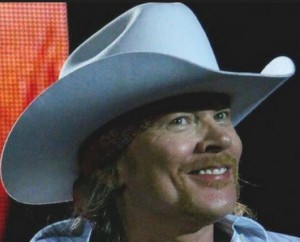 Which leads us to a rock and roll fairytale: Angus aims to finish the rescheduled tour with the mic being handed to none other than … W. Axl Rose. If Angus is looking for tips on becoming the dictatorial leader of a band, there are few better to have around to learn from than Axl. In the two decades for which Axl was the only remaining original member in Guns N' Roses, he only managed to release one studio album (the sporadically astounding and inevitably overcooked Chinese Democracy) but the band toured arenas around the world while the line-up became a revolving door. Equally, if Axl has been plagued by expectations, experimentation, over-ambition and a fondness for lawsuits since he first achieved success, fronting the no-frills rock of Acca Dacca could let him put all complication aside and get back in tune with the basics of the business at hand.
A stint in AC/DC could also draw focus away from (but boost sales for) the long-dreamt-of Guns N' Roses reunion, which has brought back iconic lead guitarist Slash, bassist Duff and, well, that's it actually. Drums and rhythm guitar are occupied by holdovers from Axl's line-up – rather than either role's two early occupants – while keys, alongside the ever-loyal Dizzy Reed, are being handled by Melissa Reese, who had never played with the band before the 'reunion'. Add to that the typically late stage times, Axl breaking his foot and he and Slash seemingly ignoring each other on stage, and reality finally arriving is at risk of falling far short of the dream. One thing we do know though, is that Axl's voice is sounding the best it has in years, and maybe – for Malcolm, for the sake of the plan – hearing it rip through the classics of the AC/DC catalogue for a season might just be good medicine for everybody. Because some things just never get old.