'I've been hell on the women in my life, and the women in my life have been hell on me' – Axl Rose
One upon a time there was a band who, for their second album proper, decided to lay down every unrecorded song they had. The result was a 30 track double album, Use Your Illusion. The band was Guns N' Roses.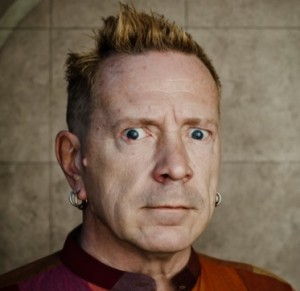 Arriving with the observation that 'Rock & roll in general has just sucked a big fucking dick since the Pistols' (much to the exasperation of The Sex Pistols' John Lydon, who'd viewed the destruction of rock and roll as their raison d'être), GN'R – led by mercurial androgyne Axl Rose – were the last hurrah of rock music's empire. In its iconography, Axl & Slash sat in a lineage of double acts: Mick & Keef, Page & Plant, Strummer & Jones; words & music. As with the Wu-Tang Clan though, every individual member brought his own character and style, the sum remaining greater than its parts.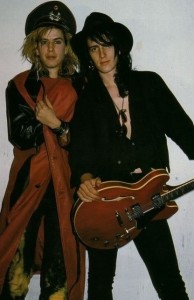 Slash could knock out riffs but most of the songwriting was actually done by Axl's childhood friend, taciturn roots rock rhythm guitarist Izzy Stradlin, who vocals three songs on Illusion. Punk rock bass player and rail thin style icon Duff McKagan sings his Johnny Thunders tribute, 'So Fine', with Axl. Duff honed his playing jamming to Prince for hours with original Guns drummer Steven Adler. The pounding thump of Adler's replacement Matt Sorum brings the muscle and scale of Illusion's widescreen canvas.

Slash – that iconic mess of top hat, hair and dangling cigarette – was Axl's main foil, on stage and on record. On Illusion his fluid guitar lines work around notes like a human voice, in a similar range. Rather than the technical flash that followed Eddie Van Halen, Slash's solos (in a trick repeated by Robin Finck on Guns' Chinese Democracy, almost two decades later) have narrative, acting as a counterpoint of wordless emotion. And Axl's contribution?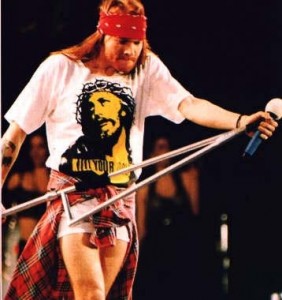 The majority of Illusion's music was recorded with Rose in absentia. A tight, powerful band playing straightahead rock; a little flair here and there. The unprecedented success of their Appetite For Destruction debut made the Gunners decadent kings of degradation. There's a jaded and unpleasant edge to Use Your Illusion's first volume, approaching the now familiar sophomore trope of complaining about fame. Women are generally a pain on this album. Axl winds vocal melodies, distorted and double-tracked voices and sound effects over the top of these songs, the voice a grating, soaring bastard offspring of those two Daves, Mustaine and Lee Roth. Duff's simple punk toon 'Get In the Ring' is elevated – or highjacked – by Axl, singing over Duff's vocals, using the song to challenge most of the music press to a fight (Spin's Bob Guccione Jr accepted, suggesting a charity boxing match, but Axl demurred). That Axl wasn't quite as familiar a proposition was obvious from his stage outfits: tight bicycle shorts, bulletproof vest, kilt, large crucifix, Charles Manson t-shirt, white leather…
Appetite's stratospheric success was slow to build – only lifting off when 'Sweet Child O' Mine''s video reached MTV – and its arrival kept the band on the road, and out the studio, for months. Songs like 'Back Off Bitch' were said to have been written ten years earlier. The more straightforward material shows a less ambitious second Guns record that could have been, albeit with singles as breezily golden as 'Yesterdays'. Aspiring to the epic, flamboyant theatricality of Queen and Elton John however, Axl's real contributions are Illusion's startling set pieces. As Mark Kostabi's cover image switches from red and yellow to blue, Use Your Illusion II offers a more contemplative side – reflecting on Axl's volatile relationship with 'Sweet Child''s subject, his estranged wife Erin Everly – and here woman are torturous.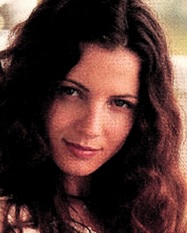 This material first raises its head two-thirds through Illusion I with 'November Rain', the stately pace and lush (synthetic) orchestration of its 9 minutes incongruous in their surroundings. 'Rain' reflects on the bitter end of Axl's marriage in two movements, its bombast ending with Axl repeating 'Everybody needs somebody/You're not the only one' to himself like a psychosis.
That this made for a heydey for the record company is clear from the ludicrously high budget videos made for 'Rain', uberballad 'Don't Cry' and 'Estranged', in which Axl dives off an oil tanker to swim with dolphins (expertly evoked by Slash's guitar). Guns were always announced to the stage as 'from Hollywood', where they formed, and these mini-movies are awash with big screen gloss, albeit over kernels of reality. The therapist listening to Axl in the 'Don't Cry' video is the actual therapist he'd been seeing since the final months of Illusion's recording, while the portrayal of the arguing, gun-wielding couple (written by Axl) seems an all too accurate glimpse of him and Everly's relationship.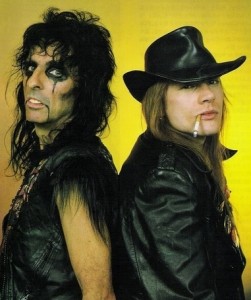 The sparse backwoods strumming of 'The Garden' seduces into a dreamy, introspective altered state of foreboding psychedelia. It traces a languorous descent into a world of vice – its dark heart expertly cast as none other than Alice Cooper – and the surrender of free will for the security of an entrapping maze. The real fun though, begins with Illusion I's closer. 'Coma' is a ten minute masterpiece of dynamics; an insular and bludgeoning fantasy of near death experience. Illusions, delusions and dreams are recurrent themes throughout Use Your Illusion and here coma is Axl's retreat from life, a moment of gorgeously blank calm in the eye of a storm of voices – fury-like 'bitches', doctors performing defibrillation and Axl's own lowered voice – attempting to drag him back to the pain of real life. His pirouetting vocal finale addresses himself in the second person, and his isolation, with both his voice and Slash's guitar tailing off on prolonged high notes, exhausted by the ordeal.
Use Your Illusion II opens with similar sombreness in 'Civil War''s essaying of the cruelty humanity inflicts upon itself, but Axl's next major set piece is the three part 'Breakdown'. Opening with whistling and banjo (yes, Slash can play banjo), this transitions from grandiose piano through clubfooted funk to a race for the horizon, quoting classic road movie Vanishing Point (the same passage later lifted for Primal Scream's thunderous noise hit 'Kowalski'). As an example of Illusion's 'throw everything in' approach, 'Breakdown' finds Axl both lyrically considering his own lonely withdrawal and using the line 'Funny how everything was roses when we held on to the guns'. See what he did there?

The ceaseless, propulsive dual guitars of 'Locomotive (Complicity)' offset an eerily detached, seductive verse melody, and also disguise a vulnerabilty, as Axl details the depths of his relationship failure. His bald statement of 'I feel as though you raped me', in relation to someone being close enough to be present in his mindset, serves as indication of both the intensity and disproportion of feeling in Rose's psyche. Late last year Erin Everly held an auction of personal effects, including the marriage certificate and wedding video from her marriage to Rose. It was a full stop on a union that Everly had subsequently characterised with descriptions of violent moodswings, controlling behaviour and abuse both psychological and physical. The wedding allegedly only occurred because Axl arrived at Everly's house at 4am and threatened to shoot himself if she didn't marry him. A domestic abuse report was among the items auctioned. Erin later successfully sued Rose for a reported seven-figure settlement. 'Locomotive', wracked and bewildered by a desperate need for love, closes drifting off into a blank refrain of simply 'Love's so strange', over and over.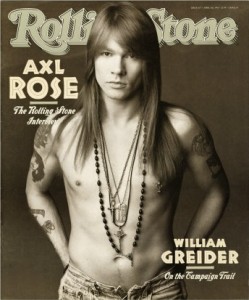 'So nobody ever told us, baby, how it was going to be…' If Axl's contribution to Use Your Illusion dealt with his split from Everly, then the epic 'Estranged' is undoubtedly the relationship's tombstone; the sound of Rose's fragile psyche setting sail, painfully letting go and reluctantly seeking a way forward. Axl had begun therapy towards the end of Illusion's recording, and his interview with Rolling Stone prior to its release found him reflecting on regression therapy, childhood assault from his father and beatings from his stepfather, his issues with women and his relationship with Erin. 'Estranged''s summation of the relationship ran, 'How could you say that I never needed you/When you took everything from me'.
Use Your Illusion I and II entered the Billboard chart at numbers 2 and 1 respectively, ultimately each being certified seven times platinum. The decadent record industry excess reached its logical conclusion with the gargantuan Use Your Illusion tour. Routinely taking the stage hours late, the Guns line-up had expanded to include not only Illusion pianist Dizzy Reed, but backing singers and a horn section. Stadiums held 2-3 hour shows. Izzy left the band before the tour – only to have to return for the first leg when replacement Gilby Clarke broke his collarbone. The skinny punk Duff became an alcohol-bloated whale, turning to coke to extend his drinking time, and Slash frequently wielded a double-neck guitar – a universal symbol for too far.
Use Your Illusion caught the five divergent styles of five diverse personalities just before the system became unworkable. In the wake of the Illusions tour, and following a final, throwaway covers album, the inertia of Axl's perfectionism led the band to fall apart. Izzy, with his head start, dropped the fine Izzy Stradlin & The JuJu Hounds, establishing a lowkey career of roots rock records. Having had an album's worth of material rejected by Axl, Slash issued it as the first Slash's Snakepit album, before its masterly, glam-sleaze sequel, Ain't Life Grand. Duff – who can be heard yelling 'To the bar!' at the end of Illusion's 'You Ain't The First' – had his pancreas explode due to alcohol abuse, before taking a degree in finance, forming punk band Loaded and becoming a columnist for Seattle Weekly and Playboy. In the early noughties Slash, Duff, Matt and even briefly Izzy reunited, forming shiny corporate rock band Velvet Revolver, before Slash finally took the solo jump.
And Axl? Well, as the band fell apart Rose grew evermore reclusive and the notion of the next GN'R record became a punchline. When Chinese Democracy did finally arrive in late 2008 – 17 years after Use Your Illusion – its long gestation inevitably left it choked with overproduction. Media reception was inevitably derisive but it did contain some gems, from 'Prostitute' and 'Street of Dreams' to the ambitious 'Madagascar' and astounding set piece 'There Was A Time'. Axl would occasionally break cover from his press blackout – even briefly being romantically linked with Lana Del Rey – but as the reformulated Guns N' Roses took to far-flung international touring, a 'next record' seemed uncertain. Having flown close to both an intense love affair and publically attempting to deal his personal issues, part of Rose seemed set on remaining back in coma. After all, it's so nice there, down off the shore.