Arriving at last, after months of hype and acclaim from Japan and its screenings at various film festivals, Makoto Shinkai's Your Name has finally reached the UK. This gender swap teenage drama has been universally lauded, with Shinkai being heralded as the new Hayao Miyazaki. The director himself has been unerringly modest through this whole furore, though it should be noted that no sooner was he being called 'the new Miyazaki' than Miyazaki himself announced he was out of retirement… Again.
Your Name follows two teenagers living in modern Japan. Mitsuha is a rural schoolgirl frustrated by the lack of opportunities in the provinces and chafing under the obligations of being both the mayor's daughter and attendant to the local shrine. Taki is a young man lost in the hustle and bustle of central Tokyo, desperately trying to find purpose (and a girlfriend) to little avail. All of sudden, they start swapping bodies on random days of the week.
Your Name is the labour of an assured craftsman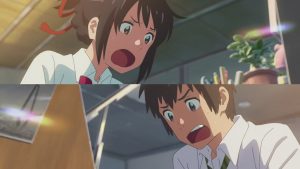 Now Shinkai is not the virtual unknown that some of the general press present him as. He's been making modestly successful and consistently praised works for years but none have taken off on anywhere near this scale. His previous 'big' film is 5 Centimeters Per Second which will be known to anime auteurs but can hardly be said to have pierced popular consciousness. I raise this because the gushing praise I am about to lavish on Your Name is not directed at some brand new virtuoso but on an experienced craftsman who is overdue recognition.
I loved this film. It bears saying that I have a soft spot for Japanese teenage romances that crystalise the wonder and fear of moving into adulthood whilst involving a lot wistful staring into immaculately rendered landscapes (see Whisper of the Heart), and that's a damn hard itch to scratch regularly. Plus, encapsulating all that is a mean feat. You might nail the landscapes and animation but having captivating characters or a well-founded sense of teenage angst takes a lot of work. Shinkai manages it all.
The plot is more driven and surprising than I ever would have expected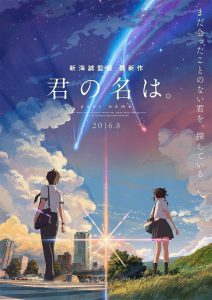 I wouldn't be surprised to learn that rotoscoping had been used to capture the movements of the characters, so smooth and lifelike are they. Coupled with the shameless scenery porn, this is a very visually impressive experience in a medium known for quality art in big productions. But the crux of such a film is always going to be its characters and plot. Taki and Mitsuha are awkward, endearing and funny. The film has a pleasantly soapy feel for much of its length then seamlessly glides into a much more emotionally and dramatically fraught plot. Who knew you could wring so much out of a high school cross-gender body swap drama?
I want to type extensively on the virtues of the film but it does benefit from knowing less. The plot honestly blindsided me more than once and it's a rarity to come across something even remotely unpredictable in this day and age. Your Name is funny, sweet and a great deal more original than I expected given its familiar premise. I can't recommend it enough.
Verdict: It beats the living snot out of Freaky Friday.