I fully expect this film to be in my top 5 by the end of the year. The Handmaiden is maestro Park Chan-Wook's adaptation of Sarah Water's The Fingersmith. The action is relocated from Victorian England to Japanese-occupied Korea – though typically of the director, this is a very heightened reality. A salacious and twisted tale of deceit, abuse, manipulation and – ultimately – sexual emancipation, this film succeeds on so many levels.
The story follows Sook-Hee, a Korean girl who is hired as the handmaiden to a wealthy Japanese heiress, Hideko. But things are not as they seem. Sook-hee is engaged in a ploy with her partner-in-crime, the imposter Count Fujiwara, to secure and steal Hideko's fortune from both the young lady and her possessive uncle. And as if that were not complicated enough, there's a further element to throw all the conniving into disarray: Sook-Hee and Hideko fall in love.
A great example of cross-cultural adaptation with a great cast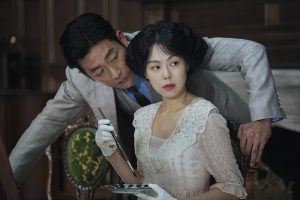 The plot turns back in on itself with several twists throughout its considerable run time. This premise is just the springboard for a fairly labyrinthine and involved story that segments itself into three perspective-hopping acts, each of which is nearly considerable enough to constitute a film in its own right. If you were not interested in the dedicated erotica of The Handmaiden, you could certainly become involved in the enthralling action of an intense four-piece drama.
And now we touch upon the main subject: sex. The Handmaiden is many things. A caper to secure a fortune. An interpersonal drama. A period piece. Occasionally, even a bit of comedy. Arguably, it is, above all, an example of lesbian erotica. At the very least it is a war between male and female sexuality. The genre of erotica film has seen its reputation slide to new lows due to the dominance of a certain franchise over the past few years. It is so refreshing to not only see a terrific example of erotic cinema that excels on every level of its film-making, but one that actually does a good job of celebrating female sexual desire.
A worthy effort from Park Chan-Wook with his signature black humour and style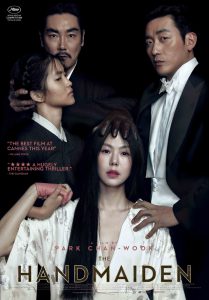 The crux of piece rests on the contrast between Sook-Hee and Hideko's genuine affection for one another – how it leads to exploration, enrichment and mutual pleasure – and the bullish, lecherous and controlling nature of male sexuality. The film doesn't seek to paint all men as abusive monsters, but it does make a very clear distinction about the power dynamic between the sexes and how that can inform their sexual desires and practices. The voyeurism, degradation, and intimidation of the male characters stand in stark contrast to the liberation and support that the women's sexually active relationship produces. If nothing else, the very graphic sex scenes make a nice contrast to those you see in most films where one partner has to be supplicated. They genuinely look like they are enjoying themselves and each other.
Park Chan-Wook's stylised aesthetic will inevitably deter more timid viewers but I doubt people who have an aversion to his striking edits and camera work are really those who rush to see a subtitled lesbian Korean period drama. The director's work has included some of the best films of the last few decades – most notably Oldboy – and even his lesser entries are still compelling and interesting, like his first English-language outing Stoker. I say with no small admiration that The Handmaiden is easily one of his strongest works and one of the best films I have seen so far this year.
Verdict: I can't recommend The Handmaiden enough, and I am not simply saying that due to the graphic lesbian sex.