As one of my friends quipped, this film should really be called Alien vs Prometheus. Not only does Alien: Covenant give you the unwanted sequel to Prometheus, but smushed on top of that is a very formulaic Alien remake. The shackling of Ridley Scott's scenery-porn pseudo-philosophical prequel to the much more confined and limited original movie highlights why this revisit to the franchise has been a poor fit in the first place. Alien: Covenant is not a success, but even as I am about to embark on a catalogue of its issues, I can't help but find something interesting in there.
The most conspicuous issue is the Alien element. Clearly, this was meant to be a straight sequel to Prometheus, but now that material is wedged firmly in the middle of a very familiar run-through of a xenomorph film, in a distinctly lazy and dismissive manner. We follow a crew of working stiffs on a deep space freighter who end up being hunted down on their own ship by a chest-bursting monster. The key difference to the original, but far more in keeping with Prometheus, is that the crew are wantonly stupid and all the more deserving of the gory eviscerations that this outing offers up.
Where Alien had a web of twisted psychology projected through a hidden abomination, Covenant has a big monster do battle in a series of action-packed set pieces…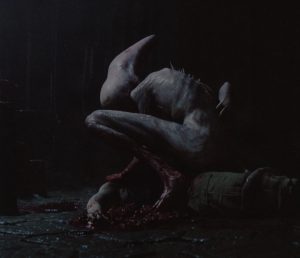 But bigger than that, this film completely misses the point of the xenomorph. In the original film, which very much holds up to this day, the creature is hardly seen. A mysterious and partially glimpsed entity that is all the more dangerous for being unknown and unquantifiable. The crew had no idea what they are up against. Contrast to here, where the CGI monsters are poured over in loving detail, every nook and cranny exposed and analysed. And in the wider sense, this monster has been ruined by its franchise. Thanks to the sequels and semi-prequel Prometheus, I and characters in the film know the origins, life cycle, permutations, abilities and even (by the end of the film) the wider strategic purpose of the creature. There's no mystery or allure here. The restraint shown in Alien was as much to do with the fact that this was a man in a goofy rubber suit, and from that adversity sprang creativity and art as the director had to work around the limitations.
It cannot be stressed enough how de rigeur the horror aspect is in this. Lines and scenes allude to older entries in the franchise and the whole shebang of having a xenomorph chase people around on a ship is played out quite quickly and contemptuously at the end. Even the confrontations follow the predictable route. The problem is the fetish for this creature. It's now established how deadly and terrifying it is but the film is content to coast on this reputation rather than justifying it. In fact, the plot of the film could be seen as a bizarre manifest destiny chronicling how this awesome creature's existence was ordained. There's a certain egomania to this, where creators seem to be congratulating themselves on creating a monster that they won't do justice to.
It's like there's a better film trying to burst out of the chest of this one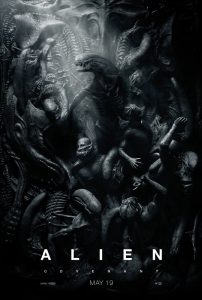 I am in fact surprised to say that the element I was most enthused about was the Prometheus sequel exposition in the middle of the film – partly because it gave me some respite from the dense cardboard cut-outs who make up the Covenant's crew. But this section did at least show some ambition and originality, even if it was framed within some rather schlocky material. I have a difficult relationship with Prometheus: it was a well-made film on any technical and visual assessment, conveying a grand scale to what was intended to be a science fiction film that was epic in scope. It was hamstrung by a lot of dense characters and a story that was content to ask lots of posturing philosophical questions in the first half and offer up fruitless action sequences as some sort of answer.
Much the same could be said here. Plenty of posturing and querying on the origins of life but little resolution. But it is striving for something, you have to give it that, which is much more than the unambitious blockbuster drivel you see most of the time. It's just that for all it is aiming higher, in a story sense Alien: Covenant is not anything special. Other critics of this film have directed this complaint at Ridley Scott but the case that the director is the creative centre of a movie is a fallacy. It's perfectly clear that Scott remains a formidable composer of visuals, tone and pacing. He just needs to work with a screenwriter who is far more competent which cannot be said for this or a lot of his more recent output.
There is something here. There's an ambitious story of jealousy, resentment and pride set against the titanic backdrop of space. Michael Fassbender's David is framed as the Lucifer figure in some bizarre cosmological passion play but it's hamstrung by the trad horror action which sadly eats away at rather than embellishes the legacy of the Alien franchise.
Verdict: Alien: Covenant held my attention and is clearly the work of an accomplished director, but there's little to rescue it from a messy production and bad script.