I love going to conventions. Not only do you get to indulge in your geekiest loves, you discover so many new things you never encountered before. I discovered RJ Barker at Nine Worlds. When I heard him and – more importantly – saw him perform a passage from his debut novel, Age of Assassins, the first thing I did was buy the novel.
As it turns out, that was one of the best decisions I've ever made. Opening it on my way home, Age of Assassins was my companion on the bus, in the taxi, curled up with me in bed, and every moment spare I had outside of work until I was done. I could not put it down.
To catch an assassin, use an assassin…
The novel follows trained assassin Girton and his master Merela as they attempt to get to the bottom of a conspiracy in a castle that is plagued by them. How can they find out who wants the heir dead when almost everyone is playing political games? To make matters more difficult, they are working somewhat out of their comfort zone – this time, they are there to protect someone from an assassin.
While Girton Club-foot might be a deadly assassin, he is still just a teenage boy. For the first time, he is allowed to stay in one place for an extended time and make friends his own age. It might not be other assassins or political profiteering that become Girton's downfall, but the perils of bullying or young love.
Age of Assassins is a mystery, a coming of age tale, a political thriller, and a commentary on discrimination and climate change all in one. Barker's debut is easily the best novel I've read all year.
Twenty-seven my-masters
Here's the part of the review where I would usually start commenting on everything that was wrong with a book. But I really have very little to say in that regard on Age of Assassins. The plot, pacing, characters, and worldbuilding are all exemplary, as is Barker's prose (though there were a frustrating amount of typos – up your game, Orbit). The language is pitch-perfect, with quirks of character and place creating a unique diction that further works to enhance the sense of place.
The book is told from Girton's first person point of view… at least for the most part. There are short interludes between the main story that act as flashbacks, giving the reader insight into the relationship between master and apprentice over the years, a relationship that is much more like family than that of colleagues. Interestingly, Barker switches to third person for these interruptions. I once had a writing tutor tell me that mixing first and third person narrative pov in a book would never work… well, if that's the case, RJ Barker is the exception that proves the rule!
The whisper-that-flies-to-the-ears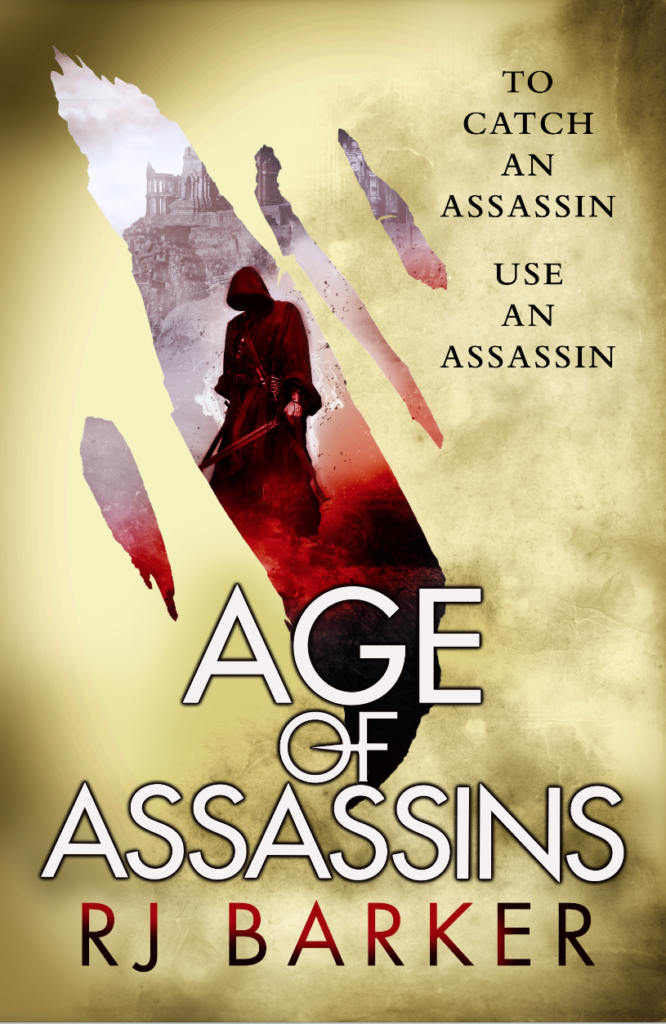 I straight up loved this book. But for those of you who have been following my reviews for some time will know that I can't help myself – I have to pick. Lucky for RJ, my main issue with Age of Assassins actually has nothing to do with the writing. Instead, my issue is entirely with the marketing of the book – the cover design, the tag lines…
If I had seen this book in a shop, I would not even have got as far as the blurb before deciding this book was not for me. Perhaps you could argue this is a problem with me, but cover design and marketing is there to get the book into the right hands. And on this front, it failed spectacularly. The cover art is heavily influenced by the video game Assassins Creed, and if you didn't pick up on that similarity, don't worry, there's further marketing on the back cover to get you there: 'It's a game of assassin versus assassin'.
This is far too good a novel to be marketed as though it were some poorly written game tie-in. Perhaps the publisher was afraid to claim that their debut author was on par with a great like Robin Hobb, but he is. Age of Assassins should be aimed at readers who love beautiful prose and expertly articulated political intrigue. Those who pick up the book because of the cover will be disappointed and those who would absolutely love it might very well pass it by.
I can only hope that the misfire marketing doesn't hurt the book's chances. For my part, I will be shouting about this book as much as I can. Read it, it's the best thing you'll do all year.
Verdict: The best damn political fantasy to hit shelves since Robin Hobb's Assassin's Apprentice. Clear your schedule, as you will not be able to put Age of Assassins down.
Age of Assassins (The Wounded Kingdom)