Ye think I'm kiddin' ye?
'Life's really pissing me off, to the point/where I might bomb a microdot joint and wear a Celtic top/running through an orange walk in Drummoyne/so I can make an honest point about how life at this point/is something I don't enjoy' – Loki, 'Damage Report' (2007)
I've got nothing against Dizzee Rascal. He's moved a long way in both career and style – from his Mercury-winning grime debut Boy in da Corner to his recent Robbie Williams collabo, ahead of fifth album The Fifth later this year – but you have to respect someone who decides a major shift in focus and succeeds at it so thoroughly, as Dizzee did with Tongue n' Cheek's string of number ones. And he can still spit. More significantly though, Raskit's infiltration of the mainstream acclimatised a large audience to the sound of rap in a British accent.
Back in 2009, Manchester's sterling Urbis building played host to Homegrown: The Story of UK Hip Hop. While UK rap's frequently been seen as just aping American artists, this exhibition reemphasised the UK's own, independent history of rhyme. As the influence of Jamaican soundsystems led to the birth of hip hop in The Bronx, so that same influence arrived on UK shores in the Windrush era, laying the foundation from jungle, drum and bass and grime. While rarely reaching mainstream attention, artists like Blade, Rodney P and Task Force kept the idea of British hip hop alive. While the genre produced great albums along the way (Skinnyman's Council Estate of Mind and Roots Manuva's Brand New Second Hand to name two), these always appeared as singular flukes, the genre quickly fading from view again.
Dizzee's success opened the doors of the charts to UK hip hop artists like Tiny Tempah, Professor Green, Tynchy Stryder, and Dizzee's own grime mentor, Wiley. This is just the tip of the iceberg though. I won't even try to cover the vast swell the UK hip hop scene now consists of, but some UK rappers well worth checking out include Akala, Genesis Elijah, Klashnekoff, Reveal, Devlin, Melanin 9, Mic Righteous, Life from Phi Life Cypher, Jehst, Mystro, Juice Aleem and Black the Ripper aka Samson Blackaveli.
What the above list of UK hip hop artists has in common is that all are actually English, and virtually all are London-based. So where, you're asking, is Scotland? While sharing the bragging and violent undercurrent, Scottish hip hop replaces the Ciroc, cribs, gunplay and easy women of the mainstream with Buckfast, depression, frustration and girlfriend trouble. So without further ado, the top 5 MCs in the alcohol-soaked, religion-questioning world of Scottish hip hop:
5. Wardie Burns
'Wardie Burns – the most evil, self-centred, idiotic, stupid, eejit-heided sorry excuse of an MC ever to pick up a mic' – 'Wardie Burns' (2009)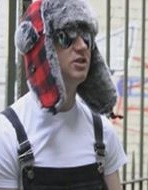 Now hearing the phrase 'Scottish hip hop', stereotypes might make you picture a sexist, racist, violent and obnoxious hard man on the mic. The rapping Begbie. In the case of Edinburgh's Wardie Burns, you'd be absolutely right! What makes oor Wardie fascinating is the charisma he has to hold interest with his amped-up-on-ching, bug-eyed, couldnae-gie-a-fuck delivery.
Having arrived with 2009's Swine Flu mixtape, there's since been a collabo EP with Wee D, two collaboration-heavy releases under the Vagabonds guise with Werd of S.O.S. (Sons Of Scotland), and the album Oor Wardie with producer UV Beatz. While you might not want to bump tracks such as 'Wet Vagina' with the windows down on your way home, it can't be denied that any time Wardie crashes a track with a verse, he'll be more memorable than 90% of the competition.
Starter Platter: The Swine Flu mixtape (2009)





4. Nity Gritz
'I experiment with eloquence, penning a flow/It could be dark and negative, subtle and sensitive/Fuck it, it's imperative – I'm totally dope/If you're touching it, I'm edging in to sever your throat' – 'Fair Play' (2010)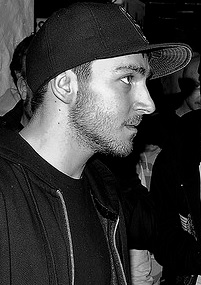 Glasgow's denture-rocking battle rapper Nity Gritz launched his career with three ambitious projects: the Scottish scene-gathering collaborations mixtape Unify Me!, the film for the ears concept album Lovesick, and – to counteract any effect that might've had on his reputation – the straight up hip hop of Back To Basics (noting on 'Reppin'', 'Lovesick's a loada pish/I regret puttin' it out'). Basics was released by Edinburgh-based MCF (Music Comes First) Records, which Nity left shortly after, but the real turning point was his defeat in a particularly brutal and personal Don't Flop rap battle (imagine a Fight Club of yo mama gags) against fellow Glaswegian Loki.
Gritz rebounded by forming Shadowpeople, with producer Toni Smoke and MCs Kayce One, Wee D and RST (their second album dropped recently), and releasing the almighty Writers Block album last year.
Starter Platter: Writers Block with Toni Smoke (2012)





3. MOG
'Reside in Scotland/Want paid for the shite I'm talkin'/And this big behind I'm clockin''s/As fine as the line I'm walkin'/The type ae cunt you'll find in a coffin/Probably shot in the noggin/By some wee knob rockin' sovereigns and joggy bottoms' – 'Just For Fun' (2010)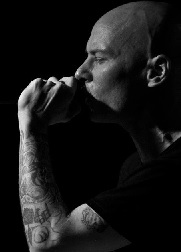 No major label's going to sign a Scottish rapper (yet) so the scene has nothing to wait for. Albums are produced, performed, assembled, mastered and packaged as if they were 'real' albums, then given away free. The most consistent and conceptually coherent of these is MOG's claustrophobic, classic second album Based On A Blue Story. It's urban reportage of a dystopian hyperrealism, taking in knife violence, drug dealing, drink, depression and prison. It reads like an undercover report from the mean street of Glasgow, where 'morality's oot the windae' and redemption only a sliver of hope. Thorough and unflinching, it's the antithesis of any notion of glamourizing street violence; a roiling stew of shame and hatred. The man himself's said what differentiates an album from mixtapes is 'there's a beginning, a middle, an end and a point to it' and across its 7 chapters (14 tracks) Blue Story makes explicit its point of the need to break circles of violence.
There's since been the follow-up Chapter 8 (Conclusion) EP, another EP with producer Zambian Astronaut, an album from Bang Dirty (MOG, Zambian Astronaut and Adam Holmes) and this year's In Black N White album, which succeeds at incorporating both guitars, in a range of ways, and broader subject matter, such as a love of tv box set marathons.
Starter Platter: Based On A Blue Story (2010)





2. Madhat McGore
'Telly on in the property/Makin' yer dinner sloppily/Sittin' wi cans ae beer in the fridge/Talkin' derogatory/Shoes on yer feet like Dorothy/Rippin' fuck out the monarchy/Talkin' ae prophecies/People livin' life in solitary' – 'Z-Day' (2009)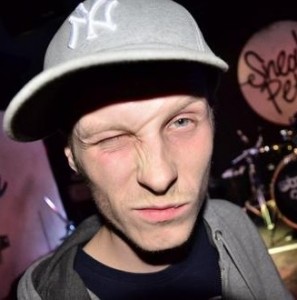 Cuuunt! Yes, while other rappers use their own names to ident their songs, get into the rhythm or just punctuate their verses, Edinburgh's asthmatic mr productivity opts for the c-bomb – showing how little concern airplay is. This is the warning shot for an unstoppable flow – best demonstrated by the 'Madhat McGore 124' (the closest Scotland's got to Game's epic '300 Bars N Runnin'') and his recent Fire In The Booth appearance on Radio 1. It's less a delivery so much as a force of nature, flowing over hip hop, club beats and acoustic guitars, taking in everything from knife crime ('Jailbait') and insomnia to Sunday omnibuses and your girlfriend insisting you watch Come Dine With Me.
The 'McGore' stems from his horrorcore roots which still lend a darker edge. Following his Unvarnished Scribbles debut, at the age of 22, on Steg G's Powercut Productions (current home of MOG and Wardie Burns), Madhat went on to become the lynchpin act for MCF Records, releasing a stream of albums and EPs. At the turn of this year he dropped 6 EPs in 4 months! The flow is catharsis for mental stress, writing as therapy for dark thoughts and everyday frustration. It's running towards as well as away from though. While sharing the emphasis on mutual collaboration Scottish rappers use to promote one another in lieu of media coverage, Madhat's increasingly also been linking up collaborations south of the border, with acts such as Jimmy Snookz, Bigz, D Millz and Silas Zephania. His relentless flow even represents Scotland on Charlie Sloth's recent 'UK Rap Anthem'.
Starter Platter: Findin Time EP (2011)





1. Loki
'Tremendous! Loki at your service/with a tin of Fray Bentos and I get love endless/like Ray Charles and Stevie Wonder playing tennis […] The day I don't say and write what I think's/the day Bush pulls us back from the brink/and Maggie Thatcher buys me a drink' – 'Sleeping Giant' (2008)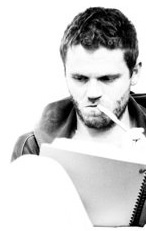 Not to be confused with London-based political rapper Lowkey, south Glasgow's mister Loki dropped his first album as a spotty, ginger 19 year old. What could he have to fill an album with at that age? Well, at 16 he was asked to leave the family home after sleeping with his 15 year old stepsister, effectively leaving him homeless, shortly before his mother died from drug and alcohol addiction. So there's that, for starters. Then there's his own alcoholism, depression, heartache and drug use.
Don't make the mistake of thinking this is music of self-pity though. With self-reflection as ruthless as his incessant rhyming, Loki's work is both wilfully offensive and consciously clever, forcing listeners into always questioning both him and the accepted status quo. Even his place within Scottish hip hop has been problematic, describing himself as 'as welcome as a group hug in a third degree burns unit'. The two sides are exemplified in his 'Graduate's Ball', which features both the incisive criticism 'When did higher education morph into a pseudo-middle-class fashion statement?' and the taunting chorus of 'Gies a cuddle, smarty pants – welcome to the real world!' To find an artist that matches Loki's path and determination you have to look to Australian comedian (and probably the best stand-up working in Britain today) Brendon Burns. The fissure between real man and stage persona (Loki and Darren) reached at the end of the Friendly World album matches almost exactly the point Burns reached at the end of his Brendon Vs. Burnsy trilogy of shows, which similarly led into sobriety and relentless Socratic irony.
Running the young person's community Volition Scotland in Glasgow, Loki's also an activist and his music examines the motivations behind antisocial behaviour, rather than just portraying it. It scours the complexity of his own psyche and challenges listeners to think. As he says, pity's for the weak, hope is for humanity.
Starter Platter: Friendly World (2003)





Again, this is just the tip of another iceberg. There's a wealth of other Scottish artists out there worth looking up (Stanley Odd and Hector Bizerk the latest arrivals to gain notice) and it's not just Scotland, as Charlie Sloth's Madhat-featuring 'UK Rap Anthem' showed. A strength of hip hop has always been the specificity its high word count allows, no matter how big the acts become. As globally successful as Jay-Z, Dr Dre and Lil Wayne are, you still know exactly where they came from (Marcy Projects, New York; Compton, California; Hollygrove, New Orleans). The variety just the Scottish hip hop scene currently offers shows the huge potential UK hip hop has, if audiences are just willing to get acclimatised.