Are you curious about what's been happening in the pop culture universe this week? Look no further…
The MTV Video Music Awards were held on Sunday night in the US. And since then, all anyone has been able to talk about is Miley Cyrus and her twerking. The general media consensus has been outrage, as they metaphorically raise their hands to their mouths in faux shock. Why are they so shocked? Doesn't anyone remember the Teen Choice Awards back in 2009 when Miley landed in hot water for dancing in a 'stripper-like fashion' with a pole on a fake ice-cream truck?
Miley's PR machine is absolutely brilliant. Days after the infamous twerking performance, a new single with Miley and Justin Bieber was 'leaked' online. The single is called 'Twerk' (and you can listen to it here). On top of this, the Oxford English Dictionary is now going to include 'twerk' in the next online update.
twerk, v.: dance to popular music in a sexually provocative manner involving thrusting hip movements and a low, squatting stance.
Lady Gaga is back in the limelight after the release of the first track off her pending album ARTPOP, 'Applause'. The 'Applause' video is fantastically and typically weird. She has also released a sneak peak at another track in preparation for the iTunes Festival:
It is good news for The Golden Globes as Tina Fey and Amy Poehler are in talks to return as the hosts next year. They were quite possibly the funniest hosts for any awards show ever. Yeah, I'm looking at you Billy Crystal…
Apparently I am also tapped into the cosmic pop culture news universe… I wrote an article on Wednesday about how awesome James Spader is only to have Marvel announce that he is going to be the voice of Ultron in the Avengers follow-up, The Avengers: Age of Ultron. Do I get credit for that? Huh, Marvel? I think you owe me a tip for helping you cast that one! I'm very excited to hear James Spader in a Whedon film!
If Elysium just wasn't enough Matt Damon for you (read the Pop Verse review here), you could be seeing more of him soon… in a more Ben Affleck fashion. That's right, he's following in his pal's footsteps and hoping to step into his first directorial role. Let's just hope he is even half as good a director as Affleck! Meanwhile, Batfleck has a supporter in former Batman (and my personal favourite) Michael Keaton.
Michael Douglas and Catherine Zeta-Jones announced this week that they were 'taking a break'. It will be sad if these two can't work it out. I am a big fan of Michael Douglas, especially after his recent claims that not only did he contract throat cancer from contact with HPV through giving oral sex… he also claimed, 'And if you have it, cunnilingus is also the best cure for it.'
On Monday, Forbes released it's yearly list of the top-earning authors and celebrities. It is no surprise that the untalented E.L. James topped the author list, but it was somewhat surprising to see her so high on the celebrity list as well. Madonna topped the list of top-earning celebrities after her highly successful tour. And here was I thinking Madonna wasn't relevant anymore. I guess I'm out of the loop!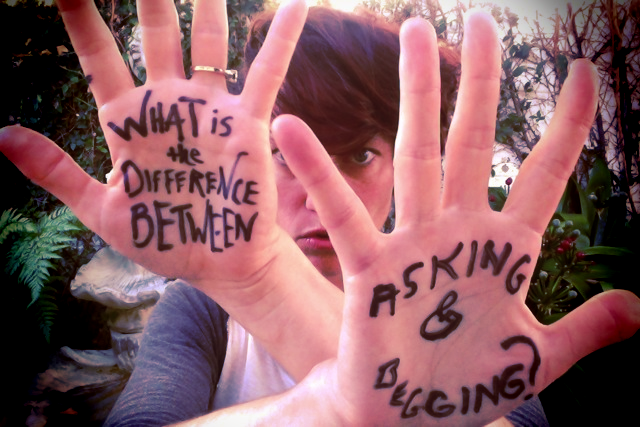 Amanda Palmer is writing a book! This is GREAT news! And she's asking for help! Head over to her blog and give her your answers to the question 'What's the difference between asking and begging?'
This amazingly talented Perth local (and old friend of mine), Elli Christou, created this 'draft' for a larger painting in 30 minutes. For more examples of her awesome work, head over to her facebook page!
When a dog bites a man, that is not news, because it happens so often. But if a man bites a dog, that is news.

– John B. Bogart, American Journalist (1848–1921)