Adapted from Diana Gabaldon's book series of the same name, Outlander is a new series for the Starz cable network. The show debuted on August 9th, 2014 and is currently on a mid-season break, starting again on April 4th. The show has already received several fantasy related accolades, though it doesn't easily fit within a specific genre.
The premise of Outlander sounds more than a little bit twee. While on her second honeymoon, World War II combat nurse Claire Randall is magically transported by a stone circle back in time to 18th Century Scotland. Of course, once she's there she encounters a handsome and kind Scottish warrior, Jamie Fraser (amongst some not so nice men of both Scottish and English ancestry). I'm sure you can guess the rest (even if she was already married before the magical time teleportation).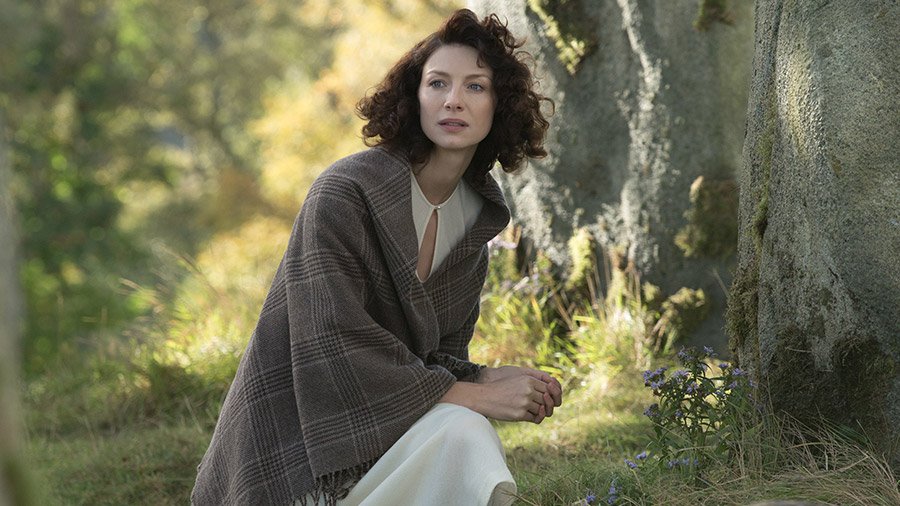 Having said that, I'd heard good things and thought I'd give it a shot. I'm very glad I gave it a chance. Outlander is great. It is something between Game of Thrones and Downton Abbey, and though it is often bleak (it was a tough time for the Scots after all), it isn't relentlessly depressing the way those other series have tended to be. And while there are fantastical elements to the story, it is far more period drama than SFF, and no worse off for it.
Both historical periods explored in the series are times of great upheaval and change: one trying to recover from a great war, the other leading up to one. Where Claire may easily have gone from having great purpose during the war to boredom as a housewife for her mild-mannered professor husband, in 1743 Scotland, she is not only an outlander (English), but a woman. She is treated often with violence, disrespect, and suspicion.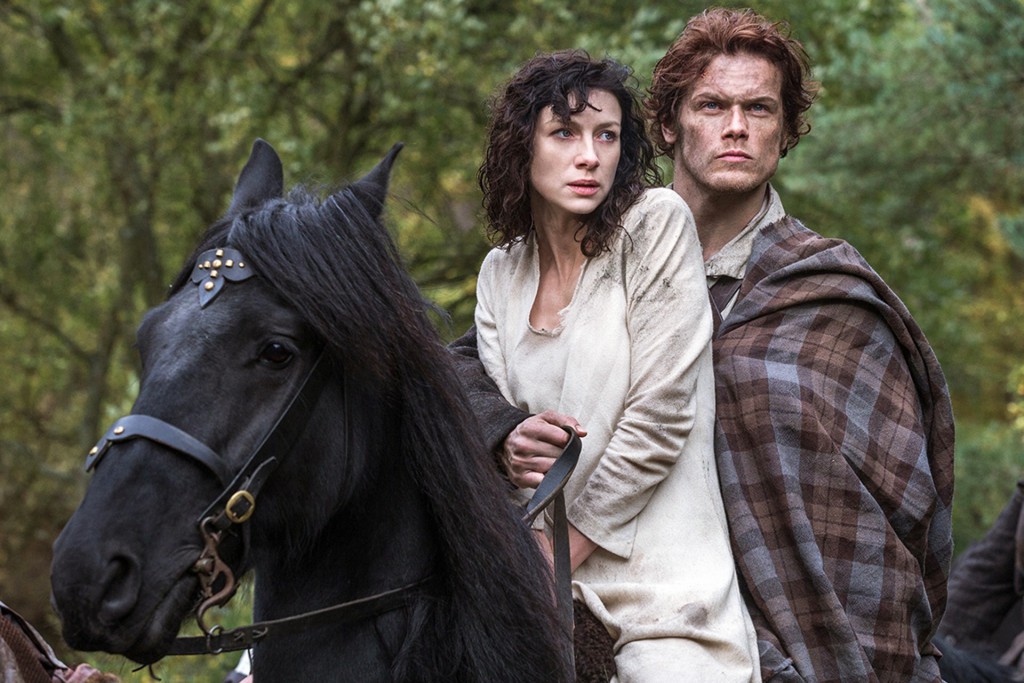 Nothing is wasted in terms of the context provided by the historical settings. Claire's medical knowledge is what keeps her alive in 1743, ingratiating herself with the MacKenzie clan at Castle Leoch. Her history buff husband Frank spends their honeymoon researching his family tree, which then in turn helps educate Claire on matters she needs to know after she's been transported in time. What is perhaps one of the more interesting ways a series like this can create tension is using the build-up to the civil war in the 18th century – Claire knows that the Scots will suffer a crushing defeat, but she is unable to sway them from their course. As we begin to get to know her new highland friends, we too are worried about which of them will be slaughtered in the coming war.
The series also does not shy away from the darker realities of the time in which it is set. The gruesome nature of some of the wounds sustained in both World War II as well as the Scottish highlands in the 1740s is laid bare. On top of that, the crude nature of the medicine available to Claire – coupled with the superstitious beliefs of the people – often leave her unable to help those that most need it. Most disturbingly, rape was common in those days. Instead of glossing over this unsavoury aspect of the historical setting, the series attacks the issue head on. Time and time again Claire finds herself in a position about to be raped, and the answer? Her male friends insist she learn how to defend herself – and defend herself she does.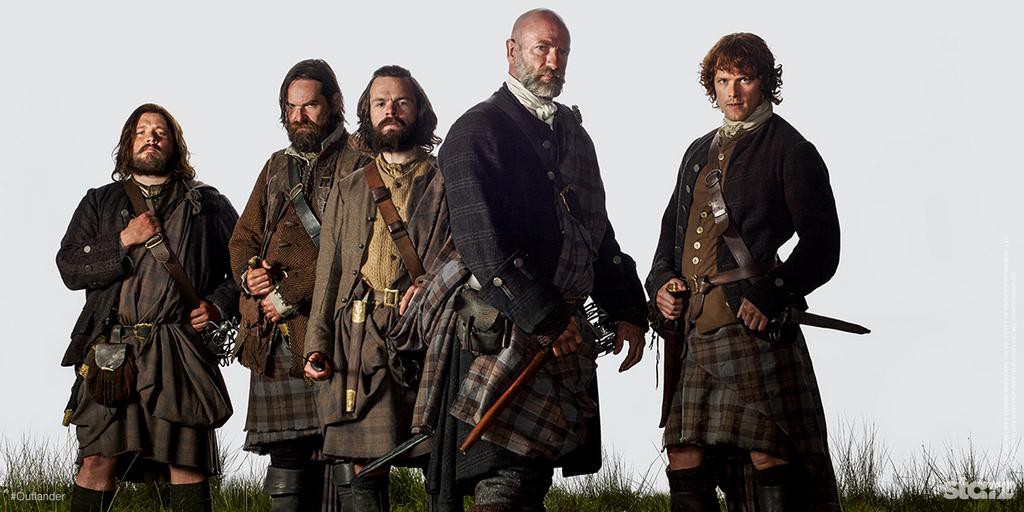 The two leads, Claire and Jamie (played by Irish actress Caitriona Balfe and gorgeous Scot Sam Heughan) have fantastic chemistry that leaps off screen. At first I was concerned that Claire would prove irritating, with her narration of the story throughout and lack of agency while she's in her own time, but as she's thrown into a world so completely foreign to the one she was brought up in, she shows us all what she's made of. Similarly, where Jamie could easily have been a Mills and Boon-style stereotypical handsome warrior, he has endless charm and a sweet naiveté to him that endears him – he becomes a kind of cross between Han Solo and Luke Skywalker mixed into one 18th century highlander.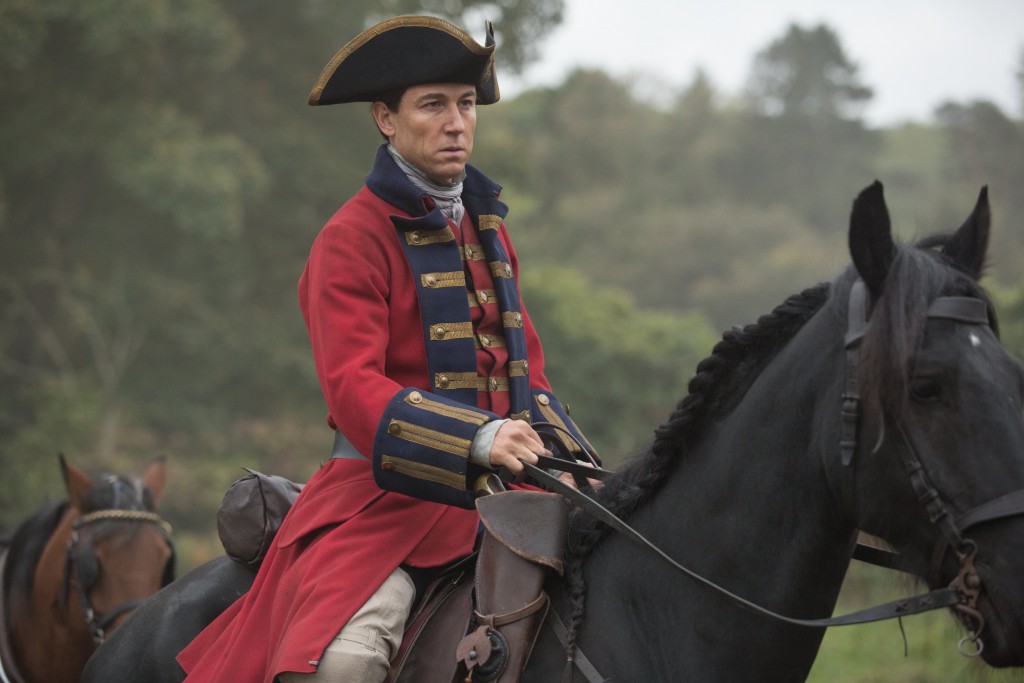 Tobias Menzies plays poor Frank Randall left alone in post-war Britain, mourning the loss of his wife in unexplained circumstances. But it is his portrayal of the cruel Captain Black Jack Randall in 1743 that Menzies really shines. I don't know how the story will play out, but if I were Claire I'd desperately want to stay with Jamie – I'm not sure I could go back to a man who was the spitting image of one of the most evil men I'd ever met. The supporting cast, particularly the Scots of the 18th century, round out a stellar ensemble of memorable characters.
For some, the show might feel a little slow to get going, certainly the first episode takes some time in setting up the characters before the time shift happens. However, once the premise is well and truly set up, there is never a moment where the tension fades. There is always some level of threat or reason to be on edge, and it always feels that it could go south for the main characters (unlike many series where you never really feel like the protagonists are ever in real danger). Before too long, the audience will also find themselves wondering who they should be rooting for (although not in a Game of Thrones way where you don't want to find a new character to root for because it inevitably means they will be the next one to die).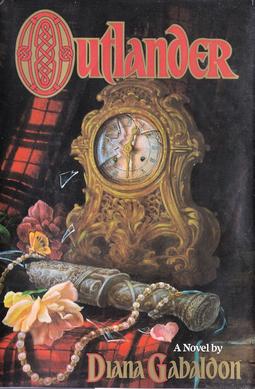 Never having read the original novels by Diana Gabaldon, I don't know how faithful the series is to its source material. However, the show does feel very similar in many ways to some of executive producer Ronald D. Moore's other successful shows, such as Battlestar Galactica and Star Trek: Deep Space Nine. With all of the political conspiracies, intense cultural prejudices and traditions, as well as generally brilliantly written, deep characters, Outlander has the potential to rival Battlestar if it continues to keep the quality at the high bar it set for itself in the first half of the first season.
Verdict: Brilliant new series from Starz. If more period dramas had this much tension, action, and character development I might be more inclined to watch them. I can't wait for it to finish its first season run starting again in April. And, thankfully, it has already been picked up for at least another season.