What did you do this Christmas? I binge-watched Ryan Murphy's (of American Horror Story and Scream Queens fame) latest anthology series, Feud. The first series features the infamous Hollywood feud between Joan Crawford and Bette Davis, picking up on the narrative for the development of their cult classic What Ever Happened to Baby Jane? and wrapping up with Crawford's death.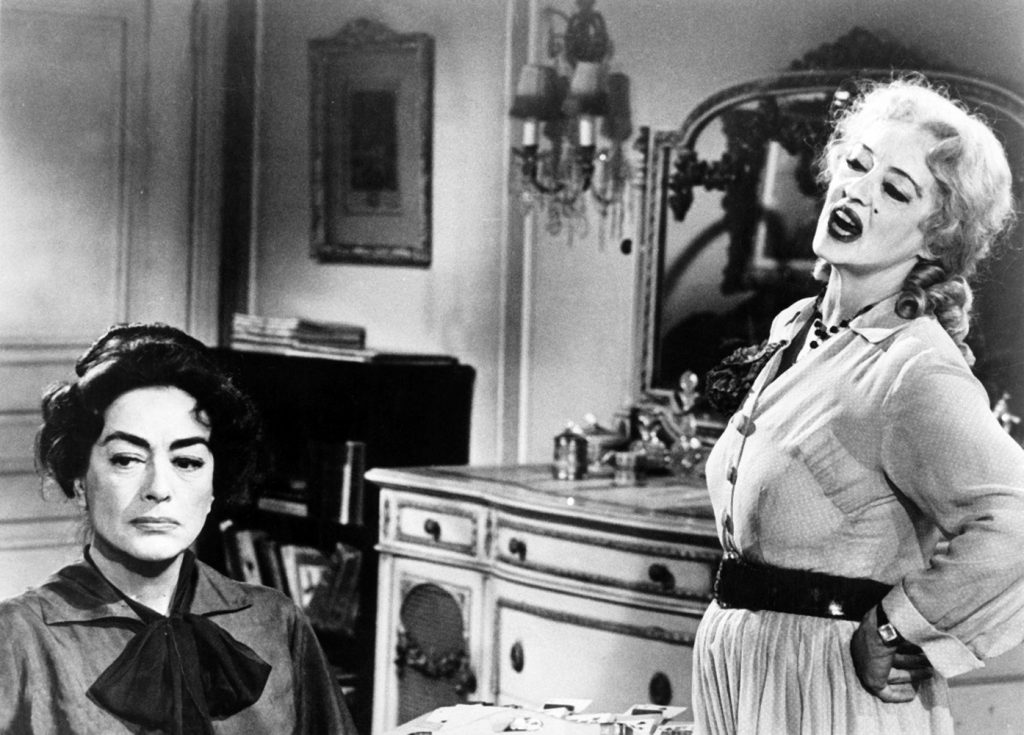 Being an enormous fan of What Ever Happened to Baby Jane? I loved watching the behind-the-scenes world come to life. The actresses' feud is often cited as the real reason the film contained such electricity. But perhaps what was most interesting about the film, and Murphy's representation of it, was the impact it had on an entire genre of film. Baby Jane kick-started a genre so affecting that no one could agree on its name: the films are known as psycho-biddy, hag horror, hagsploitation, and Grande Dame Guignol.
While hagsploitation spawned some incredible films that invented a genre whose influence remains hugely important, it is problematic. Firstly, it is yet another format for relegating older women to the only roles society has allowed them to occupy, promoting the idea that old, unmarried women must be evil in some way. Secondly, the sheer labeling of a genre based on gender, mental instability, and age of the main player(s) is as toxic as it is condescending.
The 1960s was a decade of new horizons in Hollywood. The screen sirens from Hollywood's golden age had grown old. But these women had made their careers their major focus, to the detriment of their personal relationships. If they had given everything to their careers, they'd be damned if it was all going to be over after they developed a few wrinkles. Over on Breaking the Glass Slipper, we have discussed the limited roles for older women in science fiction, fantasy, and horror, and the same can be applied across almost all genres of literature and film.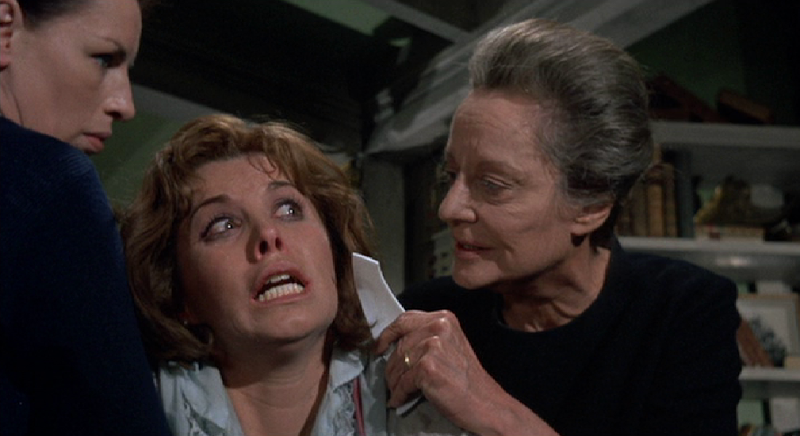 Older women are only allowed to be seen as kindly mothers and grandmothers or ugly, evil women. In the fantastical genres, this usually equates to witches, but in the realms of realism, the older woman becomes the psychotic villain, tormenting those around her. Mental instability (particularly, the descent into madness) and guilt are at the core of the psycho-biddy genre, with another core theme being the nostalgia for youth (particularly missing the beauty of youth – mirror, mirror on the wall…) and success. Grief is the other, more forgivable, spark that ignites a psycho-biddy story. In film, Fanatic (also known as Die! Die! My Darling) featured a mother driven mad after the death of her son, enacting vengeance in a terrifying and psychotic manner. Much like Gloria Swanson in the genre's precursor film, Sunset Boulevard, many of the hagsploitation films featured actresses whose careers were waning reflecting real life in the roles they portrayed onscreen.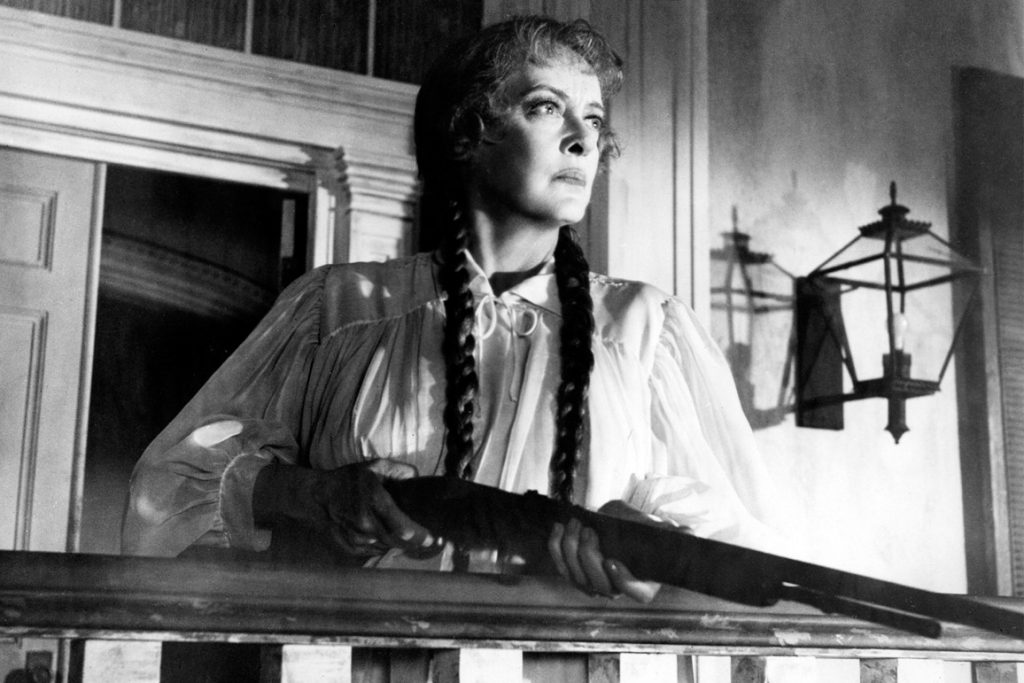 While these films tended to be labeled 'horror', they are far more akin to thrillers. Much of the tension in the early films of the genre, like What Ever Happened to Baby Jane? and Hush… Hush, Sweet Charlotte is derived from psychological torment rather than physical gore. More traditional elements of horror – violence, gore, supernatural ideas, and more – began to creep into the genre later (for instance, What Ever Happened to Aunt Alice? features a lot more actual murder than its predecessors, with the titular character fertilizing her garden with the remains of her victims).
As with many stories where women take centre stage, much of the drama of hag horror is borne of antagonism between women. Women can't possibly get along, especially not if they are related to one another. Much of the psycho-biddy genre features sisters, that juicy melodrama of sibling rivalry is ripe for stories of manipulation and psychological torture. Later iterations of the genre, such as 1987's Flowers in the Attic expanded the familial themes with an abusive mother and grandmother. Popular narratives like to remind us that a 'good woman' looks after her family – a quick way to position her as an antagonist is to present a female character without strong maternal instincts. If she is cruel to her own children, she must be a special kind of evil… or so they tell us.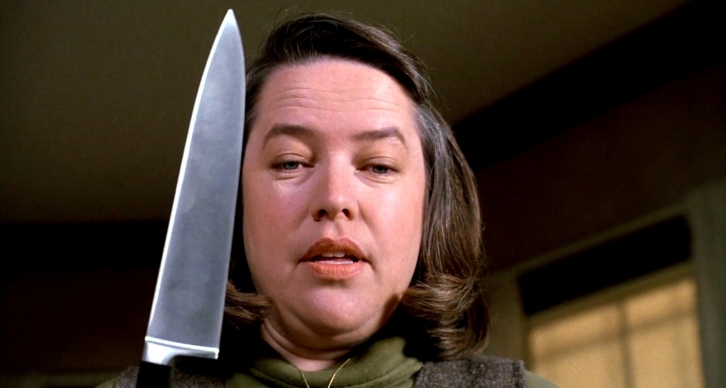 Hag horror, though rarely seen in anything remotely like its 'pure' form anymore, has been hugely influential across horror and other genres. For instance, many of Stephen King's stories feature 'crazy older women' like in Misery or Carrie. Meanwhile, Kubrick invokes the psycho-biddy imagery in The Shining. These elements can also be seen influencing a much wider range of story-telling, such as classic stage revenge tragedy, Ariel Dorfman's Death and the Maiden.
I continue to be a fan of these films – not only do they feature exquisite performances from incredible female actresses, they are tense and, at least initially, groundbreaking. Horror is a genre that should keep us on our toes, surprise us, and break down society's taboos. In its time, the hag horror genre did all that and more. An impressive legacy, rightly won.