There are two factors that feed into possible excitement for the new Veronica Mars movie, slated to hit cinemas in 2014. The first is that Veronica Mars, the television series, was absolutely brilliant (and if you haven't made the time to sit down and watch it already – you should be ashamed of yourself!). The second reason is this: the first look trailer released at last month's San Diego Comic Con looks awesome. If there was ever a trailer to get you hyped about an upcoming film, it's this one. And I'm going to tell you why…
The television series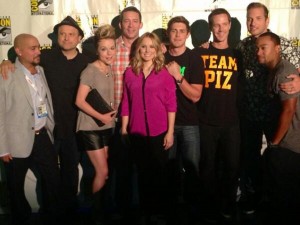 The pure, unadulterated awesome that is the Veronica Mars television series can not adequately be summarized with words. You have to watch it. But here is a quick overview of why it rocks so hard you'll get bruises:
It's noir, with a badass female protagonist with just as much wit, cynicism, and hard-boiled dialogue as Philip Marlowe.
The show features a host of brilliant actors in the regular cast as well as guest stars. Including god of the geeks himself (and confessed mega-fan) Joss Whedon, Paul Rudd, Jonathan Taylor Thomas, Joey Lauren Adams, Steve Guttenberg, Adam Scott, Jessica Chastain, Amanda Seyfried, Alyson Hannigan, Charisma Carpenter, Jane Lynch, Leighton Meester, Max Greenfield, and Harry Hamlin, to name a few.
The show skillfully incorporated the 'big bad' story arcs made popular by Buffy while still using the 'case a week' format for episode structure.
It wasn't afraid to deal with the nasty, darker issues that teenagers have to deal with, including rape, being drugged, prostitution, bullying, gangs, peer pressure, and blackmail.
Perhaps I should have mentioned this first: Kristen Bell! If you thought she was just another vapid, blonde Hollywood girl, you'd be wrong. This kid's got talent and a spine.
One of the most widely lauded attributes of the show is the relationship between Veronica and her dad, Keith Mars (played by the fabulous Enrico Colantoni).
But my favourite relationship was always that of Veronica and Wallace. Or was it Veronica and Logan? Or Veronica and Mac? Or… Or… Yeah, ok, all the relationships in this show are great. Period.
All the characters are flawed, even Veronica. They're real and we love them all the more for it.
The movie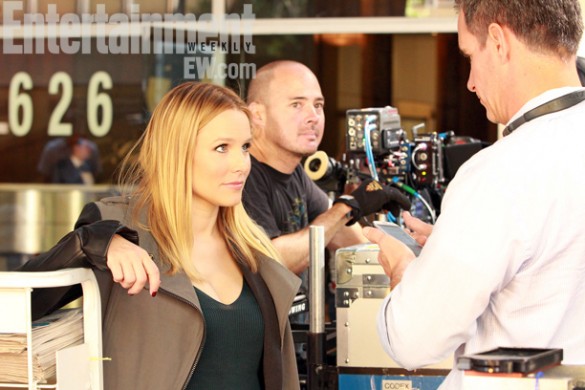 The Veronica Mars movie was making headlines before it even got off the ground. It was the most successful Kickstarter project to date. See my previous article here. Everyone was talking about it, and the general interest in Kickstarter has yet to die down. I have to be completely honest and admit that I was a little worried about what a Veronica Mars film would look like. I have seen the 'pilot' for Season 4 and I'm ashamed to admit that I get why the studio didn't want to go with it. I don't think I would have liked that version of Veronica either.
So why am I so excited about a film happening so many years later? Maybe I just have blind faith in the wisdom of the writers' hindsight… but any qualms I may have had have since been lifted with the first look trailer.
Why is this trailer so awesome, you ask?
Reference to the theme song
Logan needs Veronica's help – of course he does! In dire straits is exactly how we like our Logan!
Oh, what's that? Character growth! You bet it is! Veronica shows us she's a three-dimensional character, within seconds of the trailer opening.
Behind-the-scenes chats with cast and crew. It's what we fans love to see!
'Veronica Mars fans are awesome.'
Jamie Lee Curtis
The obligatory nod to Joss Whedon: 'It actually does sit on a Hellmouth.'
The premise: a high school reunion. My ten-year high school reunion is coming up next year. All I can say is that I'm glad I can use living in another country as a legitimate excuse to avoid attending.
Veronica Mars taking names and kicking ass.
Martin Starr and Ryan Hansen.
Oh yeah, and if that wasn't enough to get you wet, James Franco is also rumoured to be making an appearance. I don't know about you, but I can't wait!