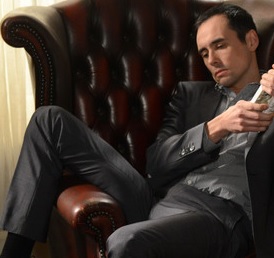 The formula for Eastenders' greatness is simple. In some scenes, there is crying. In others, shouting. On rare occasions – Christmas Day episodes, for example – there's both. The heightened melodrama oscillates between peaks of fury and sorrow. There are also the Eastenders responses to current affairs. Last year, in virtual isolation, an entire episode was given over to characters discussing racial profiling. Top form was reached recently with the parallel storylines of Michael Moon's descent into despondent self-destruction (Steve John Shepherd's dialogueless expressions of utter disgust having been stealing scenes for months) and the remarkably unflinching portrayal of Lauren Branning's descent into alcoholism. There was crying, shouting, cruelty, despair, rejection and self-loathing. Eastenders at its finest. But with Lauren newly sober and Michael now marked for departure, how to follow a run like that? Two words.
Danny Dyer. There. I don't even need to write the negatives. Just those two words and they're running through your mind: the abysmal Zoo column where he advised facially disfiguring your ex; the tweet referring to the 9/11 attackers as 'slags'; that show where he met guys famed for physical violence and seemed to get punched a lot. When you hear it, it's spelt D-I-R-E, isn't it?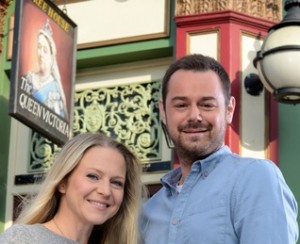 Danny Dyer once explained his choice of projects by saying he needed to work to feed his kids. I don't know how many kids he has but in the last 5 years he's turned up in 21 films, not to mention tv appearances. For all the supposed difficulty of getting British films made, there's been a seemingly endless stream of UK crime and horror productions, with titles like Devil's Playground, Pimp, Malice in Wonderland; frequently with Dyer staring out from the cover, looking haggard but determined. Since he first found fame back in '99, Danny Dyer has become a byword for laddish mockney caricature for hire. You slaaag. Mark Kermode openly mocks him on national radio. His film Run for your Wife took just £602 in its opening weekend. And now, while appearing in a run of Hollyoaks Later, he's been confirmed as the new landlord of Eastenders' Queen Vic.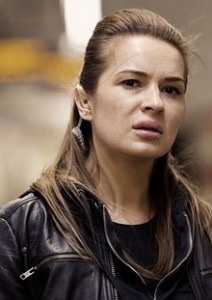 There's an air of manifest destiny greeting the news, as if the popularity of Dyer was a widespread mistake and we're all now getting back to our senses. Danny Dyer belongs on Eastenders, rather than where good actors go – presuming the two are exclusive. But this overlooks Kierston Wareing. BAFTA nominated for her role as ruthlessly exploitative small business owner Angie in Ken Loach's It's A Free World…, Wareing racked up appearances in Luther, The Shadow Line and Andrea Arnold's acclaimed Fish Tank before taking up her spot behind the Vic's bar in 2012. She also apparently did a horror film with Danny Dyer. But then again, Wasp, the Oscar-winning short that launched Andrea Arnold's career, also starred Danny Dyer.
In Nick Love's directorial debut, Goodbye Charlie Bright, Dyer's pudgily babyfaced supporting character Francis dies in a heartbroken moment of grace, attempting to take on a speeding car head-on, wielding a baseball bat. The film also features appearances from Quadrophenia leading man (and 'Parklife' vocalist) Phil Daniels, and Jamie Foreman in the role of a sexually ambiguous, cowboy-attired used car salesman. Both of whom went on to star in, yes, Eastenders.
People complain that Danny Dyer is essentially the same character in every film. No one ever makes the same complaint about Timothy Spall, Sally Field, Ed Harris. Danny Dyer is a character actor. He had a close working relationship with Harold Pinter for two plays. That's nobel laureate Harold Pinter! But people get outraged when you say Dyer's a good actor. Name me one good performance, they say. Ok. Here's five.
5. Adulthood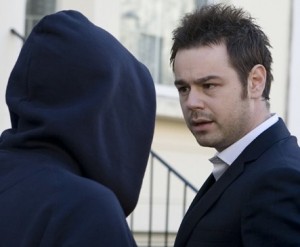 Dyer's appearance in Noel Clarke's Kidulthood sequel is fleeting – less than two and a half minutes – but pivotal. Where Kidulthood found Clarke's character Sam the feared school bully, come Adulthood he's just been released from prison. In films so aware of class, age and race, Dyer's dapper, jovial Hayden – the current boyfriend of Sam's ex – nevertheless grows physically aggressive when threatened. You've had a squeeze, indeed.
4. Severance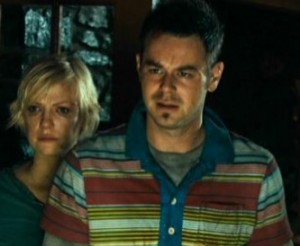 Danny Dyer at his most Danny-Dyerish. As a transatlantic group of defence industry employees get lost in the Hungarian countryside on a team building trip, Dyer's soul-patched, charismatic fuck-up is the plot's heart and spirit as murder and mayhem ensue; eating handfuls of psilocybin mushrooms and struggling to fit a severed foot in a mini fridge.
3. The Football Factory
Following in the footsteps of Alan Clarke's The Firm (which Love later remade), Nick Love's Football Factory examines the drugs and music, adrenalin and sex, violence given and received, and the sense of identity offered within the hooliganism of football casuals. Dyer's hard edged narration and portrayal of the nightmare-plagued Tommy help bring a realism to a film that neither blindly glamourizes nor condemns what it portrays.
2. Borstal Boy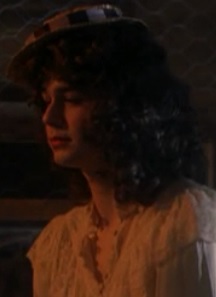 This is a film in which Danny Dyer plays a character called Charlie Milwall. I'll just let that sink in. Got a mental image? Ok, now look at the image on the right again.
Borstal Boy (adapted from Behan's 1958 autobiographical novel of the same name) stars Dyer as a kleptomaniac gay sailor, the unrequited lover of fellow borstal inmate, sixteen year old IRA volunteer and future playwright, Brendan Behan. Charlie even dons period drag for Behan's production of The Importance of Being Earnest. Effortlessly tender and forlorn, Dyer's performance is remarkably vulnerable.
1. Human Traffic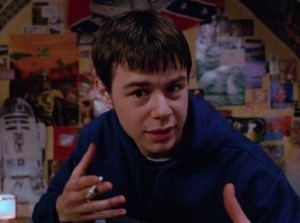 Look at your eyes. You're fucked! One of the best cinematic encapsulations of adolescent debauchery in general, and clubbing in particular, Human Traffic follows a group of friends through a weekend clubbing in Cardiff, with Dyer's hedonist, motormouth dealer Moff stealing the show. Bill Hicks on VHS, Howard Marks on spliff politics, the £145 phonewank… and of course Moff's Sunday dinner. Seminal. Who the Fuck. Are. Yah.
Anger, affection, violence, joie de vivre and some cross-dressing to boot. I raise a glass to the Vic's Mick Carter. Let the shouting and crying commence.