While there are plenty of kick-ass female characters in the Marvel Universe, they have always played second fiddle to the men – until now. Agent Carter, Marvel's newest foray into television in partnership with ABC, thankfully focuses on Peggy, a female SSR agent trying to navigate the working world in the second half of the 1940s. She, and other women like her, were required to take on more responsibility while the men were out fighting, but now that the men are back in the offices they'd rather she filed papers and made them coffee. The first two episodes premiered back to back on January 6th on ABC.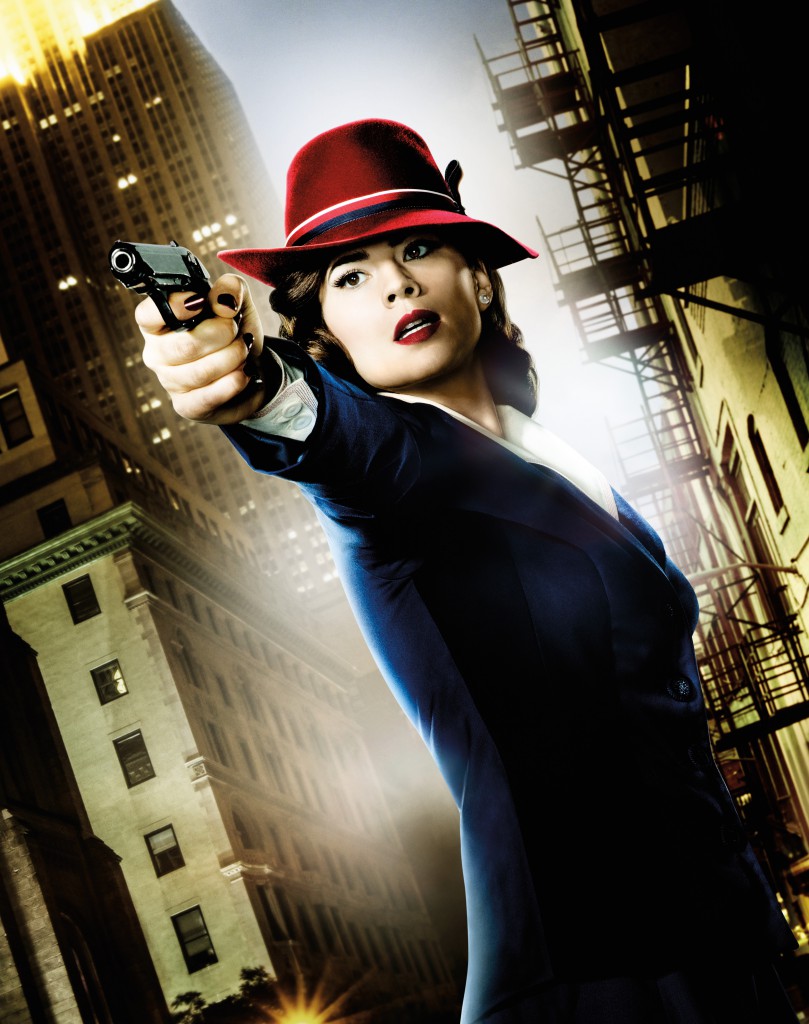 The series picks up where Captain America: The First Avenger left off. Steve Rogers, agent Carter's responsibility and romantic interest, sacrifices himself to save the world. The war ends not long after, sending the world back into 'normality'.
Where Agents of S.H.I.E.L.D. took half a season to get warmed up, Agent Carter takes no time at all to get going. We are right in there with Peggy Carter (Hayley Atwell) after the first few minutes of incorporating flashbacks to her epic war adventures as she gets ready for a day of work, to be greeted by condescending men who think she would be better off answering phones, leaving the men to do the real spy work. Unsurprisingly – as far as these kinds of stories go – the men aren't quite up to the job. They are eating up the set up some unkind soul is spoon feeding them, leaving Peggy to get to the truth of the matter herself.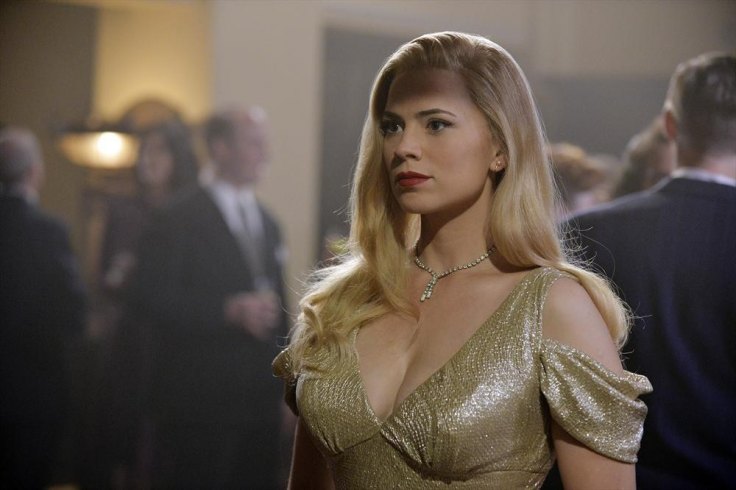 Carter is far more on the ball than any of her colleagues suspect. Soon she is taking on the role of dutiful agent – though treated like a secretary – during the day, while filling her nights with dangerous, potentially treasonous missions for old friend Howard Stark (Dominic Cooper reprising his role). Though she feels she is more than capable of taking care of Stark's mess on her own, Howard insists she use his faithful butler Jarvis (James D'Arcy) as back up. Despite how badass and brainy a broad she is, she still needs some help every now and then.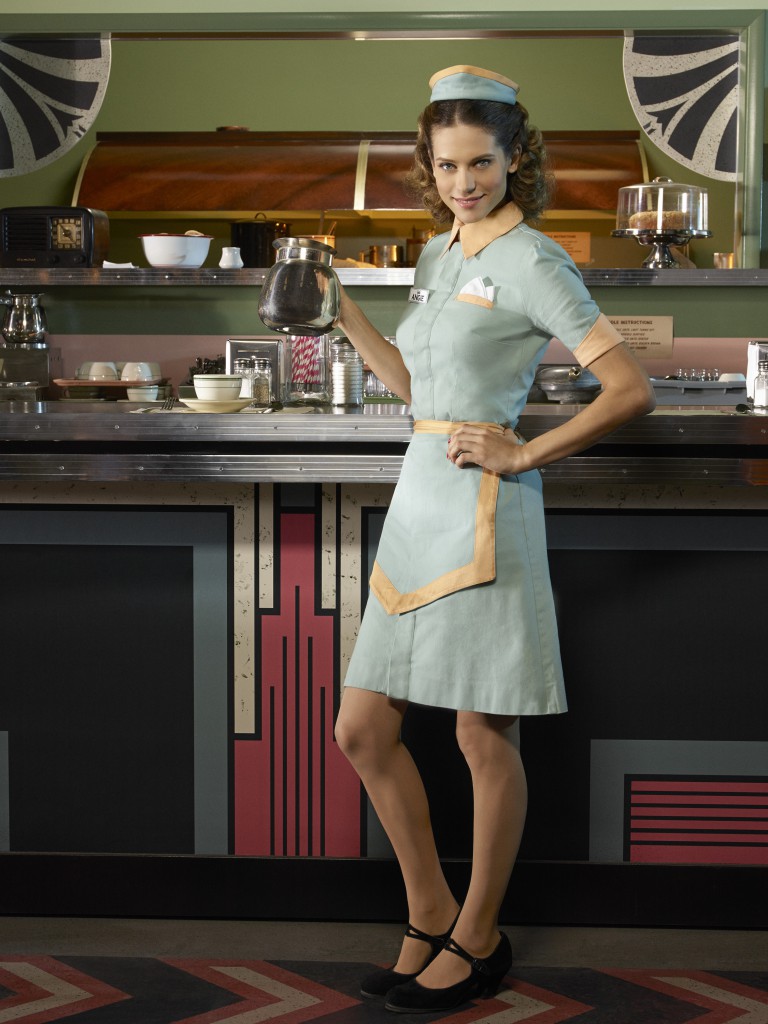 As expected, most of the characters Peggy comes across are men – it was certainly still a man's world in 1946. But don't worry, the series easily passes the Bechdel test. Peggy befriends a local waitress, Angie (Lyndsy Fonseca, who you may know as Ted's daughter on the couch, listening to endless stories in How I Met Your Mother). And guess what their first onscreen conversation is about? Well, it's not boys. It's work!
Where SHIELD tries, and often fails, at having an ensemble cast of characters, Agent Carter prefers to focus on its protagonist above all others. Sure, she has her support group in people like Jarvis and Angie and the friction at work with just about every colleague she has, but she is definitely the central figure. It gives the early episodes more focus, rather than floundering in trying to set up too many different characters for the audience to care about.
The period setting is very fun with all the period-appropriate spy gadgets. They are both inventive and quaint, lacking the 'ridiculous' element that many of the more 'space age' tech (and alien tech) we see in Agents of S.H.I.E.L.D. While the wardrobe looks like it will prove to be as covetable as that of Mad Men, Atwell proving to be a quintessential example of 1940s glamour. Most importantly, rather than being a gimmick, the period setting is used as a spring board to discuss issues that are often overlooked in more modern spy and superhero tales.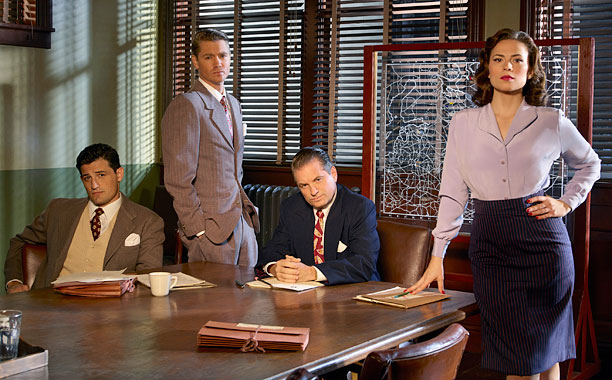 Atwell is magnificent as the 'super-powerless though no less efficient at taking out the baddies' titular character. She has style, poise, intelligence, meat on her bones, and the ability to get down and dirty in some great, action-packed fight scenes. But her supporting cast do admirably as well. Chad Michael Murray is back on TV screens doing what he does best, playing a chauvinistic asshole and is joined by his fellow condescending colleagues Shea Whigham and Kyle Bornheimer. Enver Gjokaj (Dollhouse) is the only sympathetic ear for Peggy in the office, a war veteran with a crippled leg.
With writing from Christopher Markus, who wrote both Captain America screenplays, and Law and Order: Special Victims Unit (yeah, the one with the badass woman in it) vets Tara Butters and Michele Fazekas, along with Chris Dingness (Medium, Being Human) as show runners, there should be plenty of action and mystery to go around.
Verdict: From the word go it is obvious the cast and crew of Agent Carter know exactly what they are doing. They have a great story to tell and are going to have a lot of fun telling it. I can't wait to see how the rest of the season plays out.