It has not been a bad year for major gay films and good ones at that. Moonlight was obviously acclaimed and I am an enthusiast for Park Chan-Wook's film The Handmaiden. Now their ranks are joined by the highly accomplished Call Me by Your Name. Rounding up his cinematic trilogy based around the concept of desire, Luca Guadagnino brings a sumptuous and sexually-charged eye to a coming-of-age story set in Northern Italy in the early 80s, with all the inevitable scenery porn that mandates.
Elio is a Jewish American-Italian-French teenager who is spending the summer with his family in Northern Italy. His father, an academic, is dredging classical statues from Lake Garda and has invited an accomplished student to assist him on site, with all the perks entailed staying in a roomy house in sunbaked Italy. Hence the strapping Oliver arrives and integrates himself into the family's and particularly Elio's life.
The film will inspire a deep yearning to go and have a passionate affair in the Mediterranean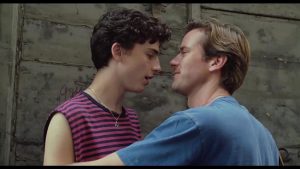 Call Me by Your Name is a pleasantly slow boil as we progress through the initially very prickly interactions between Elio and Oliver, as the former works out his feelings, and makes the culmination (thankfully not a brief addendum at the close of the film) satisfying and enriching. The moments of passion and intimacy are touching, sexually-charged (of course), and even funny. There is a great fellatio gag that I mustn't spoil. Even long before we progress into the heart of Elio and Oliver's relationship, the film is simmering with tension. It is all sun-dappled skin, ripe fruit and busts of lithe statues recovered from the shimmering water of Lake Garda. The cinematography is a major appeal in this film.
The story, taken from the novel of the same name, is refreshing for what it doesn't adhere to. We don't get clichés of disapproving parents and townsfolk, dishonest relationships with women as a smokescreen, or simpering stereotypes. In fact, it's refreshing to see some attention paid to the characters existing on a sexual spectrum. Elio and his teenage friends spend their time dancing, splashing about in streams, and all the motions of an idyllic teenage summer. Everyone is looking to slake their hormonal lust in the heady atmosphere, even whilst Oliver and Elio are steadily developing a more intimate bond.
Whilst not graphic, the film is not coy about showing homosexual love, which is refreshing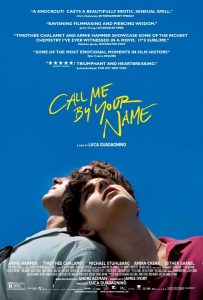 The performances were so naturalised as to not draw attention themselves. Armie Hammer seemed an initially odd choice for the role given his mainstream output and lantern-jawed leading man demeanour, but he was certainly on form as the slightly brash and swaggering Oliver. The film does largely rest on the shoulders of Timothée Chalamet as Elio, who is a bookish and awkward teen but with his own strand of cockiness riven into his character. It was a rich and complicated performance that I was completely sold. Michael Stuhlbarg and Amira Casar are reliably brilliant in their supporting roles as Elio's parents.
I am not surprised I liked this at all given how rapturously taken I was by Guadagnino's last film A Bigger Splash. For all the similarities with that Mediterranean lust drama, this does feel like a very different film. It is slower, more reflective, and focussed primarily around a single crucial relationship rather than a chaotic web of them. For all its focus on a burgeoning gay relationship, even if this were removed there are rich seams about art, growing up, and identity.
Verdict: A seductively shot and engaging romance from a skilled director. I highly recommend.